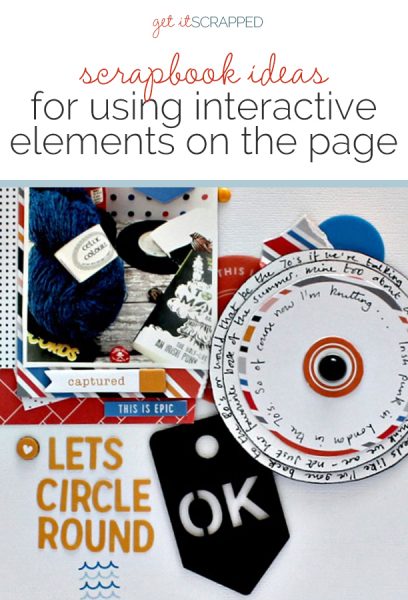 Pockets, pull tabs, flaps, fold-outs or even digital QR codes can bring a higher level of engagement to your scrapbook pages.
See how our creative team puts these ideas to work on their own pages.
---
Stefanie Semple says, "This page captures a recent family get together. On it I used two different pull-out journaling tags."
"The family members were all relaxed, multiple conversations happening and the design of the page reflects that relaxed, messy, noisy vibe. I took photos of my sister-in-law taking photos. The journaling is a who-what-where report, and it does not matter that it is not all visible, since the photos tell much of the story."
"When I made paper pages, I hid private journaling like this all the time. With digital scrapbooking, I find journaling can be cathartic, but when my words might hurt people I prefer to keep them hidden behind layers. With the typing of them, I already feel better."
---
Sian Fair says, "This page is about the fact that my daughter is now enjoying the same kinds of music and fashion I loved when I was her age."
"I ended up turning my journaling into a revolving disc (or three) to support my story about music, with three circles held together with a brad. I hoped it would add fun to this light-hearted page."
"Using revolving circles seemed like an obvious choice for this page, so I thought carefully about balancing that out with a square photo and extra journaling around the outside of my page. I do have one tip: don't add so many layers that your circles can't easily spin!"
---
Kelly Prang says, "This page is about one of my daughter's gymnastics meets this season."
"My interactive element for this page is the QR code. If you scan the code with a barcode/QR code scanner app, a Google photos album will open up to show more photos from the meet as well as videos of each event in which my daughter competed."
"I think the QR code adds interest by linking to videos as well as showing the role technology is playing in my life during 2017. To make your own QR code, try this app to add video, audio or anything you would like to your next layout! Addicted to a certain TV show? Add the trailer to a page about the show with a QR code!
---
Marie-Pierre Capistran says, "This page is about the summer camp I went to as a child. While looking in my souvenir box, I found two letters that I got from my mom while I was at camp. I decided to include them on my layout. I used a paperclip to hold them in place so that anyone can read them if they want to."
"My journaling talks about my experiences at camp, what I liked, what I disliked and it also talks about the feeling of getting a letter, with that sometimes happening when we were gathering around the campfire. As I say it, the letters bring me straight back to that period of time in my life and I hope that the reader of my layout would get a sense of that time too when reading the letters. I love that we see my mom's handwriting on the envelopes, the Canadian stamps and our address at that time. Every detail on the envelope is adding something to the layout."
"If you want to include letters, cards or postcards on your layouts, a paperclip is a great way to attach them. You could also glue an envelope on the layout, making sure that it's possible to open it."
---
Megan Blethen says, "I went to a scrapbook retreat with The Scrap Gals back in April and have decided to make a little 3″x 8″ mini album about the experience. I had a lot of photos of us all sitting in chairs and just having fun while we scrapped so I thought I'd make a little flip book."
"Since the album page is so small, making a flip book with a few photos made it possible for me to include more photos and embellishments on the page. In order to make a flip book like this, all you need is washi tape and a photo or tag. I put a little piece of the washi on the photo top side, then another piece on the back side. This way you make sure the flip book doesn't come apart over time. I have a tutorial on my blog today on how to make this interactive element."
---
Karen Poirier-Brode says, "The barn door on this page opens to reveal several photos in a triptych book of my visit to the B&B lavender farm in Sequim, WA."
"Although you cannot smell the page, there is olfactory interaction, too, with lavender in a violet organza bag attached to the back of the layout. The triangular elements in the paper were cut out to reveal this."
"I used a modified template for my background then duplicate printed the barn alone to cut out a frame and doors. After adding hinges from the door to the frame, I attached the frame to the page. Lavender cardstock was cut, folded and attached to the interior of the doors for extra photos and a spot for potentially more journaling."