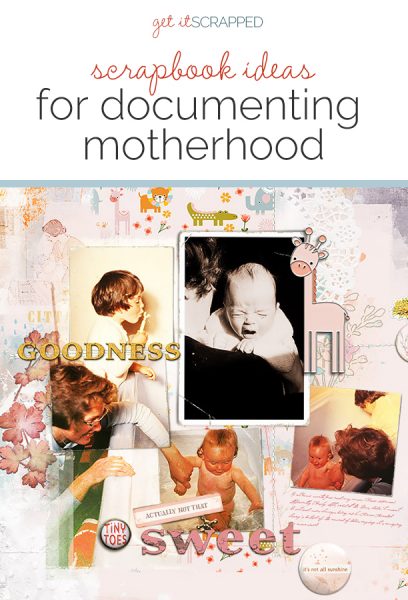 Documentary-style photos are taken as events occur. They aren't staged or posed; no one is dressed for the shoot; contextual and even messy details aren't Photoshopped out.
With these kinds of photos you can share a personal and real version of your daily life.
Our Creative Team has taken a challenge here to use documentary-style photos to tell a story of motherhood, capturing a mother's spirit and personality while emphasizing ordinary details. (If you want to learn more about this style of photography, check out the articles we've collected on our Pinterest board Inspo: Documentary-Style Photography.
[hr]
Lynn Grieveson says, "I am lucky that my father was a keen photographer when I was little, and liked to take candid, documentary type photos. I gathered some of them together here to tell a story about what it was like having me as a baby."
"I chose pictures that showed my mother caring for me and trying to keep me happy, which was apparently a bit of a challenge. My father in particular found it very difficult to cope. The central and focal picture is of me crying, which I did a lot. I gathered around it the color photos of my mother and sister blowing bubbles and bathing me, keeping me from crying!"
"I used both black and white and color for the contrast and to reinforce the mixed emotions behind the page. I wanted to use some traditionally 'baby layout' elements  but I also wanted to make more of a 'messy' layout which reflected the messiness of real life (especially with a baby!)"
Christy Strickler says, "This is a series of photos from my son's first birthday. I might have very well left the story to just the facts and let the photos speak for themselves, but approaching the series of pictures documentary style allowed me to see another story hidden inside them."
"The photos clearly depict my son's moment as he ate the cake. I am kind of a side note in the photos. I felt this would be a good opportunity to journal about baking him the cake and how I felt about it not being a perfect cake for what I felt was a very important event. My son reading the journaling later will get a small look into what I was thinking about the moment."
Audrey Tan says, "This page is about my boys enjoying their favourite activity when they were young – baking. They would take part in the entire process. Part of motherhood was exposing them to food and getting them involved in the preparation."
"On my page, I showed the process of baking, from the beginning to the end. I showed a series of photos in mixed media style. Embellishment was kept to a minimum as I allowed the pictures to speak for themselves."
Nicole Mackin says, "This page holds continuous shots of my daughter and me as we feed a giraffe. These photos show the process we go through often as mothers when we are trying to teach or guide our children in something new. First, we show them how to do it ourselves, then we assist them while they do it, and finally we cheer them on when they accomplish it. I feel as though these four photos truly showcased that entire process. While I kept them in order, I decided to overlap them in the design to show the continuous flow of the experience."
Jana Oliveira says, "I wanted to use old pictures from when my son was probably about 2 years old (one of these is from before he had even been diagnosed) and show that despite things being different, he was loved. My son changed motherhood's definition to me. Motherhood to me is not about what we like to think is best to our children but rather accepting them despite their choices, beliefs, and conditions. With that, I released a lot of suffering that many in our situation still feel. For that I'm grateful and I would not choose a different path. It's a waste of my time and his time to wish otherwise."
"My goal was to show my son we always took him to activities and wanted to do things with him even though most of the times his approach was not like that of other kids because he is Autistic. Despite the difference of communication we do things together and he is indeed loved and appreciated. I love the "non-posed" pictures. I take many pictures like that. My son has difficulty looking at me and the camera so spontaneous moments are the best in my opinion to tell stories and to document how life really is."