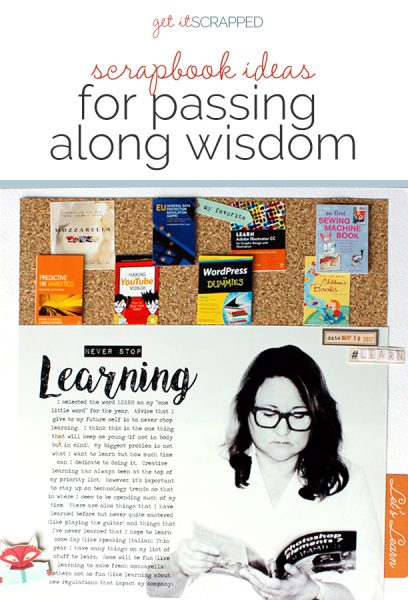 The scrapbook page is place where, in addition to sharing pictures and the who-what-where-when-why of events you can do something more: you can pass on  wisdom to future generations.
Our Creative Team shows you their pages that do this. And if you're ready to get going, yourself, but not sure where to start, use one of these starting places or prompts:
If I knew then, what I know now. . .
Reflect on something you might have done differently based on what you know now.
To my children or my past or future self. . .
Pass along advice to your children or even your future self.
I know this. . .
Share a list of things you've learned over the years.
How to. . . .
Share how to do something, for example: How to Make an Apple Pie From Scratch or How to Tell a Bedtime Story.
CLICK ON THE IMAGE BELOW TO SIGN UP FOR OUR EMAIL LIST AND GET YOUR FREE PAGE GUIDE
Kelly Sroka says, "My oldest child is going off to college this fall. I have been thinking about what advice I want to give him before he goes. Mostly I wanted to tell him to enjoy his college years as they will undoubtedly pass by very quickly. For this layout, I documented the many little pieces of wisdom that I wish I had when I went off to college."
Kelly knew this page would have a good amount of journaling, so she designed the page to accommodate the many words with several liftable approaches. She says:
I chose patterned papers in subtle colors and designs so they would not compete with the journaling.
To break up the large amounts of text, I cut the journaling into blocks.
I added emojis for fun, emphasis, and to further break up the text.
I ripped the patterned paper at the top and bottom of the page to suggest I had torn these words from a notebook and placed them on the page.
I typed the actual text to represent the way my son communicates with his friends and teachers. The contrast with the torn paper and typed text and emojis reflects the differences in my college experience (pens, pencils and paper) and what my son's experience will likely be (iPhones and iPads).
Stefanie Semple says, "So much time and energy is taken up gathering stuff when you are building a home and rearing children, but the 20+ years pass all too quickly and then you will only have each other, so investing into your marriage relationship is paramount. That's the wisdom I sought to impart here."
"These photos were taken on a recent weekend escape that the hubby and I took exploring the southern point of Africa. I paired photos of the seaside vista with a close-up selfie of the two of us, to give an idea of experience (29 years) giving us a larger view of life together and to bring home my message of spending time on experiences and building into the relationship rather than spending money on things that only bring a temporary joy."
Shanna Hystad says, "In January, I chose LEARN as my "One little Word" for the year.  This is a word that I will focus on and reflect in how it impacts my life.  I thought I would create this layout to document my learning this year and speak to my future self.   I realize that learning is the key to staying sharp and feeling young.  I need to remind myself even now to Never Stop Learning.  When I'm bored and feel stagnant it's usually because I'm not challenging myself and learning something new.  I wanted the design to be simple and utilize paper that looked like a bulletin board where I could post on the board the books or topics that I hope to learn more about this year."
Terry Billman says, "This layout is a letter to my son imparting wisdom on following his passion rather than money."
"The design is fairly simple, a photo of him in his SWAT gear vertically placed on the right leaving ample room for journaling. I purposely chose a photo in his SWAT gear because he has a passion for law enforcement and the SWAT team. The introduction–if I knew then, what I know now–was an ideal beginning to the letter I wrote him encouraging him to follow his passion. The heartfelt journaling tells him the reasons of my past career choices and consequences of not pursuing a career that you love."
Sian Fair says, "This page records my feelings as I cleared out several year's worth of old clothes. I chose I know this as my prompt because I was in the mood to make a less reflective and more light hearted page after all that hard work!"
"The main feature of this page had to be the journaling, so I used a design that allows for plenty of room for the words. The title is deliberately vague. Maybe it even implies that it refers to something I've found as I shop, in the photo – because it plays off the obviously lengthy journaling and, I hope, invites a closer look. I went for a contrast, too, with the sticker of the girl: maybe a (much) younger me?"
DON'T FORGET TO GRAB YOUR FREE PAGE GUIDE