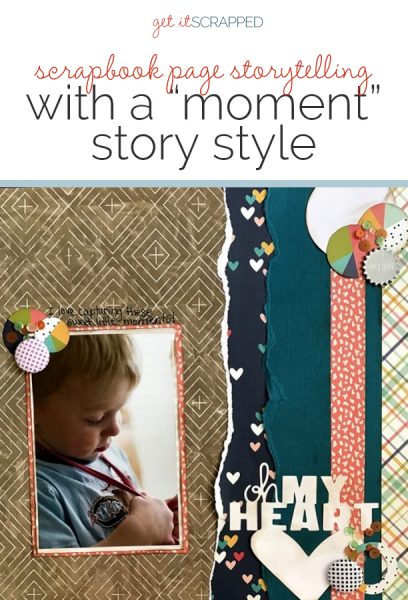 A moment storytelling style is great for those photos that move you but don't necessarily have an incident or story to go with them. Use this style to record what you like, what moves you, how you see the world, or even what you believe.
The best "moment" pages will convey a mood or feelings or even beliefs with more than the photos–with design elements like color, line, shape, and more. Our Creative Team shows you their moment pages and the design elements they've used for strong visual storytelling.
CLICK ON THE IMAGE BELOW TO SIGN UP FOR OUR EMAIL LIST AND GET YOUR FREE PAGE GUIDE
Audrey Tan says, "This story is about our experience of a desert safari in Dubai and the exuberant feelings it evoked. It was an amazing experience, riding on the sand dunes in a land cruiser. The driver was extremely skilled in navigating across the desert and we had a ride of our life."
"I used colors that mimic the desert, and embellishments used also had a fast flowing feel to capture the exciting feeling of that 30-minute ride."
Megan Blethen says, "I have had this picture in my pile of 'want to scrapbook' images but I don't have a story to go with it. It's just a cute photo of my middle son when he was two: the perfect photo for a moment page."
To keep the focus on the photo, Megan I kept embellishing simple with circles and one carefully chosen heart shape that echoes the message of her welded title. That title along with the tender photo convey the feeling of a mother's love.
Cynthia T. says, "I rarely like pictures of myself, even less so when taken in the kitchen, but this one has a lot that makes it one of my favorites. It brings back many memories of the love for our kitchen I've had. It brings back the memories of so many recipes cooked together with my daughter, recipes we took from magazines and recipes from our culture that I taught and passed to her."
Cynthia evoked the feeling of nostalgia for time well spent cooking with color, motif, and her title. Her photo is surrounded (cozily) by black and white and red. The strongly rendered and bold title embraces the photo charmingly and the motifs all support the kitchen and home story.
Kelly Sroka says, "I love this photograph of my son helping my husband raise the flag at our fire station: a sweet moment in our lives."
"The background paper has ombre effect, darker at the botton of the page and lightening as it moves to the top. This echoes the ground and sky in the photo. The embellishments are simple yet evoke the feelings of this moment: hearts represent the love between my husband and son, the stars as well as the reds, whites, and blues here repeat the stars and colors of the flag."
Deborah Wagner says, "My friend got a great shot of her son skating down the ice to get the puck. This wasn't a big game, they didn't win, and Jake wasn't even the first one to make it to the puck, but you can see the passion on his face, and you can tell his heart is full of Irish pride."
"To highlight Jake's grit and determination, I extracted the photo from the original background so I could create a scene where he was center stage."
A gritty rendering of the photo and elements support Deborah's story of physicality and determination. The limited color palette and strong title also support this mood.
Debbie Hodge says, "These are three shots from my youngest son's senior photo shoot."
"I wanted to evoke a sense of happiness–connected to my love for him–and I wanted to signify that this is a milestone and turning point in his life. To that end I repeated the blues from the photo and then accented with a bold and happy yellow. Diagonal lines in the ackground paper add energy. The motifs of birds flying, stars and arrows support the story of a boy about to launch into his adult life. Word embellishments 'hola' and 'hooray' are upbeat and celebratory."
DON'T FORGET TO GRAB YOUR FREE PAGE GUIDE!