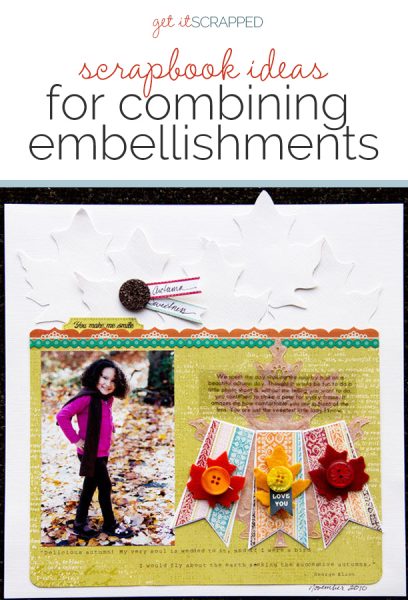 A fun way to work with embellishments is to group them together. Groupings can be showy or simple. The beauty of an embellishment is that you can combine several elements, including images, to reinforce page subject and contribute to design. Think of an embellishment cluster as a small arrangement that works both on its own and as a part of the larger whole of your page.
The round-up of layouts below from our Creative Team and Guest Teachers in the Get It Scrapped Membership show examples of embellishings combined in:
layers
clusters
stacks
series
outline or shapes
CLICK ON THE IMAGE BELOW TO SIGN UP FOR OUR EMAIL LIST AND GET YOUR FREE PAGE GUIDE
In layers…
Kelly Prang says, "This page showcases an awesome photo my husband took of our children on the beach during our Spring Break trip to Dauphin Island, Alabama."
"I layered a variety of embellishments with a travel theme into two areas on this page.  I used die-cuts, a banner, beads, confetti and a flair in the top left of my page, and tags, word art, beads, confetti and a geotag in the bottom right. I wanted the page to have some 'busy-ness' (as was true for a trip with three teen/tweens) while still achieving an overall feeling of peace and comfort.  The large photo helps balance the large sizes of many of the embellishments."
Kelly Sroka says, "My daughter recently received her learner's permit for driving. I am so happy to watch her grow into an independent young woman. I wanted this page to document this story as well as reflect the celebratory theme of the day."
"I began embellishing the page with two words stickers that helped me further tell my story- a chipboard sticker that says GROW and a flat sticker that says HAPPY. These stickers seemed a little too plain to use on this fun page by themselves, so I created two embellishment clusters to give interest and texture to the layout. I layered the chipboard sticker GROW with a flat sticker heart, an enamel dot, and an adorable bow clip. I placed the HAPPY sticker on a chipboard banner then added two enamel dots, a striped tab, and a cute puffy heart. Each word sticker became a wonderful handmade layered embellishment cluster that gives depth to the page as well as to the journaling."
In stacks…
Sian Fair says, "This page records the day we visited the Berlin Wall. I have stacked layers of paper with tiny individual embellishments on top in order to echo the decorated bricks on the Wall."
Cindy Liebel's page features her daughter in Autum leaves. She stacked buttons on top of felt leaves on top of banners to add lots of touchable texture. The fact that she has color coordinated the embellishments gives this approach a charming yet clean look.
In clusters…
Stefanie Semple says, "Even though my daughter was feeling really sick she wanted to join her friends and get all made up for the Summer Ball. She had paid for her ticket for the Ball and even though she had no intention of attending she added the dress and the make-up, did her hair etc and enjoyed the fuss of being with the girls, chatting and laughing all the while adding to her final look."
"I made a cluster with a ticket and feather as the base then added a string of sequins, flowers, and sparkles.  I also added paint and the title to the focal photo to allow the friends to fade into the background of the image, while she remained the focus."
Betsy Sammarco says, "This layout is a collection of three photos from my niece's 5th birthday. I love her doily design top she wore that day. It served as my inspiration for the layout design and embellishments."
"I painted a piece of chipboard with gesso. I placed a large stencil on the chipboard and painted over that with the texture effect paint. I gently removed the stencil and I was left with the textured stencil shape. When dry, I cut the chipboard into 5 rectangular candle shapes. The unexpected part? The beautiful vellum butterflies represent the candle flames!"
In a series…
Karen Poirier-Brode says, "This page is about going to the English Rose Tea Room in Carefree, AZ when I was at a meeting and visiting family in the Phoenix area."
"I used a series of items involved in a tea party as embellishments. However, I did not line these up to tell my story. The elements move in a circular fashion around the grid of photos. There is a progression from the tea bag and kettle to the flower button depicting the setting, the slice of lemon representing the setting of the tea table, the little bird that tried to join my party on the patio, the tea pot, the cup of tea and the dainties. The joy of making a digital page is how easy it is to recolor, resize and modify elements to fit."
Debbie Hodge's page features her son and neice playing around on haybales–and chewing on grass like happy farmers.
She placed a vertical series of buttons as a border.  Consider lining up buttons, brads, stickers, beads, chipboard shapes, and whatever else in your stash appeals to you in a series to create charm on your page.
In the shape or outline of a motif…
Devra Hunt says, "My son does not like to do his physical therapy 'exercises'. We disguised his exercises as a game of basketball.  Not only did he work hard, he did it without protesting and we all had fun playing together."
"I die cut an over-sized basketball and filled it with all the small orange embellishments I could find. It's filled with buttons, brads, sequins and even random chipboard letters. I filled each segment with one embellishment so the shape of the ball could still be seen. By embelliishing the basketball, I have put emphasis on the ball, reinforcing the effort it takes my son to get the ball into the basket."
Amy Kingsford's page features baby photos of her niec on a moment page celebrating this girl.
She arranged buttons to look as if they are flowers growing in a garden, combining them with stitching to complete the look. These embellishments bring a brilliant pop of color to the page that echo the sentiment of her word art and they evoke a sweet, feminine feel.
DON'T FORGET TO GRAB YOUR FREE PAGE GUIDE!