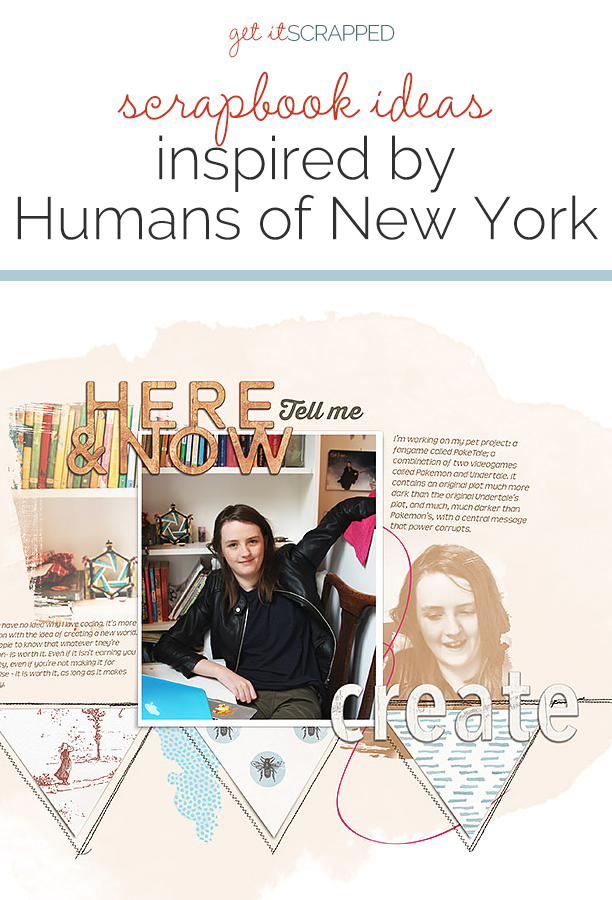 "Humans of New York is a blog that features "daily glimpses into the lives of strangers on the streets of New York City." Creator Brandon Stanton began it as a photography project in 2010 with a goal of photographing 10,000 New Yorkers. Along the way he began interviewing as well as photographing his subjects.
This model of storytelling is one you can use on the scrapbook page: feature your subject with photo and the story they choose to tell you, rather than the story you choose for them.
See here how the Get It Scrapped Creative Team uses this model to make their own pages.
CLICK ON THE IMAGE BELOW TO SIGN UP FOR OUR EMAIL LIST AND GET YOUR FREE PAGE GUIDE
Megan Blethen says, "My 10 year old son is the subject of my page. He loves to have his story told and right now he is obsessed with Lego Ninjago. I knew that would be a great story to tell about him right now."
"I took photos of him playing with the toys and some of just the toys. I had him write the journaling on a little card so that it was more authentically from his point of view. I learned more about the TV show and the reason he likes it. It's not a really extremely important layout, but I think it will be fun for him as he grows older to see things he was interested in when he was younger. I will definitely use this storytelling approach again! I have three kids and I think it will be fun to do a few layouts a year of each of them with this approach."
Jana Oliveira says, "I am the subject and the story here is a 'let it go' journaling of some things that sometimes upsets me."
"The posts on Humans of New York are compelling stories with picture of people who just open their hearts to tell some part of their story. I decided to do the same and simply write real feelings that are the moments make me tired. Even the journaling is about me and what I feel  when put it in words. It can make you feel better if you can let it go, put it into words and be done with it."
"The Humans of New York concept is a great model for exploring way of telling stories from the heart and for just learning to be more real in our journaling and not just talk about the happy stuff."
Christy Strickler says, "I took away two key points of inspiration from the Humans of New York blog. The first has to do with the voice used to tell a story, and the second came out of what I saw in the design of the blog's webpage."
"I decided to tell the stories of each of our cats from their perspectives. I chose a pocket page, because it easily segregated each story and reminded me of the way the HONY page looked. I tried to choose interesting photos of each of the cats, all with the same alignment. I then typed their rescue stories and printed them on 4″ x 6″ white cardstock. I feel the simple design allows you to focus on their voices rather than on the page as a whole."
Lynn Grieveson says, "This is my youngest daughter who is on her laptop every chance she gets, coding and creating. I asked her to tell me what she would want someone seeing her photo to know."
Her reply was: "I'm working on my pet project: a fangame called PokeTale; a combination of two videogames called Pokemon and Undertale. It contains an original plot much more dark than the original Undertale's plot, and much, much darker than Pokemon's, with a central message that power corrupts. I honestly have no idea why I love coding. It's more association with the idea of creating a new world. I want people to know that whatever they're working on- is worth it. Even if it isn't earning you any money, even if you're not making it for anyone else – it is worth it, as long as it makes you happy."
"This storytelling approach was a good fit for this particular subject because this is a big part of her life right now, but it rarely features in her scrapbooks. If I had tried to journal about what she does on the laptop it probably wouldn't have rung true to her. This way she gets to speak. I learned that it is not the coding process as much as the creating and storytelling that appeals to her. I would definitely like to use this journaling process again, as it is especially good for teenagers and it gives them a voice in their photobooks."
Devra Hunt says, "It seems music plays a part in every generation. I am watching now as music has grabbed my teenaged son's attention. He is always listening to music. He uses it to tune out noise, to calm himself, and to get energized. Music has connected him to friends, both real and virtual.  He spends time seeking out new music, listening to many genres."
"Music has always played a part in our family, making this a subject about which we could have a lively discussion. I learned he hasn't fully grasped what music means to him yet. I also learned that, in a literal sense, the difference between how his generation and my generation source, listen and purchase music is digital and analogue. I enjoyed writing a story from someone else's point of view, but I scrapbook so my 'readers' understand the stories, feelings and memories from my perspective."
DON'T FORGET TO GRAB YOUR FREE PAGE GUIDE!