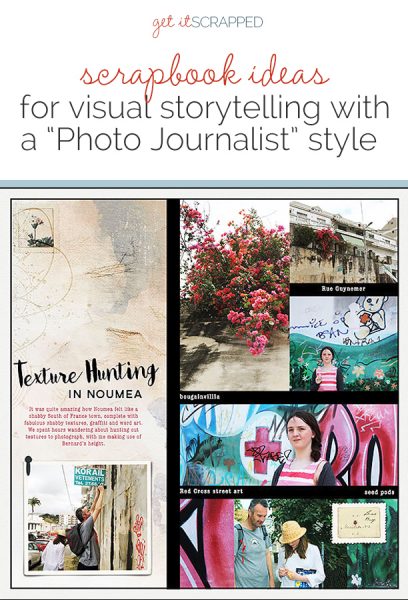 Your best scrapbook pages will incorporate your visual style–your way of choosing and putting together pieces. These best pages of yours also reflect a storytelling style–your preference for certain kinds of stories and your way of telling them both visually and with words.
In the Get It Scrapped Membership we have a Story Styles LookBook that details 10 storytelling styles. Here, today, we're sharing one of those styles: that of the "photo journalist."
The scrapbooker working with a photo-journalist story style reports events, incidents, and daily life with solid journaling, multiple photos, and a descriptive title. Elements are often arranged in a grid or blocked arrangement so that all the pieces supporting a clear story are present.
Below we show you how our Creative Team uses this style. And you can get a free step-by-step quickguide to using this appraoch yourself–ust click on the image below.
CLICK ON THE IMAGE BELOW TO SIGN UP FOR OUR EMAIL LIST AND GET YOUR FREE PAGE GUIDE
Marcia Fortunato says, "This layout is about Thanksgiving spent with my family."
"I often forget to take photos at busy family gatherings, but this year I made it a point to get photos of our activities and the dinner preparation. Because I had a lot of photos yet a fairly basic story, the photojournalistic story style worked well here. I chose my favorite photos – ones that helped tell my story – and made sure that I left a lot of room for plenty of journaling."
Lynn Grieveson says, "We recently went to the French Polynesian city of Noumea for a week and spent hours hunting interesting textures to photograph and finding street art along the way."
"The photo journalism style was a great fit for these photos as it wasn't about one standout photo, moment or event but rather about all the different photos (and textures) we found, and I needed lots of photos to tell the story."
Kristy T. says, "We often take our dog Lottie to a park that has water. On this day my son collected gum nuts and threw them in the water.  They both attentively watched the splashes, and then Lottie started to play in the water.  The game ended when she started to steal my son's gum nuts so she could play with them."
"The photo journalist style was a good fit for my page as I had taken lots of photographs just quietly observing them playing together. I wanted to use a mix of the different photographs to tell the story.  I was mindful of choosing a mix of close ups and wider shots, then arranging them to best tell the story."
Stefanie Semple says, "This layout features snippets of a day in November, details of what was going on in my life, home and friendships."
"I tend to process my thoughts by chatting through stuff. I love pairing everyday photos with words, and I specialize in adding the details of the what, why, when, how–including snippets that I know I will forget years from now but that I want to be reminded of. Life rushes on at such a rate, layouts like this act like a time capsule of sorts and make memory keeping a treasure trove for me to look back on."
Kelly Sroka says, "For my son's 16th birthday, we surprised him with a trip to Great Wolf Lodge. This page tells the story of our trip."
"Since I had many photographs from the event, I used a photo journalist story style to report the trip. In my journaling, I detailed the people who traveled with us and the specific things we did. Using a photojournalist style approach, I was able to capture the event in one cohesive yet interesting page."
Cynthia T. says, "This page is about our last trip to South America to see the family. We travel to Argentina and Brazil, and this was my daughter's 9th trip of this kind, but the heart of the story is the amount of time we spend in airports. Even when we get direct flights from London and then back, there is always some kind of wait in the middle flights. We have learned over the years to make it a very enjoyable time–and have bettered our photographic skills!"
"The photo journalist style is perfect for our travel pages as we have so many amazing photos I couldn't really scrap separately, and is so perfect to combine with journaling that doesn't have to be too lengthy as the photos speak so well in most cases. I rendered one of the photos–that most described to us the whole airport thing–larger. And the photo of us arriving home is next largest."
Karen Poirier-Brode says, "This page is about a busy and eventful day on my recent trip north."
"I thought the photo journalistic style worked well for my page, though I ended up with a rather tabloid style presentation with grouped photos of each story. I used columns for my journaling which worked well for the four parts of my story. Newspaper printed papers, flowers and heart emphasized my style choice. I worked with a "Z" flow on my page and just had fun!"
DON'T FORGET TO GRAB YOUR FREE PAGE GUIDE!