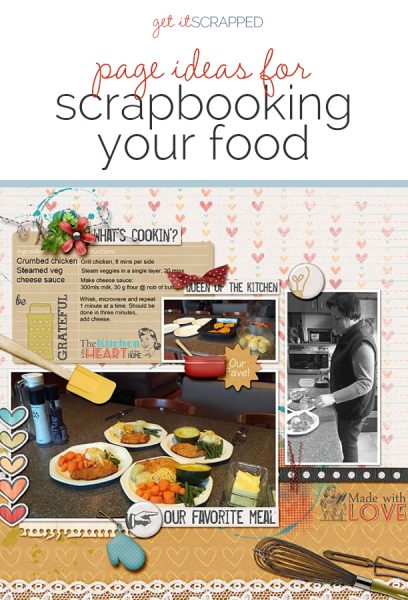 With the increased use of social media and our camera phones to record our everyday lives, snapping photos of our food has become more commonplace.
With this article, we encourage you to scrapbook your food photos. Maybe you like snapping a photo of a salad from your favorite restaurant with your phone, or maybe you'd enjoy recording a meal that you cooked that was a real crowd pleaser. You could even record an old family recipe that you still cook in your home today.
See our team's pages and get going with your own!
[hr]
Karen Poirier-Brode says, "This page is about a dinner of roasted chicken breasts with sautéed kale and apples that I made. Since my husband hates the bitterness of a lot of leafy greens, I was surprised when he said "This green stuff tastes good."
"I'll probably put the recipe on the back of this layout for future reference. And I'll happily post the recipe in the Get It Scrapped NSBR forum thread as well!"
Ronnie Crowley says, "I really struggle with the day-to-day stress of cooking dinner. It's not something I enjoy, especially as my son doesn't really appreciate any efforts I make! The page is about two things. First it's a nod to how horrified my grandmother would be about my efforts. Second I  wanted to record how things are before my son goes off to college, since I'm guessing our menu will change significantly."
"Recording the key components was important to me, so I snapped close-ups as I was cooking, I find pictures of the actual preparation are the most interesting and try to get different perspectives on the ingredients."
Sian Fair says, " I'm no cook, so when I record food we've eaten it's most likely to be about a new snack we've found. This page is about a packet of crisps (potato chips) with a new local flavor: Ulster Fry. Though we were intrigued enough to buy these, nobody has dared to actually open the packet yet!"
"I like to take pictures of food packaging as well as what's inside, because packaging changes and evolves over time and I'm sure this design will have curiosity value when I look at the page years from now. Packaging from the past appears everywhere as a design element today, so my tip is – scrapbook it as well as the food!"
Cynthia T. says, "We love eating out, but I refuse paying for Italian food. Having grown up in countries with huge Italian (and Spanish) influences, we can cook it at home. The photos here are of the making of Creamy Mushroom Sauce Pasta."
"We take photos of food all the time, I have been for ages making my daughter a recipe book, but this was me teaching her to make this.-We cooked it together and took step-by step photos. I didn't include them all, as my main intention was to make the page about my feelings about going out to eat pasta."
"I selected the best photos of the bunc and used a digital kit that was perfect for the subject. I didn't include the recipe (even though I used a recipe card) as the journaling is more explaining why we cook a lot of Italian at home, and how it is fast, easy and not expensive. I love using word art and all those cute kitchen elements."
Stephanie Semple says, "Crumbed chicken with steamed veggies and a cheese sauce has become my "go-to" dish when we are all hungry and want something we all like to eat as soon as possible. As the children grow up our favorite meals have changed through the years. Macaroni and cheese was very popular through the toddler years and now this is a weekly meal for us.
"I have photos of the food being cooked, one of me dishing up and another of the four filled plates. I also included the easy microwave cheese sauce recipe that we have all learned to cook now. I can get quite nostalgic in looking at photos of my Mom's kitchen from my childhood, so I recommend taking multiple photos of the food but also of the setting and anything either that makes that meal eventful, or everyday. Times change, the decor in the house changes and the children grow up and all of these stages should be treasured."
Nicole Mackin says,"This page is about a favorite snack I make in the summer: cucumber salsa. I wanted to record it because it was something I came across at a potluck and all I had to do was google it to find a recipe–a sign of the changing times! We have pretty much any recipe we could ever dream of on the internet. Gone is the need for a cupboard full of cook books!"
"I took a photo of me prepping the dish as well as the finished product.  I think it makes it interesting to see stages of the dish or meal: the preparation, your part in that preparation, and the finished product. It gives the story of the food more context in how it fits into your story."