Do you love vintage looks but don't have time for heritage scrapbooking on top of your current memory keeping endeavors?
Join Lynn Grieveson and find out why she enjoys using vintage looks for telling her modern day stories in this live interview open to all!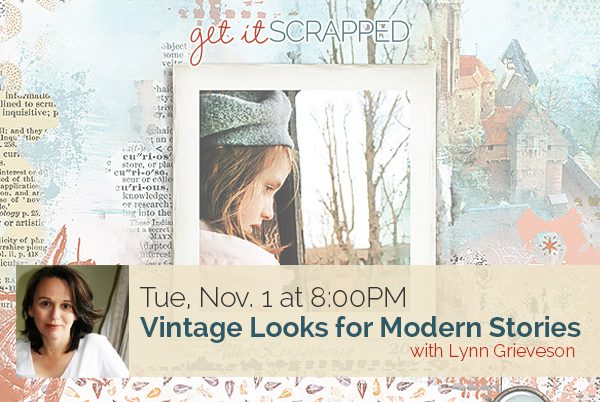 [hr]
LIVE TRAINING REGISTRATION
DATE: Tues, Nov 1, 2016
TIME: 8pm EDT
REGISTER HERE: https://getitscrapped.com/gis-webinar-2016-11-lgrieveson
[hr]
We're excited to have digital designer Lynn Grieveson joining us to to share her work, answer questions and talk about what cool new thing has her motivated to create. But we're even more excited to be able to share this opportunity with everyone!
Lynn Grieveson has been designing digital scrapbook products for over ten years, and has recently moved to The Lilypad from Designer Digitals. She splits her time between designing kits and templates for her shop and working as a political journalist (on the news website she and her husband own) and as a financial sub-editor. You will, therefore, nearly always find her at her computer working. But if she is not, she is probably researching family history or planning the next family travel adventure.
JOIN US FOR THIS SPECIAL INTERVIEW!