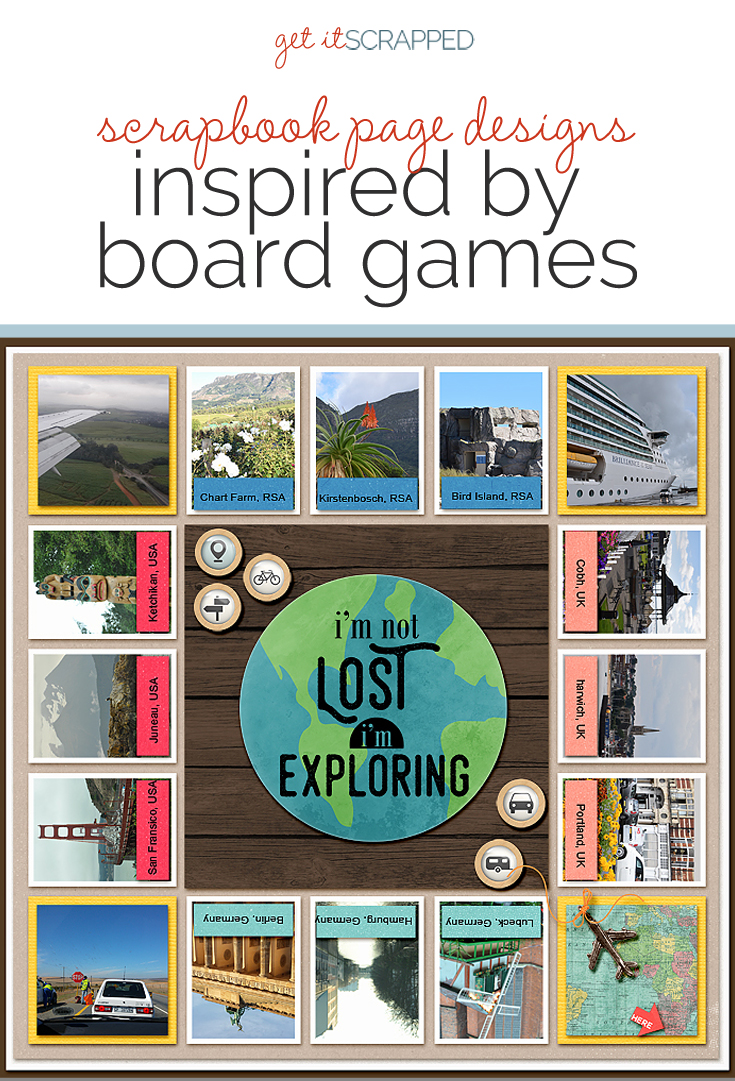 Everyday items can be a great source of inspiration for your scrapbook pages–giving your ideas and plans for color, shape, motif, and layout. Today our team shares their pages inspired by board games. Take a look at what they've done, and then check out your own own board games, and see what ideas you get.
[hr]
Nicole Mackin says, "Every so often I like to do a 'summary' page about our family and what we are each interested in right now. That is what this page is about-it is amazing how much our interests change over time!"
"I was inspired by Connect 4 because we are a family of 4 and because I love a grid design. It also allowed me to play with small bits of some of my favorite papers right now. The title of the game immediately made me think of our family of 4 and how I could use the grid design and concept of the number 4 to tell a story about each of us."
"To add interest, I punched out scalloped circles instead of regular circles and placed them in a grid design like the game.  I used a close-up shot of each family member, and a write-up underneath focuses on what each person is interested in. I pop-dotted these to give them focus and then embellished and stamped on a few more circles for texture and interest."
Stefanie Semple says, "Our family enjoys traveling and board games. Here I wanted a playful rendition of some of the places we have been."
"Monopoly is the game that inspired my design choice. I showcased three photos per country, similar to Monopoly streets. The corner blocks house 3 different types of transport we've used, and the 4th shows a world map with Cape Town's location highlighted. I added a metal aeroplane, which is like the games' player pieces, and then I added 5 wooden flair to represent the five of us."
Megan Blethen says, "My 6 year old loves to 'play' chess. Really, all he does is move the pieces around on the board. I wanted to focus on the fact that we don't actually play a real game of chess, we play pretend chess."
"I decided to take inspiration for my background from the chess board. Our board is made out of a heavy duty cork-like material, and that's why I brought in the cork patterned paper behind the photos. I love these photos and how the checked background mimics the board game theme I have going on with the photos and the design of the page."
Lynn Grieveson says, "Over the school winter break here in New Zealand, my daughter discovered Pokemon Go which she played for the first time on the day we were down at a waterfront park to watch a flashmob performance of Wuthering Heights. Pokemon Go won, as far as she was concerned!
"I was inspired by Monopoly, which we also have been playing a lot over winter. It was a good fit because it allowed me to bring in the bold color blocks and circles which suggest the Pokemon Go theme and because of the concept of walking the streets, which we have been doing a lot of since downloading the game!"
"I used a blocked layout reminiscent of the blocks on a Monopoly board, and made the journaling block similar to a monopoly property block. The title is also based on the Monopoly title, and I added a question mark inspired by the Chance squares in monopoly."
Devra Hunt says, "In 2009 my husband was diagnosed with and survived cancer. His positive attitude and outlook kept him strong thought his recovery."
"I was inspired by the game Operation by Hasbro. This game was the perfect theme for these photos. The two-page design and use of red and yellow mimics the full body and colors of the game board. The product choices are medically related:  blue bandage tape and actual medical labeling tape used in hospitals,. The comic strip tape and a pun for the title reminded me of the buzzing sound made when the tweezers hit the metal in the game. There are hearts and heartbeat stitching–the heart is one of the removable organs in the game."
Deborah Wagner says, "When I saw Seven Wonders Duel Board Game by Asmodee it reminded me of a photo from a family vacation in Jamaica. My niece and daughter were in the same stance as the central characters on the game cover. I was also inspired by the subtle sunburst, and the blending of elements into the background."
"In the end, my page and the game illustration don't have a lot in common. But without the inspiration, my photo would still be on my hard drive, unscrapped. Inspiration is everywhere!"
Sian Fair says, "Inspired by my dislike of board games, this page became the story of other things I try to avoid. I don't mind English draughts (U.S. checkers), though, so I chose a black and white squared design for my layout. I like how it suits my theme: it's simple and obvious, black-white, like-don't-like. I took the inspiration for my contrast color from the lid of our checkers box."
Cynthia T. says, "This page tells some of the story of the health problems I've had. I was born with a condition called bilateral femur dysplacia- both my hips weren't attached to the pelvic bone and in my case there was no soft tissue, no ligaments. I didn't walk until aged 5, and I had 9 operations by the time I was 8. I grew up sheltered from all the things doctors told my parents I couldn't do until I was 12 when I decided to challenge physics and proved them all wrong. I had one of my hips replaced in January 2003, but things started to go wrong even the day before the surgery, and I had to have 4 operations trying to fix the initial error but all failed and I was left with nerve damage, a leg 3 and a half centimeters shorter than the other – my mobility did not recover and also I have now a series of conditions which seem to keep me as a frequent hospital visitor and my life changed drastically."
"I learned to look at the events in a different light, and one of the most amazing silver linings was that my mum (who lives on the other side of the world) stayed with us for almost a year in 2003 , then came back for another few months in 2005 when I had the last hip operation, and this allowed my daughter (who was 6 at the time) and my mum to have a proper grandma experience. My mum would take her to school, dance classes, performances and all that comes with living in the same place.  Most of the problems I have now are degenerative/progressive so I need all the energy and strength, faith and hope, to carry on my journey. My parents got me walking moved by faith, they never gave up even when doctors all over the world would tell them I would never walk…so I take inspiration from their faith."
"I decided to make a book for printing on the whole health ordeal, so this is page 1, the general overview. We didn't played many board games in my immediate family for some reason, or if we did I don't have much recollection, but we had in South America something like The Game of Life, which worked mainly on a spinning wheel. I used to make spinning wheels games for my daughter's birthdays, and this design seems the most appropriate for the telling of this story, as it is a circular game in which I keep being hospitalized, having surgeries, recurrent problems with my long term conditions and the addition of new ones, but also has the 'bonus' of the silver linings."