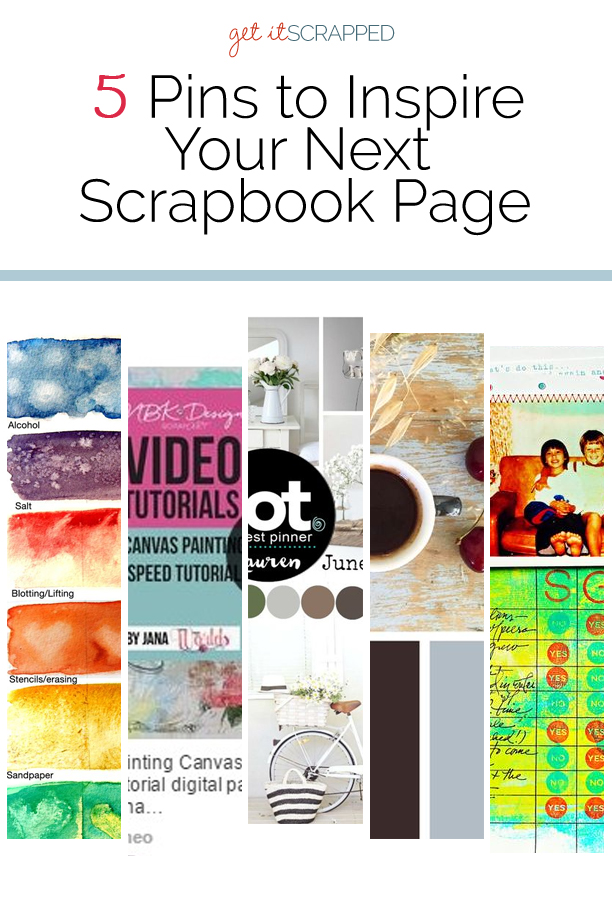 Are you following our GIS Creative Team Pinboard? If not we want to give you a taste of what you've been missing!
We feature inspiration from a new Creative Team member every other week over on Pinterest. With a combination of guest pins from our team members as well as pins that showcase their work, you can get to know our team better while finding out what inspires them to create.
Below are five pins from the board to get your creative wheels turning–or you can hop on over to Pinterest where you'll find plenty more ideas and inspiration!
[hr]
 

Pin No. 1 by Christy
Christy suggests, "Choose a new technique you have always wanted to try and find a way to add it to your scrapbook pages. Why not try out these Watercolour Texture Techniques on your next page.
[hr]

Pin No. 2 by Jana
Jana Oliveira shows you a number of techniques for adding paint to your digital canvas in the video Speed Canvas Painting Tutorial.
[hr]


Pin No 3. by Marie-Pierre
Marie-Pierre says, "Mood boards can help you get your creative juices flowing. I especially like this mood board created by Jot Magazine and I invite you to head over to their website and check it out as well as the layouts the team made with this mood board. Good stuff!!
[hr]


Pin No. 4 by Kelly
Color palettes can be another great place to start your next scrapbook page! Kelly really loved this scheme for fall from Design Seeds–light tans and blues with pops of dark red and brown.
[hr]


Pin No. 5 by Amy
I love trying out new journaling techniques that provide unique ways to tell my stories. Like this fun chart Jill Sprott created on her page "Cousins" to tell a story from three different perspectives.