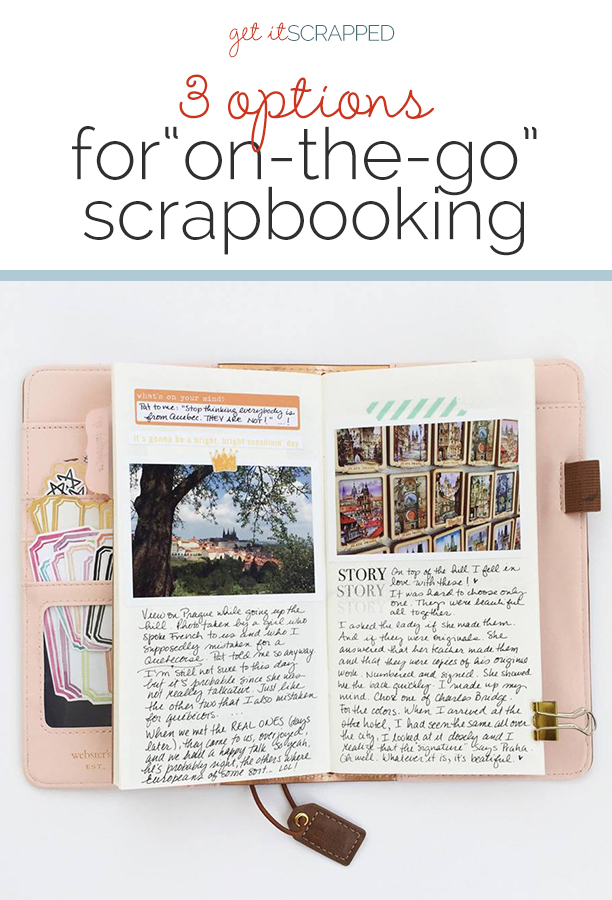 New "on-the-go" methods of memory keeping are gaining popularity as busy scrapbookers fit their hobby into their life.
Here, we highlight the use of travel journals and apps like Project Life that make scrapbooking possible when we are away from our creative spaces.
[hr]
"On-the-Go" Option #1: Travel Journals
Doris Sander says, "I love the travel notebook for so many reasons.  Obviously, it's great for travel and recording memories as they happen.  I also find that it's a much quicker format, so I tend to record more memories in the moment while they're fresh and before they get forgotten.  Then there's the storage bonus.  They're so small I can keep a dozen or more finished inserts in a shoe box!"
Shanna Hystad says "The story of this page is about a trip to Cannon Beach on the Oregon Coast.  I wrote my thoughts on a shipping tag.  I journaled about how the beach makes me feel free and washes away my stress, wondering why I don't come more often."
"Journaling while on vacation is relaxing to me.  It makes me notice and appreciate the little things. I am more in tune with my surroundings, the smells, how I feel, and what I see all around me.  This will typically make my journaling more interesting."
"A travel journal is a simple way to take scrapbooking on the road.  If you like to draw or doodle, bring those watercolor pencils with you.  They are great for adding a pop of color.  I also love to bring to a few stamps and ink.  They don't take up much space and can be used throughout the journal."
"On this vacation I knew I was going to the beach so I brought a small envelope of beach embellishments.  I didn't have a travel printer so I sent my photos off to a local drug store and picked them up each morning.  My small niece and nephew even joined in on the fun making their own pages each morning with me."
Marie-Pierre Capistran says, "This is one page of the traveler's notebook I used to document my 10-day trip to Prague. I was there to look for a house before our move."
"I didn't put my traveler's notebook together while I was traveling to Prague, but I did assemble it on the road since my scrap room and supplies were in boxes for close to two months during our move. I printed all my photos, and I packed a very small kit of supplies including scissors, double sided tape, lots of stickers, labels, and paper clips. We were on the go for two months, and it was easy to settle down with my notebook, my pictures, and my kit to scrapbook the trip that was still fresh to my mind. If I had waited until after the move, the documenting would have most likely not happened or not in the same way."
"One tip: if you really want to scrap on the go, get yourself a tiny wireless printer with lots of paper and ink supplies. I might have started documenting in Prague during the trip if I had had one. Another tip: remember that no scissors are allowed on airplanes. So if you make yourself a kit, don't forget to take your scissors out of the kit before you fly. And having stickers and labels is essential when you have no scissors to cut out things. It's also a good idea to get yourself a small note book to jot down notes and dates while traveling. You'll most certainly forget these details before you get back home."
"On-the-Go" Option #2: Project Life App
Jana Oliveira says, "I wanted to gather pictures of everyday work my son does  with me and with his therapist to remind him he has fun, and he has wonderful people working with him. Also, I want to remind him how smart he is."
"The Project Life App makes it easy to make several layouts while watching tv or relaxing with your iPhone or iPad. I save my word on Dropbox which saves time and doesn't take up space on my phone. Then I can open these pieces on my computer and spend a little time adding embellishments before printing."
"You can also create custom cards for your layouts with apps like Canvas and Adobe spark. On this layout I used the Rhonna Ferrer app to make two journaling cards for the layout."
Kristy T says, "At the moment, my youngest son is going through a superhero phase.  The other kids are only too happy to dress up and play along, even sneaking in some playtime just before bed."
"I had taken lots of photographs with my phone and wanted to create a quick page that captured the fun they had together and all their crazy poses.  I chose a template with lots of spaces for vertical photographs and edited the photographs within the Project Life App, adjusting brightness and contrast with the sliders."
"I used the Freeze Frame card for a quick title by saving it to my camera roll and using the Over app to add the date.  In this app, you can use a range of fonts, change text color, rotate text easily, add shadows and more.  I also added a sentence of journaling via the Over app onto my photograph, saved to my camera roll and then added it into the page.  I changed my background page color to black and called it done!  Both the Project Life and Over apps are very easy to use, so I would recommend just giving it a go."
"On-the-Go" Option #3: Other Apps
Summer Christiansen says, "This is a double page spread about a trip to New York."
"Using apps to scrapbook on the go (especially when you are traveling) is a great solution to getting our photos OFF of our phones and into albums.  When I see my layouts finished, I want to get them printed."
Summer's three most used "on-the-go" apps are:
A Color Story – It has the curves function for editing your pics and it is fantastic!
Pic Stitch – for the collage/layout format.  I like this one best because it allows you to easily adjust the the size of each frame in the collage.  I also keeps a copy of every collage so you can go back and edit it if needed–not something I have found in any other app.
Rhonna Design App – I use this one for the embellishments and because it makes journaling a lot easier to format on the page.  It has different fonts, alignment, line spacing, kerning and the ability to add shadows to text and objects.
Terry Billman says, "This layout is about our vacation and round of golf being interrupted by a severe thunderstorm."
"The app Day One (version 2) is fabulous for keeping a journal while on vacation.  The app allows me to journal daily and insert photos related to the journaling. The app also has the option to document the weather for the day, insert the time and date, document the location, and it also documents step count."
"When I am ready to create a layout, I generally use my go-to template, drop the photos into the template, blend a background photo, add the title and copy and paste the journaling into the layout. The daily journal makes scrapping on the go easy because everything I need is documented. It is pretty much drop the photos in, tweak the journaling and go!"