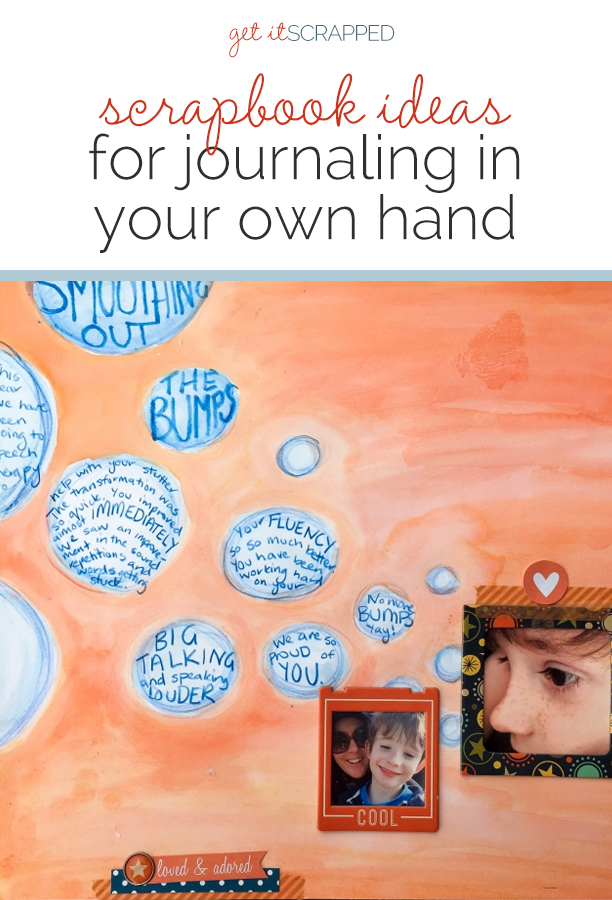 In the Get It Scrapped Membership class "Journaling," Dina Wakley said the following about hand journaling:
I teach art journaling classes all over the world, and one of the most common complaints I hear is, ?I hate my handwriting!
I want to tell you a secret about your handwriting. I hope this secret is life-changing. You need to trust me. The secret is: the only person who hates your handwriting is YOU.
I assure you that when your family and friends see your handwriting, they do not think, ?Wow, her handwriting really stinks. Instead, they are reading what you wrote, they are processing your meaning, and they are feeling touched by the time it took you to handwrite your thoughts.
Another reason I love to handwrite my journaling is because handwriting is very personal. It's one of the ways I make my mark on my scrapbook pages, one of the ways I put myself into my scrapbooking.
So, where do you come down on handwriting on your scrapbook pages? If you're looking for ideas and support for getting more of your handwriting onto the page, check out these ideas and tips from our Creative Team.
[hr]
Devra Hunt says, "This page shares feelings I've been having about my son and myself–what we have taught and learned from each other throughout his life."
"The main reason I use my own handwriting on my pages is, it's faster. I don't pre-write anything. There is no formatting, or font choosing for me. I write free flowing so it comes out the way I talk. Someone reading would know to read it in my voice. After much experimenting, I found a medium point, hard nub ink pen that I"m comfortable with."
"Often if I'm writing just a sentence or two, I will underline my writing, giving it emphasis, so it doesn't get lost on the page."
Nicole Jones says, " I wanted to document the reality of what my life has been as an Emergency Medical Dispatcher over the last 10 years and how the profession had affected and changed my life. In our family's story I want to present a complete view of what our family life is like, and how working as a dispatcher has had an impact on our everyday lives. The long hours and shift work is heavily demanding not only myself but on the people around me."
"Even though I don't always love my handwriting, I still believe it's important to use my own handwriting for journaling on my layouts, as it feels like I'm writing down our family's history. I've done a few pages for each of the kids where I've written them letters so that, as they are going through the albums years from now, they will find a letter written with love about how important each of them are to me and also a few words of wisdom."
"To make journaling a little more interesting, I like to add different textures such as stickers, enamel dots, letter stickers, and stamps.  Some of my favorite tools to use are my Staedtler pens, Muji pens (.38 & .50), and Project Life cards (Grid cards)."
"To make my hand journaling a little easier to read, I usually prepare 7 to 8 page kits, gather photos for those layouts, stick a recipe card in each one, then I sit down and journal on the recipe cards for all the page kits prepared. When I focus on journaling I find that the words come easier to me and I am able to make it more heartfelt."
"Make sure to check out my Youtube channel where I will discuss this topic in greater detail."
Cynthia T. says, "This is an art journal pagemade after returning from a trip to see family. Sad and with little energy to do much, occupied by the problems at the time, I just wrote exactly what passed through my mind. Sometimes it all makes sense when reading later. Sometimes is just a good way to see in a much clearer way the next step to take when seeing the words down in paper. I drew the face and then the hair, and did the writing  last. I did the writing upside down as I know it means things were upside down in my own emotional time then."
"I love using my own hand writing, I have kept a hand written diary/journal for as long as I can remember, and even on my digital pages, I hardly ever use a font that is not hand writing or script, I like the handmade feel of handwriting, and I think the other fonts  give a different feel to the page. As I was very unwell, and couldn't write, I blended a photo of a page of my handwritten journaling to a digital paper on hard light blend mode, the selected the flowers and stars and added them.
"I have a fountain pen with black ink which I love using. I have different types of markers, but usually use the Pound/Dollar store gel pens. I also often do what I did here: photograph my own journaling, be that only text or text & drawing, and then blend the photo into a digital page."
Kristy T. says, "My youngest son has had a slight stutter and some problems with his speech fluency and clarity, but he has worked really hard on smoothing out the 'bumpy' talking and doing 'big' talking for his clarity. This page documents and celebrates his hard work and improvement."
"I like using my handwriting because I can create and fill spaces on the layout to be part of the design of my page. It feels like my pages are more personal, and it often makes the process quicker and easier. On this page, I created bubbles to represent his speech. I used the same watercolor pencils to keep the text the same color blue for continuity. If you make a mistake using watercolor pencils you can always add water to blend out the mistake: wait until it dries, and then re-write.  It is important to wait until the paper is dry before writing with watercolor pencils for clear lines."
Other tips for handwriting:
do a quick draft of your journaling on scrap paper so you can see how much space it will take on your page
use good pens that you are comfortable writing with
use waterproof pens so you have flexibility to add mist or other wet mediums to your page.
Jana Oliveira says, "This is an art journal page with self reflection and journaling about my personal thoughts."
"I don't like my handwriting a lot, but as a digital scrapbooker I know that on those pages, it's easy for me to give up on because I could just type the journaling. And so when I make paper journals, I sometimes use my own handwriting."
"In digital scrapbooking I've found the best tool to get my handwriting on the page is a wacom tablet . I use a Wacom Intuos Art and a Mr. Natural Brush from Kyle Brushes. The key to digital handwriting is to to use pencil or natural brushes and make sure the size is really small. Do not use thick brushes."
Christy Strickler says, "This page is about our new kitten, who, my husband jokes, acts more like a squirrel than a cat."
"I feel it's important to use my own handwriting on layouts because it adds a more personal touch. I cherish old photographs with notes from my Grandmother and Mother. I hope that my handwritten journaling will have that same connection for my son and his future children. My handwriting is horrible. I have to tell myself to slow down and write with precision, so that it is more legible. I rarely write directly on the layout. Instead,I use journal cards or journal strips so that if I make an error, I can simply start over again."