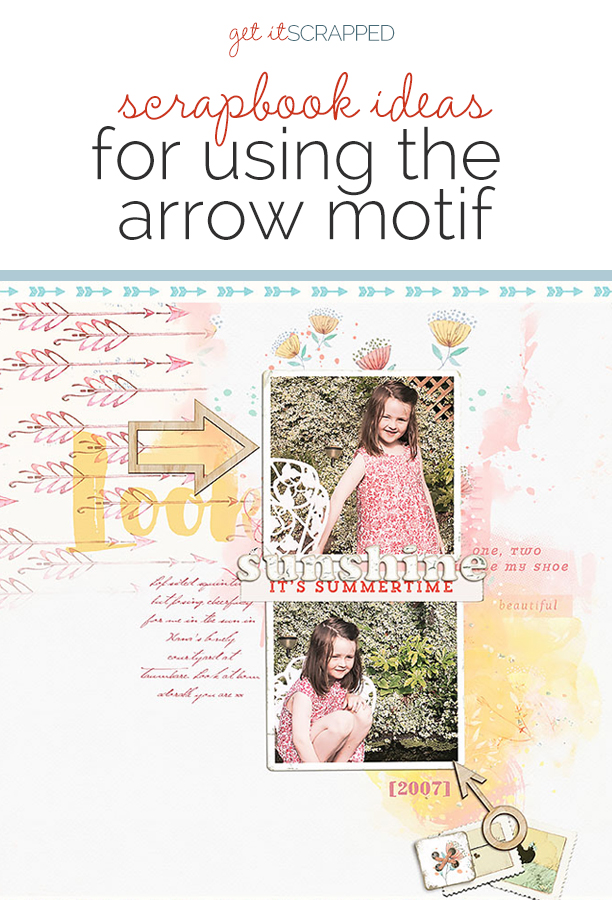 Arrows are thought to be a symbol of flight, direction and power.
Two arrows crossed are said to be a symbol of love or friendship, while two arrows pointing in opposite directions is a symbol of war.
Arrows are also a great way to direct the eye to certain parts of our pages.
See how our team uses this popular motif and and some of its common associations in their scrapbook page storytelling.
[hr]
Stefanie Semple says, "Our family took a mid winter break to a remote farm with limited WiFi and I created this layout to remind us of the addiction we all share."
"A stamped chevron points to the journal card; a flair and glittery arrow direct the viewers' attention. Arrows  direct the eye to the small router box on the wall of the reception area that would be easily overlooked otherwise."
Betsy Sammarco says, "This layout was made as part of a series of layouts for my son's baseball album.  I have many pages in his book so far that contain similar colors and techniques, but did not have a page yet about his friendships on his team."
"The crossed arrows icon, which is so popular now, may have its origins in Native American culture to signify friendship.  I used the crossed arrows image multiple times in this layout to focus on the friendship theme, but altered the image so the arrows crossed over a circle, leaving four pieces in each circle for patterned paper or photos.  The larger arrows and circle icon was perfect for placing bits of photos of my son and his teammate.  I left the page simple, as are the other pages in this book and let the focus remain on the two boys and the theme."
Ronnie Crowley says, "We are working with my rising senior to make decisions for his future so my page is about the options he's thinking about at the moment for college."
"I used the arrows to show the decision-making process of being back and forth. They also represent directions for his future. I added the arrow brad to suggest that no decision has been made yet as the arrows are going out in all directions."
Megan Blethen says, "This was my dog that we adopted from a family off of Craigslist 2 years ago. He was such a good dog!! He was loyal and loving and never ran away. He was good at keeping me company and never leaving my side! My son took this photo of a sweet moment between Sirius and me."
"The arrows on my page are meant to draw your eye to the photos. I knew when I picked this picture that I wanted to make a cut file in my Silhouette Studio software with all the arrows pointing at the area where I would put the photo. I picked 2 arrows and arranged them in a circular area around the side and bottom of the photo which is placed in the top right corner of the canvas. I added another embellishing arrow in the title to help you follow the line of how you should read it."
"The arrows on my page point to the most important part of the layout, the relationship between my dog and me."
Lynn Grieveson says, "This is my daughter in the garden at my parents' house, squinting into the sun but happy to let me take pictures."
"I used arrows on both the patterned paper on the side of the page, with the arrows directed to the photos, and as wooden elements pointing to each of the photos."
"The arrows serve to direct attention attention to the photos but also to emphasize the 'look' aspect. The journaling asks her to look closely at the photos and how adorable and amiable she is, and to look past her somewhat wonky smile that the squint makes a bit more obvious."
Kelly Sroka says, "I snapped this photo of my home-schooled son going to college classes. He wants to be a fire fighter and is working towards a certification in that area while he finishes his high school work. This page is the story of his moving on into adulthood and my moving on to a new phase in my life–no longer being a home-school teacher."
"I used arrows in several different formats–patterned paper, flair, and wood shapes–to reinforce the idea of both me and my son moving ahead in life. I specifically have the wood arrows on the photo and pointed off the page to the right to show my son's move into the exciting unknown of adulthood."