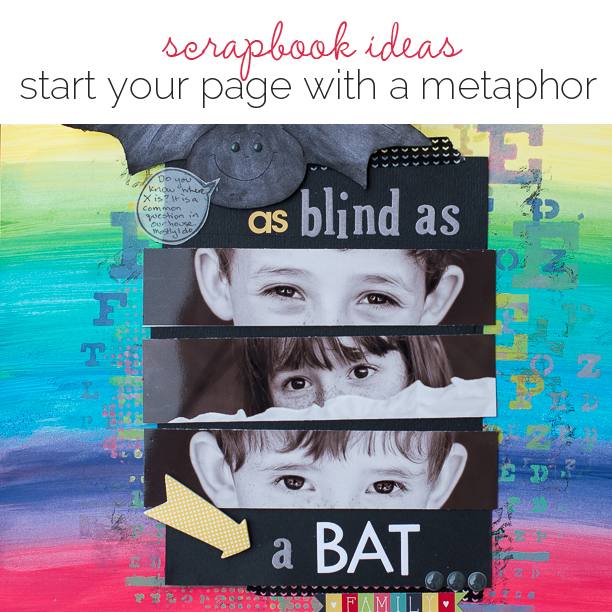 Known phrases are often metaphors that can represent your story: from "time flies" to "back in the saddle." Our creative team uses not only the words in one of these metaphorical statements, they also visually illustrate this metaphor of this scrapbook page storytelling. Check it out and take away ideas for your own pages.
[hr]
Sian Fair says, "When I walked past this hat hanging on its peg, I realized I could use its photo to illustrate the saying at the drop of a hat for conveying the doing of something without hesitation. It was an unusually sunny day, so I started out the with idea of noting how we need very little encouragement to talk about the weather here in the U.K. My focus changed as I added more of our national characteristics. The photo of the hat works, I think, because choosing a picture of one of the notes on my list would have lessened the impact of the others."
"I designed the page with a strong downward flow as a nod to the idea of the hat dropping. And I thought that was enough. It isn't a page about hats, so with the advice of my school English teacher in my ear, I didn't – excuse another metaphor – over egg the pudding."
[hr]
Jana Oliveira says, "The expression apple of my eye means you're referring to someone who is above all people to you–and that is what my son is to me. I want him to know in written words and with my art that he is my everything."
"This photo of my son is from a professional shoot. I'm never tired of seeing how fast my son is growing and how his face is changing. I love his looks of wonder and how he sees the world. We actually notice him thinking and looking at things in a whole different way as he grows. I love to capture those moments. I feel lucky he came to my life, and in this layout I say to him how he is important to me."
"I used colors related to an apple tree including strong tones of brown, red and green. I didn't want my page to be explicitly full of apples all around but hints of elements that have to do with them so I put a tree in the background blending with him and apple leaves and a contrast of the red and green with the dark colors of his colored picture."
[hr]
Kristy T says, "Both my husband and children regularly ask me where to find things and just about all the time I can tell them where to find things or I am very quick to find them.  Sometimes I joke with one of them that they are as blind as a bat, so this metaphor was a good fit for documenting this part of our life."
"I used the metaphor as the title of the page, rendering it with a mix of alpha styles and colors to add emphasis and grab attention to the start of the title.  I used a large bat motif and then close up black and white photographs of my children's eyes to contrast with the poor vision associated with bats.  The colorful background and the stencil also add contrast visually and also metaphorically as bats are usually in the dark but my children live in lots of colors."
[hr]
Kelly Prang says, "For this story, I used the idea that people tend to be a night-owls or early birds. I tweaked the title to state that I used to be more of a Night-owl, but now have become more like a sloth, as I sleep late and still go to bed early as I've gotten older.  I used images of both an owl and a sloth that had some personality to bring a little humor to the page."
[hr]
Marcia Fortunato says, "This layout is celebrating the baby dedication of my granddaughter."
"I used the phrase Signed, Sealed, Delivered to signify that she is a gift from the Lord – a package metaphorically sent from Him – and in a way, the dedication puts a seal on her, saying that her parents will raise her to serve God. I emphasized "Sealed" by using bold glittered letters, then rather than using much journaling, I used visual cues and word bits to convey my message – mailing tags and the phrase A gift from God.
[hr]
Devra Hunt says, "Recently, my son had major surgery on both legs. This page shows his recovery progression from learning how to go up the stairs with casts, to walking in the front door the day the casts came off.  I felt As Strong as an Ox was the most fitting metaphor to describe my son."
"The linear design, primary colors, tonal patterns, the gradual increase in height, and the weight lifters are all match the progression of recovery in each photo. All of this speaks to strength, both literally and metaphorically."