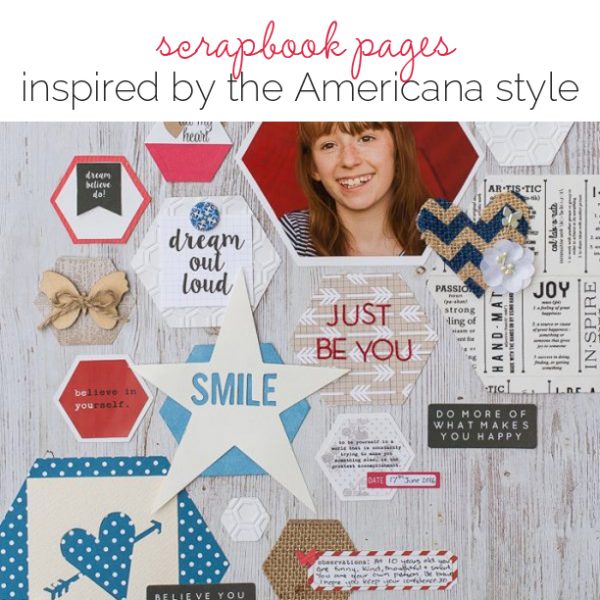 "Americana" is a casual style that can be patriotic, primitive, or reminiscent of a country farmhouse. Usually it s a mix of the three. This style is great for telling scrapbook page stories of home, history, travel and even sports.
Red, white, and blue are the colors of an Americana style, and commonly used motifs and patterns include:
stars
stripes
geography
folk art
historical motifs
gingham
eagles
flags and pennants
Materials and techniques that contribute to an Americana style include:
hand stitching
buttons
punched tin
bows
rhinestones
worn or shabby elements
barnboard
and other hand crafted touches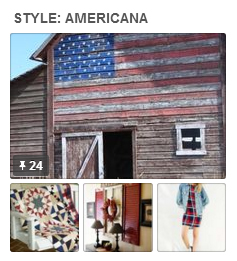 We've pinned fashion and decor vignettes that illustrate this style on Pinterest and we've got scrapbook pages inspired by the style below.
[hr]
Deborah Wagner says, "My daughter sends me photos of my granddaughter so I can make a book celebrating each month of her first year. My granddaughter's red, white and blue dress inspired me to scrap my photos in the Americana style. The colors, glitter stars, banners and, of course, the American flag all supported my title, American beauty."
[hr]
Karen Poirier-Brode says, "This page is about my Northern California college alumni meet ups which are often hockety games between Montreal and San Jose. An Americana style suited my story because the Habs uniform colors are red, white and blue, and McGill's colors are red and white. The rustic touches I've added work with hockey. Text-print paper reminds me of school. I had only three not-so-great photos of the event, but the casual air of the page helped me use them to tell the story."
[hr]
Kristy T says, "My daughter is nearly 11 and starting to move toward her teenage years.  I wanted to create a page that celebrates her as she is right now and encourages her to hold on to the confidence and who she is as she grows up."
"The Americana style worked well since I wanted to create a page with lots of little details (to represent the complexity of personality), a mix of textures and lots of repetitions of shapes.  I was inspired by the text on stickers I chose and the colors which are a mix of reds, blues and neutrals. Stars are a great motif that makes me think about shining bright and dreaming big.  I used the colors scheme to drive the photograph choice: one with her wearing a white and blue striped shirt and posed with a red umbrella."
[hr]
Stefanie Semple says, "This is the final page of my travel album of last year, saying goodbye to Boston, and America. My layout is about leaving America until we visit again. I love the pride that Americans display, something that is largely missing in my country. I started with a worn wood grain background paper with a partiall and distressed American flag motif to set the scene. I added small photos in a stitched pockets and detailed touches that are like the mementos we bring home as gifts from our travels."
[hr]
Megan Blethen says, "My oldest son is handicapped and can't easily participate in the city sport teams because of it. We are blessed to have a special league in our city called 'Field of Angels' that he participates in every summer. These are photos from a game last year showing how happy he is while playing this game. The navy color in my son's shirt and the red in the girl's shirt next to him made me think these baseball photos were perfect for an Americana style layout. Also, what is more American than baseball?!"
"To incorporate the Americana style in my layout I used patterned and  solid papers with red, white, and blue. Baker's twine in twise of red and white as well as layered shapes–photocorners, triangles, and stars–gave me Americana-styled embellishments. I used a black background paper to let everything else on the layout stand out."
[hr]
Christy Strickler says, "This will be the title page about a visit to our local museum featuring an exhibit of Norman Rockwell's art and what life was like in his day. Since Norman Rockwell's art was a snapshot into past American life, the Americana theme fit the story."
"I don't really have any truly Americana theme- supplies. I made a quick scrapbook kit with items that were red, white and blue or that had stars. The white brick paper had been a challenge for me to use on other pages. Since it has the word "liberty: on it, it made it an east fit for the kit. I liked making a kit versus buying it as I find many of the themed patriotic kits have more product than I can use."
[hr]
Debbie Hodge says, "Much of a recent trip to Texas was spent at sites celebrating Texas–and American–history. On this two-page spread from a visit to The Alamo, I used an Americana style to evoke a sense of that history."
"I started with the red, white, and blue color scheme of the style, choosing red gingham and blue floral print patterned papers from a summer kit. To sway the feeling from a summer theme to one focusing on American history, I used worn trim, bows and hand-stitching in red and blue. The embellishment motifs are stars, repeated several times in differing sizes and materials."