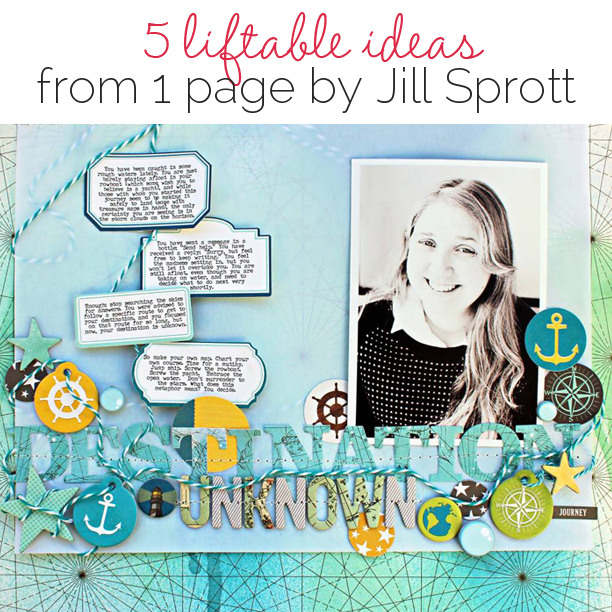 It's the accumulation of well-chosen and carefully crafted details that create a masterful scrapbook page. Check out 5 details on "Destination Unknown" by Jill Sprott (shared in a recent GIS Membership special event) and see if one or two of them can inspire scrapbook page ideas for your next page.
Jill's page is about her daughter's difficult journey to finding financial aid for college. The feeling behind this page is one of uncertainty and being in uncharted waters.  So Jill uses the well known metaphor, "destination unknown" to help her communicate this story both visually as well as emotionally.
1. Use baker's twine to string together a collection of embellishments both physically and visually on your page.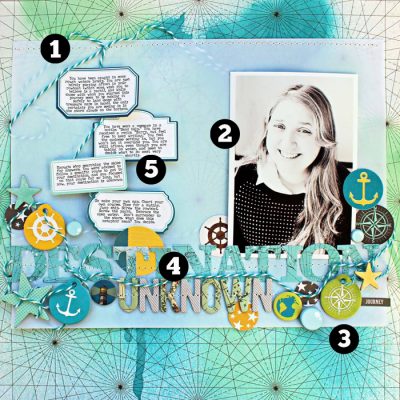 The way in which Jill has woven aqua baker's twine in and out of the elements on her page not only adds dimension and charm, but also creates a sense harmony and flow within her design.
2. Use a vellum mat to soften bold backgrounds and help your page elements pop against them.
Jill layered a large rectangular vellum mat over her vibrant patterned background and then layered her additional layers over top.  This gives the eye a resting place and creates contrast between her bold background and her other page accents.
3. Use repetition with variety in your embellishment clusters.
Jill has clustered several different circles around her photo and title to accent them and draw the eye in.  The variety in size, depth, pattern and color make this repetition interesting and add to the pages appeal.
4. Use a mixture of patterns or fonts when rendering an important word in your title.
Here Jill has used alphas in the same font, but two different patterns to construct the word "unknown" in her title. Not only does this design choice manage to mimic the appearance of her background paper but it also adds meaning to the page.  As that which is "unknown" tends to feel a bit chaotic or disorderly.
5. Break up your journaling on staggered labels to create visual interest and flow. 
The staggered journaling labels on which Jill has rendered her story not only capture and lead the eye but they also add to the unsteady path that Jill describes in her story.