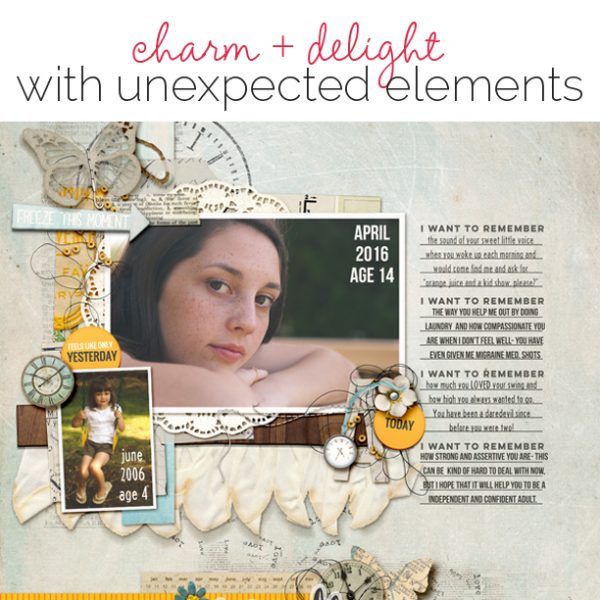 charm: the power or quality of pleasing or delighting.
While browsing through scrapbook pages, you will see something that makes you pause with admiration or just delight
It could be blue toenails in a photo, random swirls of white paint, or a hand drawn cat perched on a title that makes you stop and look longer.
That's the charm factor.
There are many ways to get charm onto the scrapbook page–and one of those is the unexpected.
When an element surprises and delights the viewer, they are immediately drawn into the page. It could be an unexpected motif, an over-the-top big and/or bold, high contrast embellishment, an unusual photo or something not usually seen on scrapbook pages.
See on the pages below examples of how the unexpected can charm.
[hr]
Sian Fair says, "This page is about keeping our family tradition of an Easter pinata."
"As the pinata was Easter bunny shaped, I found a fluffy white pompom type embellishment to act as a rabbit tail, and then added a pair of little ears (which are actually stickers of flower petals) at the top. I hope the charm comes in the discovery, because it might take a minute to spot them."
Kelly Prang says, "This page is about the way that life has seemed to be on fast forward lately. When I look at my daughter I feel that she should still be 4 years old rather than 14."
"I used two things to charm and delight on this page: butterflies and clocks.  Both convey the theme of 'time flying.' I used butterflies and clocks of various sizes and types to add interest. There is a die-cut style butterfly, a butterfly cut out of patterned paper, and a strip of patterned paper covered with butterflies.  For the clock faces, I have a stamped clock, two three-dimensional clock faces and a watch charm hanging from a ribbon."
Kristy T says, "My son takes after his dad and is now amazingly good at going to sleep just about anywhere.  His Dad often jokes that if he had a superpower it would be sleeping, and it seems he has passed that on to at least one of our children."
"I used this particular photograph as it is interesting, funny and slightly unexpected for a page about being great at sleeping.  I added extra charm with a fun title, that contrasts the idea of sleeping with having a superpower."
Debbie Hodge says, "This page shows my son and a friend trying to coax wild kittens to play. My younger son makes a photo-bomber appearance here.""The setting is one of my childhood in the 70s but the characters make the situation fun and even edgy: my son's friend dresses in a style often inspired by anime and the Japanese fashion center of Harajuku and she looked both adorable and jarringly juxtaposed with the farm. Then there is my younger son clowning around."
"To do these photos service, I added old greeting card illustrations of kittens, with a diecut of a kitten head layered on an orange-died doily and topped with an enamel bow behind the ear."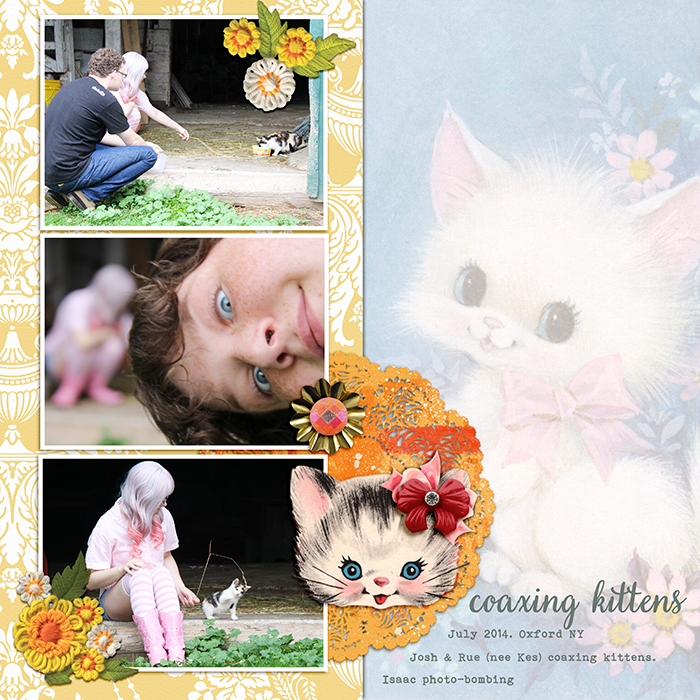 Celeste Smith says, "I feel like I cheated the charming! How can anyone resist the charm of that fox? He is just incredible don't you think? It was perfect for this page because the fox ties into the funny prank my son played on my husband for April Fools Day."
While feathers are newly trendy on scrapbook pages, we're more likely to see paper feathers rather than actual ones. However, Leah Farquharson has used an actual, long, white feather to echo her purple lines of paint.
Amy Kingsford says, This page is about the first season of fall for a family friend's daughter and the curiosity and wonder that surrounded her first time playing in the leaves."
"I used an unexpected color scheme for a fall page because I loved the sweet, feminine feel of this pastel palette. The big surprise comes in the form of that tiny purple bird.  I added it right in the girl's line of sight not only to make it seem as though it's what she's looking at, but so that my viewer would be drawn to its charm as well. I gave it a nice deep shadow so that it appears as if you could almost reach out and touch it, thereby recreating the girl's feeling of curiosity and wonder in my viewer."
Debbie Hodge says, "This is a page about the pranks my brothers play on me even as we enter our fifties. They are always trying to scare me, and so I titled the page with a big hypothetical threat: that there is a bear at the door."
"That title gave me my opening to use an oversized bear embellishment on the page. The bear is in an illustrated rather than realistic pose, and I've duplicated it, one cut from cardstock and another rendered with a watercolor treatment. Offsetting and contrasting with that bear is a little bunny in the corner."
Ashley Calder's page is of her daughters having a tea party. An unexpected use of paint markings has blue watercolor drops pouring down the page–like the tea from the pot. She dotted smaller bits of blue all around the title. It's an unusual title treatment that catches our eyes while all of the droplets support her story.