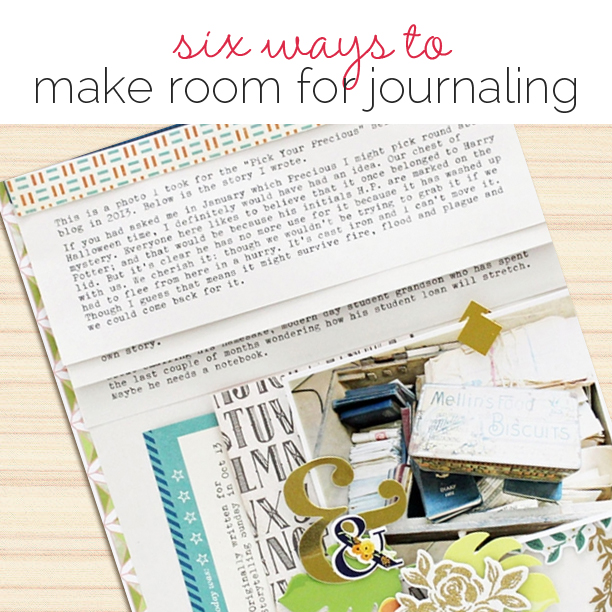 Arranging photos, journaling, titlework and embellishments onto your canvas is one of the primary tasks of making a scrapbook page. That task gets tougher when you've got lots of journaling. Check out these six ways to make room for your journaling.
[hr]
1. Use "newspaper-style" columns.
Summer Fullerton says, "This layout is the story of my inability to fish. It has become a slight obsession of mine, and during our last camping trip we pulled out all the stops, and we still couldn't get a nibble."
"I don't often make single-photo layouts–unless my layout is story driven. This layout falls into this category. By typing my journaling I was able to select a font and size it to fit my available space. This layout is designed around the large journaling block. I wasn't completely sold on the idea of using a large photo until I went to lay all my pieces in place."
[hr]
Put journaling in multiple spots.
Devra Hunt says, "The day we arrived in our new home, I expected our son to be confused and upset. Instead, I found him curious about his new surroundings and content to have his things around him."
"This layout tells this story as a whole, but each photo has its own story. I used journal spots around the page to tell details about some of the photos."
[hr]
Journal on top of your photos.
Kelly Prang says, "I found photos of each of my children as babies and wanted to document their cute little baby faces.  I converted the top two photos to black-and-white to match the bottom photo, which was taken with black-and-white film."
"To document which child was in each photo, along with ages and photo dates, I added the text directly to the photos, themselves."
[hr]
Layer pages of text over top of one another.
Sian Fair says, "This is a page about our family treasure chest and the old account books I found inside it."
"I had so much text to include, I decided the only way I could fit it in would be to layer pages of text one over the other, three times, as if to mimic decorative folds of patterned paper."
[hr]
5. Use text paths to create a specific space and shape for your journaling.
Stefanie Semple says, "This page is about our trip to Bird Island – a nature excursion of note."
"I started my layout with a template, which allowed me to use a large photo as a background and a second detailed photo surrounded by a text path and minimal embellishing to give an overview of our outing. A text path can be made in Photoshop–and there are plenty of these paths to buy in digital scrapbooking stores. This page is shaped in a spiral."
[hr]
6. Journal around the edge of your page.
Celeste Smith says, "As I walk into work each morning, I pass the beginning of the Wallace Stephens Walk, and I've scrapbooked that view here."
"To record the story I placed all of my journaling around the edges of the page. There is a lot more room along the edge than you might imagine. I also appreciate how it leaves lots of white space near my photo grouping."