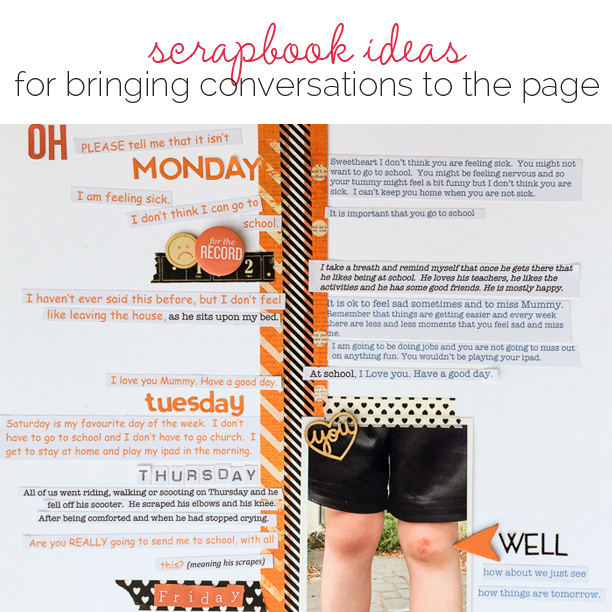 "Let's see what she says about that!" or "What did he say about it?"
How often do you hear or express this exact sentiment? There's an anticipation and satisfaction in hearing a voice — not so much for how it sounds but for the opinions and attitude it conveys.
The things an individual says and the way in which he or she says them conveys style and personality and character. To record voice in a way that puts personality on the scrapbook page, you need to pick the right words — not just any words. You need to select the words that are relevant — and revealing.
We do a deep dive into this topic in the Make It Mean class in the Get It Scrapped membership–and we've got a sampling of layouts inspired by that lesson here.
[hr]
Kelly Prang says, "This page is about the first tooth that my daughter lost.  She was eating a chicken nugget at the time and thought the tooth was part of the nugget.  I was confused and grossed out.  The story still makes us laugh, and we have a new family catchphrase: 'there is a tooth in my nugget!'"
"I told the story of the conversation with my thoughts added in.  I thought about using a dialogue setup, but wanted to include my concerns/fears/mental freak-out as well. My tip is to try to keep a record of funny conversations you have with your kids- but it is a good idea to wait a while before scrapping them, as with some time you might have an new approach to the things said."
[hr]
Stefanie Semple says, "This page records an honest-to-goodness conversation between my daughter and me while I was making something to eat and she was studying. I used speech bubbles to represent our statements, differentiating them by color of text, angle of the origin of the speech bubble and embellishment, using flowers for mine. I had fun with this, adding photos and a tongue-in-cheek observation about her disappearing act."
[hr]
Kristy T says, "Although my son likes school, he has had struggles with missing me as he is now full-time and has less time at home with me.  This page documents a series of conversations we had over the week."
"Vertical strips in the center of the page create two separate sections on the page to hold our words and thoughts.  The different colors of text and varying size help to distinguish my son's voice and my voice, giving emphasis to certain things he said.  Alpha stickers and strips of Washi tape create a timeline and show the separate conversations."
[hr]
Ronnie Crowley says, "This page was a huge 'Mom win' for me when, out of the blue, I received a text from my daughter at college. It made me cry! I wanted to record the whole message but to draw the reader in  I used the 'just wow' to encourage them to read it all. The use of the quote marks I think is a great way to make sure that the reader knows this was an actual conversation. It provides context."
[hr]
Terry Billman says, "This layout is documenting the conversation I had with my granddaughter when she was picking flowers on an outing at the golf course. Children love unconditionally and Brenna often says 'because I love you grandma.' It warms my heart every time she says 'because I love you grandma.' Words that are used consistently, over and over again, often make fabulous titles. I used her words as the title and also documented our conversation when she was picking that one special flower for her grandma."
[hr]
Devra Hunt says, "These photos tell two stories. First, my son is non-verbal. I find it funny that after all these years, My grandmother (Nani) would still talk to him as if he would respond to her. Second, they look so engrossed in each other, but this was a one-sided conversation. I've always imagined what the real conversation would be.
"I was inspired by a page by Debbie Hodge in which she used a phrase to signal a story. Nani's conversations always began with 'Hello Shayna Boy,' which is a Yiddish saying for 'beautiful.' Choose a phrase that brings emotion and feeling to your story. Nani said these words in a sing-song voice, gesturing with her hands, which I can still hear and visualize her doing today."