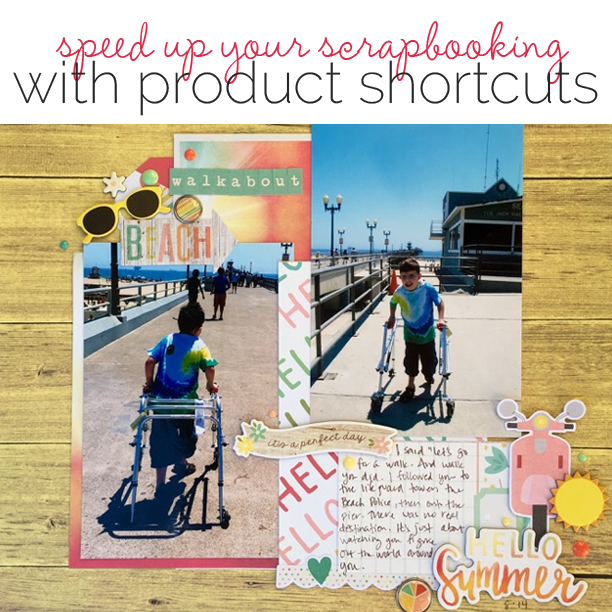 When you can scrapbook faster, the whole process is more appealing for many of us. When you have solid strategies for choosing and using product you've taken a great first step to speeding up the work.
In addition to this article, we've got an entire free series aimed at showing you how to be an efficient (and motivated) scrapbooker (click here for it).
[hr]
Celeste Smith says, "This page is about a warm cup of coffee on a cold fall day."
"One of the fastest ways to complete pages while digital scrapbooking is to use a kit. The colors and elements all coordinate to a theme. You have fewer decisions to make as you proceed through the creation process. When the kit is missing items, have a good system that allows you to easily grab extras. While I do not tag and organize my kits and their contents, I do have a basics folder that I lean on heavily. On this page I went to that folder for string, paint splatter, stitching and tag."
[hr]
Devra Hunt says, "After a reluctant start to a beach walk, my son took off on his own. I followed him as he explored."
"Using product from one collection really speeds up my scrapbooking process. All of the colors, patterns and embellishments have been designed to work together. With that part of the decision making process done for me, I just select the pieces that best support my story and my page comes together quickly."
[hr]
Deborah Wagner says, "This is my granddaughter, Aeriel, in her first Halloween costume."
"Tagging your digital products will speed up digital scrapbooking. I use Picassa, a free program from Google. I don't tag every single element but, instead, put supplies in categories. Here are a few categories I use: Travel, Birthday, Beach, Sports, Graduation. You can also organize by product designer. To find product for this page, I searched for Baby, Easter, Anna's Templates, and Watercolor. I put all the items I might use into a folder so I didn't have to search all my supplies each time I wanted to add something to my layout."
[hr]
Jennifer Kellogg says, "This page is about my nephew's third birthday."
"For digital scrappers, the fastest way to get a page done is to use a template plus a kit as follows:"
First, choose your photos so you know how many you'll have on your page.
Then choose a template that can accommodate the photos you want to use.
When you choose the template, also look for one that has several embellishing elements mapped out. That way you don't need to spend a lot of time embellishing the page. As you can see I didn't really use any additional embellishments on this page. (Note, this template is based on a page by Lisa Dickinson and a part of the Get It Scrapped membership library.)

Finally, choose only ONE kit. On this page I used one kit and an alpha. 
"Remember – the BEST pages are the pages that are DONE!"
[hr]
Marcia Fortunato says, "Now that my sons are grown we don't see each other as often as we used to. To stay more connected, one day each month I have everyone in our family take a photo and send it to me. This layout shows our photos from November 2015."
"I acquire most of my scrapbook products through a monthly kit subscription. I enjoy using kits and find that this is the most efficient way for me to scrapbook. Since this photo-of-the-month layout is part of an ongoing project, I have curated supplies from past kits and from my stash and created a kit of my own which includes the products I'll most likely want for these monthly pages. Although I don't strictly limit myself to just these products, it does give me a starting point and saves time by eliminating the need to search through all of my supplies; and if I'm really in a hurry, I have enough supplies already gathered that I can quickly create a page."
Debbie Hodge says, "This is my first December page this year, a page about buying greens and a few new holiday decorations as I get ready to prepare our home."
"I rarely scrapbook with one kit or collection and my best approach for choosing product efficiently is to unite around color and/or texture. Here, the blocks of Kraft with shiny gold circles were my first choice, and they drove the choice of gold alphas, glittery trees and stars, background patterned paper prints and even the brown deer. Once I've chosen and used a nice batch of product in that one color or material, I choose a second color to use sparingly: here's it's the red flair, brads and scriptwork."