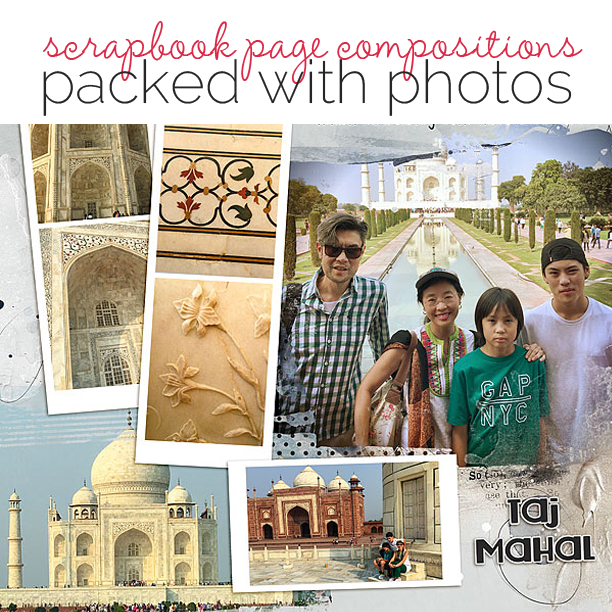 For many of us, photos are the reason to scrapbook and multi-photo scrapbook pages let us pack in lots of memories. While we've heard (and even sometimes agree) that one or two photos with strong journaling are as powerful as a dozen photos–still, there are times that we want ALL those photos. We want as  many shots as possible filling in the details of the day.
See our creative team's favorite approaches for making pages packed with photos.
[hr]
Stefanie Semple never goes out without her hair done and made this page when she saw the journaling card with the perfect quote about hair for her story.
Stefanie says, "I usually like aligning photos cleanly in a grid, but for this layout I wanted a looser feeling, something less formal and more fun, as though the photos were laid out on a surface and then bumped." She arranged them loosely on a block of gingham with stitching around the edge for a look much like a casual bulletin board."
[hr]
Kristy T says, "This page was inspired by the quick family selfie taken to share with interstate family members. Seeing it, I decided to collate our selfies from the past year.  It is a way to reflect on and represent what has happened this year."
"I clustered several smaller photographs around a larger central shot. This single large photo in combination with the title creates a strong story-setting focal point. I framed teh photos with pieces of journaling and added black borders at top and bottom to frame the page."
[hr]
Debbie Hodge says, "This is a page from my youngest son's 15th birthday party. With so many friends in attendance–and lots of fun activities–I wanted to pack the page with memories. My favorite approach for doing this is to group photos into blocks. I crop photos to same size for blocks, to same height for rows and to same width for columns."
A sketch and layered template for this design are a part of the Get It Scrapped membership library of 150+ sketches and templates. Click here to join.
[hr]
Audrey Tan says, "This page is about my recent visit to the Taj Mahal. It has been a dream of mine to see it and it finally came true. The feeling of being there, to see and to feel the monument, is simply awesome."
Amy says, "I packed the page with photos of the Taj Mahal, the entrance, the exterior, close up of the marble and its inlay with semi precious stones. I concentrated on showing the photos and minimizing embellishment." Her design of a blended background photos and layered photo-booth strips lets her incorporate so many photos.
[hr]
Debbie Hodge says, "This page is about my son moving into college his freshman year. I wanted to show all the details and a sequencing of the events."
"I used a blocked design, placing the first photo of his items staged at our house and moving across the page adding in the others as if filling in a puzzle, placing each one next to or below the one that came before."
[hr]Summer Christiansen says, "My page is about a trip my husband and I took in which we stayed at the Ritz Carlton."
"When I make a photo-packed page, I use fewer elements and solid page backgrounds.  This creates less clutter and lets me convey a clear idea what the photos' story is." Summer's composition is one with many small photos showing the details of the trip and generous white space.
[hr]
Sue Althouse says, "This page is about our traditional December Date, for just the two of us. On this photo-heavy layout, I created a background of patterned paper and stickers to ground my photo collage, which is clustered towards the middle. This leaves room for the title, journaling and some simple embellishing on either side."
[hr]
Terry Billman says, "This layout features my nephew in action on the football field and includes eight photos."
"When making a layout packed with photos, I often convert a few to sepia or black-and-white to keep the page from appearing busy. I often blend one or two photos into the background paper."
"Here, I used a photo block to showcase my favorite action photo and that is was blended over a sepia-toned background photo. A photo strip features a series of action shots. I also use photo extractions that extend beyond the photo frame for energy and a sense of movement. The color photos provide the action or movement, while the sepia toned photos focus on the emotion. Generally, when using a lot of photos, I rely on the photos to tell the story, and I keep embellishing  to a minimum."
Understanding the options for combining photos on the page always speeds up the work of scrapbooking.
The Get It Scrapped Membership includes 21 Scrapbook Coach classes with 80 15-minute video lessons that foucs on choosing and mixing photos as well as patterns and color using tried page foundations. Check it out along with a goodie-packed video on the topic when you click here.