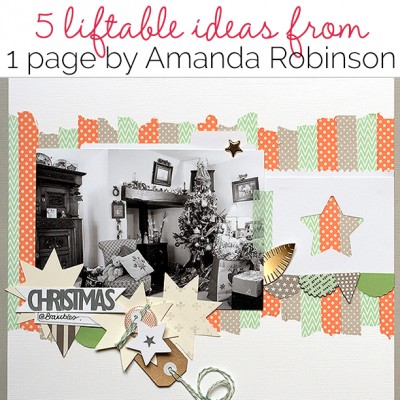 It's the accumulation of well-chosen and carefully crafted details that create a masterful scrapbook page. Check out 5 details on "Christmas Baubles" by Amanda Robinson and see if one or two of them can inspire scrapbook page ideas for your next page.
Amanda says, "This is a simple page which captures my parents' living room all decorated for Christmas–my favorite place to be at this time of year! I converted the photo to black and white because of bad lighting and that gave me a chance to experiment with non-traditional colors."
1. Scrapbook a black-and-white photo against a multicolor foundation of Washi strips.
Amanda says, "I took my color inspiration from the basket of Washi tape on my desk and ended up creating my foundation layer entirely from strips of peach, mint and grey tape. I couldn't resist adding a couple of gold elements to add festive warmth to what was initially a fairly cool color scheme."
2. Cut a shape from a block of paper and back it up with multicolor foundation of Washi tape.
Amanda punched a big star from white cardstock and layered it so that the peach, mint and grey tapes show in the opening. The shape you punch should be simple and obvious. The cutaway should be big enough for multiple strips to show.
3. When you've got a colorful background, embellish with a cluster of shapes cut from neutral papers.
The punched bursts, stars, banner, and tag here are all in whites, creams, and kraft.  Amanda added just a couple of pieces of color or dark neturals to the cluster. The layered neutral pieces add great texture and interest while letting the dark bits pop.
4. Add shine with metals.
Amidst the Washi tape, the black-and-white-photo, and the neutral punched pieces, Amanda place three metallic spots that frame her photo in a visual triangle and add shine to the page. Notice the star brad, the gold leaf cut, and the shiny silver star printed in the middle of her star shape.
5. Add trailing string for texture and motion.
Amanda's band composition is placed above vertical center on the page. While we expect to see tags upright and peeking out from the top of other elements, here a kraft tag slides down below the clustered shapes. It's tied with twine that curls, is stapled, and trails down into the white space at the bottom of the canvas.