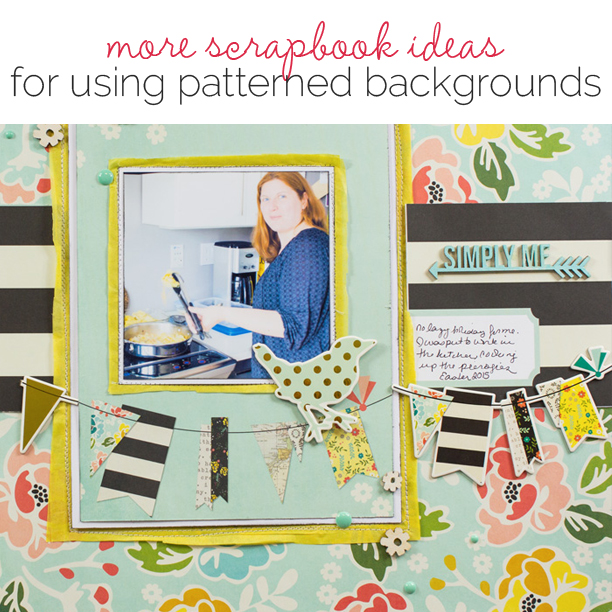 Using patterned paper in a "big" way to back up the rest of your elements is exciting–with opportunities to support story and simply charm the viewer–and a little intimidating, since there's a risk of overwhelming the photos.
We just added a new class to the Get It Scrapped Membership Library on the topic of Patterned Paper. Click here for a closer look.
[hr]
Kelly Prang says, "My father and his siblings got together for a quick family reunion in October.  Each has struggled with issues within the past couple of years, including congestive heart failure, double knee replacement surgery, and being a caregiver for a spouse with Parkinson's.  Thus, we were very happy that all of the siblings were healthy enough to get together for a beautiful day on the lake at my cousin's house in South Carolina."
"Since my dad, uncles, and aunt were born in the 1940s, I wanted a vintage look for the page.  I found this beautiful floral paper with a bit of vintage vibe and used items that complemented the fall family get-together to convey a warm and cozy feel.  I laid out my page in a diagonal foundation, with accent clusters at the bottom left and around the photo."
[hr]
Gretchen Henninger says, "This layout is about my helping my mom cook her homemade pierogies, a family favorite and traditional Easter dinner. This lovely floral pattern, with its bright colors, reminded me of spring and seemed a good fit for capturing part of our Easter celebration. In order to keep the focus on the photo, I used a large mat to separate the photo from the background."
[hr]
Ronnie Crowley says, "My daughter is part of an organisation in college that does community projects. Their latest one was at a furniture bank where they spent the day moving mattresses. Initially I was stuck on how to scrap these photos, but as I was looking at all my papers to get an idea, the large dotted paper said quilt cover to me. This totally led me down the path to make the page look like a made bed. The strip of white helps tone the pattern down a little and also supports my theme of a made bed. "
[hr]
Margareta Carlsson says, "The bold patterned paper background here enhances the story of supernatural things living in tree trunks in the forest–and the idea of the spark of imagination you get by a visit to fantasy theme worlds. The trendy fern pattern is so large and bold, so I decided to go all the way – bold on bold! – by using large and/or unique title letters and embellishments that won't disappear in this big pattern."
[hr]
Heather Awsumb says, "This page captures a selfie I took on a recent Saturday morning while my dog and cat snuggled with me (and each other)."
"On the majority of my pages I try to use at least one paper that establishes my color palette. I chose this paper simply because I liked the color palette and the bold stripe. To make it work as a background paper I used a black-and-white photo and chose simple tone-on-white small-motif patterned paper for other layers so that they would not compete with the background paper."
[hr]
Marcia Fortunato says, "This layout is about the new little kitten we recently brought home. We're quite captivated by him!"
"I knew I wanted to use this title–There's a New Kid in Town–for my layout about our new kitten, so when this patterned paper arrived in my Cocoa Daisy scrapbook kit and looking like a town, I thought it was perfect. When working with a busy patterned background, I like to keep my design fairly simple and structured. In this case I used a blocked design. I was originally going to mount the photos on plain cardstock; but since the photos have rather plain backgrounds I found they stood out just fine when placed directly on the paper. I had more difficulty with my title blending into the background. To deal with this I placed vellum behind the title and also outlined the letters."
[hr]
Debbie Hodge says, "There's a challenge event held in several cities around the county in which a team of 10 solves puzzles to figure out how to get out of an office-styled room in an hour or less. It's called 'Escape the Room.' My son and five friends played in Boston this summer. They were teamed up with four men who'd known each other since childhood ('They were us old!' the boys later told me). They made it out with TWENTY SECONDS to spare! And they were so pumped by the event. This is a photo the company who sells this event posted on facebook."
"To go with the wacky lines on the wall in the photo and the sense of being in an imaginary world, I wanted to use this hand-drawn, cartoon-like patterned paper background. I sized the photo to fill the width of the page and placed it at a tilt. A yellow print border on photo top and bottom separates it from the background."
[hr]
Looking for ideas and lessons to fuel your own use of patterned paper on the page? We just added the 67th class to the Get It Scrapped membership library: Patterned Paper Look Book. Click here to get it.
This "book" shows 40+ scrapbook pages that feature patterned paper well–and gives you a guide through several topics: types of patterned papers, choosing patterned paper, mixing patterned paper, and techniques for patterned paper on the page.
This "book" is available as a pdf and as an interactive online gallery. Click here for a closer look.