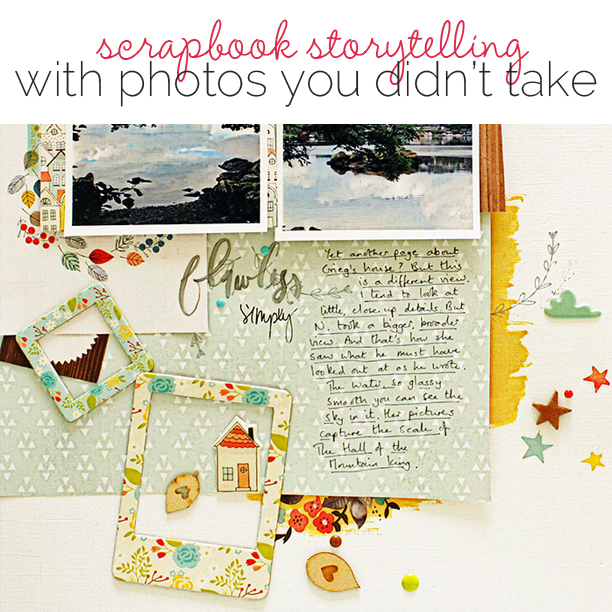 Scrapbook page storytelling with photos taken by others can be a necessity, a pleasure, and even a challenge.
Sue Althouse knows about this first-hand because her husband is an avid and skilled photographer who often provides the photos she's scrapbooking. Last spring, I interviewed Sue for Get It Scrapped members on this topic. Check that video interview out here now and see how our team made their own pages with others' photos.
At the Get It Scrapped membership WE TALK A LOT, with 3 to 5 live events every month. All of those interviews and office hours sessions (close to 300) are a part of a Get It Scrapped membership. Join us and start watching and listening today.
[hr]
Marie-Pierre Capistran says, "This is the daughter of one of my good friend at a soccer clinic in Montreal. When I saw this picture and the quote my friend had posted with it on Facebook, it spoke to me, and I knew I wanted to make a layout with the photo and quote as title."
"My friend is a scrapbooker and she has four children, and I know she appreciates it when I make a page for her. What makes me happy about it is that the page is going into one of her albums. It's not going to just lie around as could be the case with a recipient who is not a scrapbooker and has nowhere to store pages. In that case I would rather make a card with the picture."
"A challenge when scrapbooking a photo for someone else is coming up with journaling. On this page, I let my heart speak. I explained why I wanted to scrapbook this photo, and then I talked about the little girl, what she is to me and to my daughters. I finished by saying that her daddy, who took the picture and wrote the quote, must be very proud of her. I also added the date and context of the picture on the small label. I asked my friend to provide these details."
[hr]
Stefanie Semple says, "My hubby sold his car to his brother-in-law, who was delighted to update his ride. I took the photos of them leaving our home. My sister-in-law whatsapp'd us photos of Eric's huge smile and the Camry settling into his new garage. Our family ascribes human emotions to our vehicles, so they deserve a place in our albums as well."
"Depending on how you come by photos taken by others, sometimes the quality can be disappointing. When using low-resolution photos that I've received from others I tend to keep them small on my pages. I always ask people taking photos of me to use the backward facing camera on my phone, rather than the forward facing one. However, when I keep getting dud photos of me, I will take a selfie with my forward-facing camera, because at least it will be recognizable to me/of me even if it is of lower quality."
[hr]
Audrey Tan says, "This is about our trip to Hong Kong. On one of the days there, we went to Ocean Park, a themed park. The camera at the roller coaster captured the boys' scared faces. We all had a good laugh when we saw it and had to buy the picture. The family photo was taken by a relative."
"I'm usually the one behind the camera but sometimes, it's nice to be in front. Also from a scrapbooking point of view, it nice to be using pictures where I'm part of the family as well."
[hr]
Sian Fair says, " This is a page about our summertime visit to the home of the composer Grieg, in Norway. My daughter took these pictures with her phone. When I asked her which photos she would like me to scrapbook, if she could choose any from her camera roll, she chose these two and I was delighted. We both stood at the edge of the water and thought about what Grieg had seen from his composing hut window. I saw little details, and she saw a beautiful big, reflected view as shown here. I messed about with my big camera, she got right to the point, simply, with her phone."
"I find choosing items to go with someone else's pictures very liberating. While my first plan had been to go with dark colors because of the shadowy reflections, I ended up going lighter. Be completely open to suggestions from your picture taker about what they see as the main features of the photos."
[hr]
Terry Billman says, "We are a family of golfers! This layout is a series of photos of my grand daughter, Cami, being invited to walk with the top women USA golfers at the Solheim Cup in Germany. My daughter took these photos and sent them to me via text message. Since they live in Germany, I rely on my daughter to send me photos of the grand children and tell me the story behind the photos. Living abroad provides many opportunities for the children to visit different places in Europe. Scrapbooking their photos allow me to record their three-year journey living in Germany. I generally crop the photos, apply a filter, or change the blending mode. I focus on the documentation of the story since the photos may not be of the highest quality and often are grainy, dark, and out of focus."