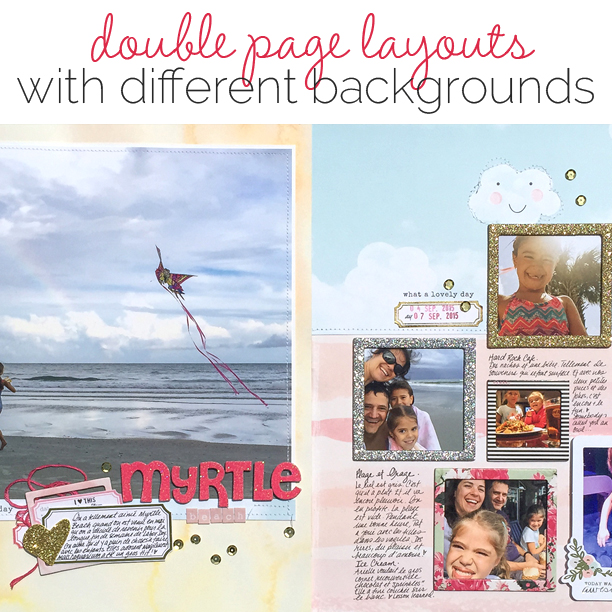 Scrapbooking ideas for making two-page layouts in fresh and efficient ways are presented expansively in the Get It Scrapped Membership class "Loving the Double Wide."
One of the many approaches shared was by Kim Watson who often makes her two-pagers with very different background papers on each side. It's a fun design challenge and a way to get engaging designs. See how our creative team put Kim's lessons to work on these two-page layouts.
The last layout in this post is one of the four layouts I used to teach this approach with a video lesson in Scrapbook Coach 19 Double Wide (also in the GIS membership).
[hr]
Karen Poirier-Brode says, "I saw these yellow and grey papers and thought of these photos. They show me in my yellow dress having fun with the angels in Fort Worth with fellow Get It Scrapped Creative Team member Ronnie Crowley. Ronnie and I have been on-line friends for 10 years but just met in real life in August of 2015."
"I used the bold yellow floral on the left side and the wide-striped grey and white on the right. To create a solid design, I used Kim Watson's idea of placing one focal point photo on the left and supporting photos on the right. Repetitions of color and motif on both sides unite the two."
"Yellow is a joyous color, and I added accents of bright pink which is also a happy color. Bits of gold and brown work with the yellow and the photos. Repetition of similar colors, patterns, objects and motifs on both pages link them together. Of course, I included a Lone Star for Texas."
[hr]
Devra Hunt says, "This page is about getting together with my friends one afternoon to bake challah."
"I chose prints that reminded me of my Grandmother. The background on the left is a two-tone striped print running horiztontally. On the right, I used multiple prints: a polka-dot print, a large floral print, and a repeat of the stripe from the left. The two sides are united by the repetitions of embellishing patterned paper on each side."
[hr]
Ronnie Crowley says, "Our Fourth of July celebrations are usually low key since we are Brits living in Texas. This year, at the last minute, I organized us into going to the ball park."
"I really liked the bold wood flag print backing up the left side of the spread, but I needed to balance it with a lower-key neutral pattern. The American map paper was perfect. To unite the two sides of the paper I added the red white and blue stripped ribbon. This replicates the colors and patterns."
[hr]
Marcia Fortunato says, "This layout is about a wiffleball game between our family and my (now) daughter-in-law's family. (We won!)"
"I chose the red background paper on the right because of its celebratory tone. I used a neutral grey printed with numbers on the left because it reminds me of keeping score."
"The photos spanning the layout helped to unite the two sides and make it obvious that it is one layout. I used red letters for my title on the grey side and grey letters on the red side. I also used a grey striped strip, dark blue embellishments and stamping, word spots with the same style, and navy and grey stars on both pages of the layout to further join the two sides."
[hr]
Marie-Pierre Capistran says, "This is a layout about our last trip to Myrtle Beach. I started with the background on the right side of this spread, looking to include some pink as well as this cloud-print. I paired it with a pale yellow print for the left side. It brought light to my rather dark photos. To bring the two sides together, I used gold foil, labels, tones of pink, sequins and stitching equally on both sides. I also used a strip from the cloud patterned paper under the large photo on the left page. The three background papers used here are not from the same collection or even manufacturer, but all have a watercolor look."
[hr]
Debbie Hodge says, "This page is one of the four taught in Scrapbook Coach #19 Double Wide. A 15-minute video lesson walks you through making a similar page with your own photos, style and products. The class is part of the Get It Scrapped membership."
[hr]
Rock Your Own Double Wide Designs
Get your own dose of "loving the double-wide" design process with a Get It Scrapped membership which includes Masterful Scrapbook Design Loving the Double Wide, Scrapbook Coach 19 Double Wide, and Masterful Scrapbook Design Pocket Page design in addition to over 60 more classes and 150 page sketches and templates.