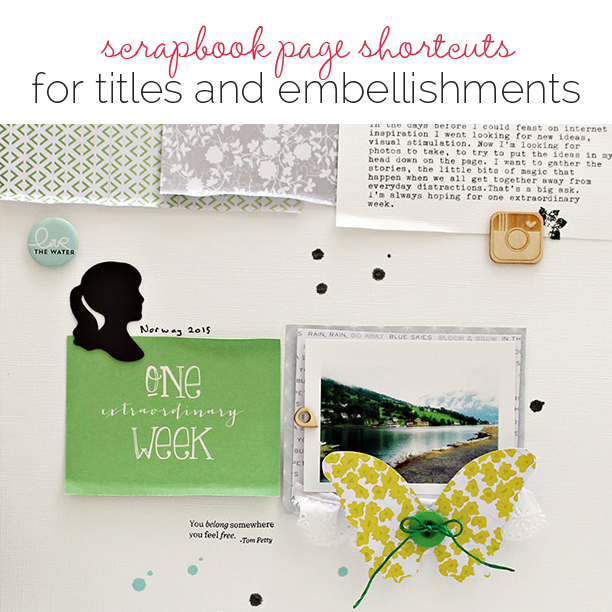 If you're going to be an efficient scrapbooker (and efficiency IS often motivating because of all you can get done), you need a toolkit of speedy approaches to the page.
A great way to organize this "toolkit" is by page part (i.e., speedy photo approaches, embellishment approaches, title approaches, and journaling approaches).
Today, our Creative Team shows you their speedy approaches to TITLES and EMBELLISHMENTS. And we've got a worksheet you can print out to keep track of shortcut ideas that will work for you–click on the image or the link below it to open the PDF file.
[hr]
Heather Awsumb says, "This page summarizes the trip I made to visit my parents in Utah by listing all the things we did and how many times we did them."
Title work shortcut. I sped up the title work by using just one font (Ever After) and applying a stamp effect by Just Jaimee to give it a little oomph. It's hard to see the stamp effect on the screen, but on the printed page you can really tell a difference.
Embellishing shortcut. I sped up embellishing in a couple of ways: 1) I only used elements from one kit, and 2) I used a template and placed elements according to the guides provided." 
[hr]
Summer Christiansen says, "This is an art journal page about how my son is growing up and will be in junior high this year. The best advice I have for speeding up title work and embellishing is to: 1) use a sketch or digital template that labels where to put these items, and 2) use elements that all come from one coordinated kit."
Title work shortcut. Here, I sped up title work by using one of the four predetermined fonts I almost always choose from for titles (there are two bold fonts and two skinny and curvy fonts in my set).  Additionally, I use one-word titles and don't spend a lot of time trying to come up with a clever phrase."
Embellishing shortcut. To speed up the embellishing, I used artsy papers that already include scattered paint splats. I place my photo or journaling where there is space defined by these splates or overlapping them.  If I use more traditional elements, I choose from one kit only."
[hr]
Sian Fair says, "On this page I reflect upon what I look forward to on holiday every year."
Title work shortcut. "I sped up my titlework by choosing a printed Life Pages card to use as a title. I find these also make great journaling prompts!"
Embellishing shortcut. "My embellishing went quickly because I started with a couple of quick shapes cut with my Slice. With the main highlight pieces in place, it was easier to choose a few smaller smaller details."
[hr]
Sue Althouse says, "This page is about reading to our granddaughter. My number one strategy for quick and easy titles and embellishments is to start with pre-made products, preferably from a coordinated collection or kit."
Title work shortcut."My two steps for creating a quick and easy title are: 1) choose one or two words from the journaling for the content of your title, and 2) place the title below the photos."
Embellishing shortcut. "Using just patterned paper and a circle punch, I quickly made a grid of compartments to house the embellishments. Then it was just a matter of layering. I think in groups of three and visual triangles when placing embellishments. Above all, I don't overthink this process."
[hr]
Stefanie Semple says, "This page is about when my family went to Moyo for Woman's Day brunch."
Title work shortcut. "I use fonts and a few go-to Photoshop styles for quick title work on my digital pages. Here, the font is Nobility Casual at 100pt, with Just Jaimee's Rippled Plastic action #6 and One Little Bird's drop shadow for acrylics.
Embellishing shortcut.  The embellishing here goes quickly for Stefanie because she scrapbooks so frequently pulling elements from just one or two digital kits. She says, "I included 5 photos on my layout and embellished right on three of the photos. Additionally, one block in the grid design is filled with an eye-catching cluster built on a circular view finder with a flower to add contextual interest."
[hr]
Christy Strickler says, " This page is about how my son wore his Halloween costume for months, but was so excited the night of Halloween. To speed up both title work and embellishing, I often limit the my palette to 3 or 4 choices with the colors chosen from one primary sheet of patterned paper. Narrowing your choices in some way automatically limits where you are going to look for supplies."
Title work shortcut. "My advice: Keep the title simple. Not every title needs a heartfelt anecdote."
Embellishing shortcut. "I almost always use a visual triangle on my layouts. If I want to scrapbook faster, I limit my embellishing to just 3 strategically placed clusters."
[hr]
Celeste Smith says, "Every year, we all go camping with my husband. I am an unhappy camper, but I go anyway because he loves it so much."
Title work shortcut. "Here I've used two different methods to produce a quick title. The "Happy Camper" is word art so I merely had to drag it on my page. The 'not so much' is a script font I already had installed on my computer. I applied a Wood Style from Mommyish to it to make it look like veneer."
Embellishing shortcut. "I don't generally embellish a lot. Instead, I use plenty of patterned papers which act as embellishing. Here I added washi tape to the top right corner, then a piece of flair. This is the entrance into the page so I like to have a little something there to catch the eye. The painted edge and sequins are complete digital elements added 'as is' to the page. I just drag them on. I added a little extra paint splatter near the photos and the location tag was the perfect place to put my date."