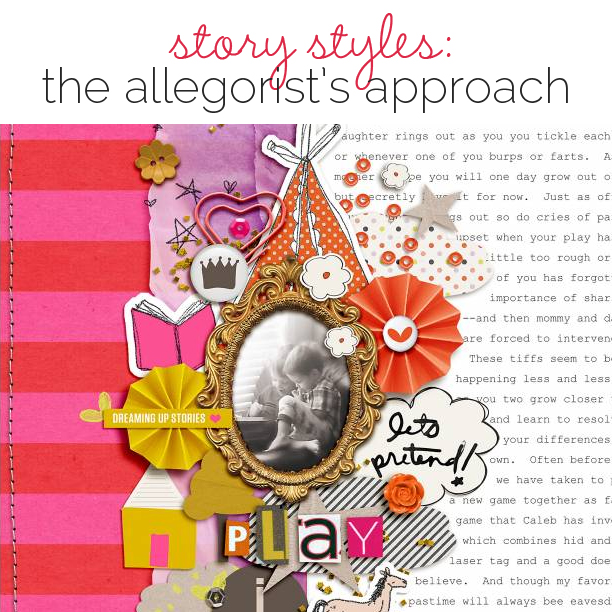 Your best scrapbook pages reflect a storytelling style–your preference for certain kinds of stories and your way of telling them both visually and with words. We defined and illustrated 10 different story styles in the Story Styles LookBook that's a part of the Get It Scrapped membership.
One of those styles is the Allegorist Style. In an allegory, abstract ideas are conveyed through the symbolic–from figures to objects to actions. The allegorist storyteller on scrapbook pages will use images that suggest both abstract ideas and concrete story lines to infuse their page with meaning. See examples of this style from our team.
[hr]
Kim Watson says, " I like to have pages in my scrapbook albums that have depth and meaning.  I want to create a metaphor through my choices of text, words and motif. This page is about how, as believers, my family's faith has molded who we are as people and as a family. The message here: Life is uncertain, but by embracing Jesus, freedom is guaranteed."
"I used images and words to support the idea of FREEDOM: fly, hot air balloon, butterflies, birds, clouds, flying through the sky, being lifted up the page. By creating a more complex collage of elements at the top of the page, I have created a sky for my balloon to fly into. The use of ink washes and doodling makes the page feel like a personal journey and something easy to relate to. I used a mixture contextual words around the page, in a variety of fonts, to deepen my story and evoke thought (e.g., Hello Friend! and Today we flew)."
[hr]
Marcia Fortunato says, "My youngest son has spent the last few months in Egypt studying for a semester abroad and now completing an internship. While he's been so far from home, I've been thankful for Skype and other technologies that allow us to communicate with him so easily and cheaply."
"To begin telling my story I used photos of my computer taken while we were Skyping together. To communicate the story with more than just the photos and journaling, I used a patterned papers with map and technology motifs. As a mat for my photos I used a large wood veneer frame which reminded me of latitude and longitude lines on a globe. I used arrows to symbolize the two-way communication, geo tags to mark our locations, and AM/PM circles to represent the significant time difference between my son and the rest of us. Finally I added word bits and other little embellishments which support my story."
[hr]
Deborah Wagner says, "This is a photo of my best friend's daughter from when she first started dancing. I love the allegorist story style because I am obsessive about using embellishments and papers that bring meaning to my page. Here, I used the cloud overlay to represent a stage curtain. I chose papers with a vintage tone since the photo was taken 15 years ago. The other embellishments are all dance related, with the blended toe shoes having special significance representing the dancer she wished to be and eventually did become. "
[hr]
Sue Althouse says, "This page is about looking forward to sharing family stories with our granddaughter. The focal point photo is literally supported by other family photos to suggest the idea of family as a foundation in life. The large anchor die cuts represent the love and stability a family provides, and the circular flair shapes represent the family circle."
[hr]
Audrey Tan says, "As the title implies, these days connecting with loved ones across the miles is no longer a problem. The advancement of technology has seen a number of electronic devices and apps that allow one to chat with another literally face to face. Here, the photo shows that I have made use of Apple's FaceTime as a means of connection. The design features an extracted photo of my ipad with the conversation in progress. Numbers and  technology icons are blended into the background, representing the idea of our images and data streaming through 'the cloud.'"
[hr]
Amy Kingsford's "Play" is about the many ways her boys play together now — and about the joy it brings to her to eavesdrop on it. Amy used images of tents, horses, books, crowns, stars, clouds and more to erect a world of play around the photo of her sons. Thus, we not only see her obvious story, we feel that sense of childhood forts and retreats into play.
[hr]
Debbie Hodge says, "The photos here are of me with the women who were my very first friends in New Hampshire. We met over 20 years ago at a writing retreat and we recently revisited that region for a weekend. This page doesn't tell a specific story, but, instead, represents our relationship and how its grounded in a common appreciating for writing and literature as well as a history of sharing our writing with each other."
"To begin my allegorical design, I used images associated with writing and books and even classic and well-known stories here. There's a ring of type as the foundation, crumpled journal pages, and public domain images from Alice in Wonderland and Peter and Wendy. I also used a digital image of an book that has 3-dimensional look. I copied the photographs already on the page and modified their perspective to match that of the book. I then digitally clipped the photos to the pages in the book. I wanted it to feel like the book was opening up to a story of us. A series of paper-cut girls with little enamel hearts represents our friendship–a friendship grounded in our shared love of writing."