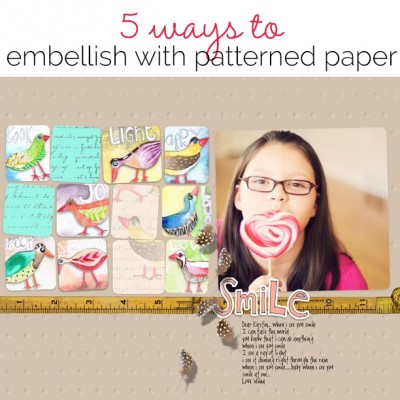 Wilna Furstenberg shares 5 ways to embellish scrapbook pages with patterned paper in this lesson that originally appeared in the Get It Scrapped Membership class "Patterned Paper." Click here to get all the lessons on this topic with an all access pass.
Looking through my scrapbook pages, I realized I rarely use a bold piece of patterned paper as a whole. Rather, I cut it up and use it to accent and embellish. Here are 5 ways I embellish scrapbook pages with patterned paper.
1. embellish with cut patterned paper shapes
On "Where the Heart Is," I stitched down a grid of cut-out hearts–some have pinked edges for fun.
On "Anya," I cut a bunch of butterflies and arranged them in a delicate sprinkling above the photo. I used hot glue to achieve the 3-dimensional look that comes from the uplifted wings on so many of the butterflies.
2. create negative space in patterned paper
I like to use punches to create negative space. For my digital page, "Beautiful" I punched butterflies from the patterned paper letting the tan cardstock show through and, thus, giving the page a quieter look.
Another approach is to add bolder patterns to fill the negative space as I did on "Memory of Love."
3. make patterned paper titles
On "Coffee," I covered chipboard letters with a Starbucks information booklet for a fun title that adds another dimension of interest to my pages–both in meaning and look.
To make the title on "funny, cute, cheerful," I used my Slice die-cut machine. I cut the letters from patterned paper and added them in a row to form a decorative border.
4. embellish with blocked pieces of patterned paper
On "More than enough" and "Smile" I used patterned paper in square and rectangular shapes to add selective color to the pages. It's fun way to add the colors and textures you want without the overwhelming patterns.
5. layer patterned paper creatively
You can fold, cut, stitch and paste patterned paper to add oh-so pretty embellishments to a page. On "Heart a flutter," I used my Slice and cut out numerous shapes from all the patterned papers in the collection. Then I adhered them using my glue gun so that they are layered and create a new texture. On "For You," I layered papers that I pleated and stitched.