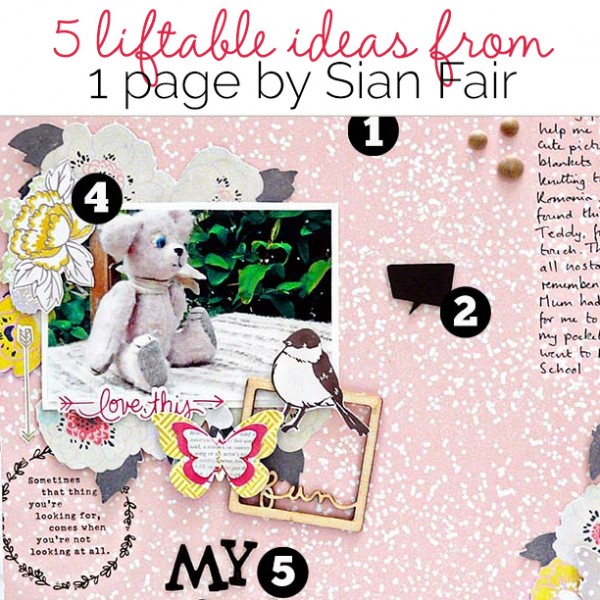 It's the accumulation of well-chosen and carefully crafted details that create a masterful scrapbook page. Check out 5 details on "My Find" by Sian Fair, and see if one or two of them can inspire your next page.
Sian made this page as a part of her work for the Get It Scrapped membership class "Single and Pretty."[hr]
1. Use patterned paper with a small motif to invite a closer look.
S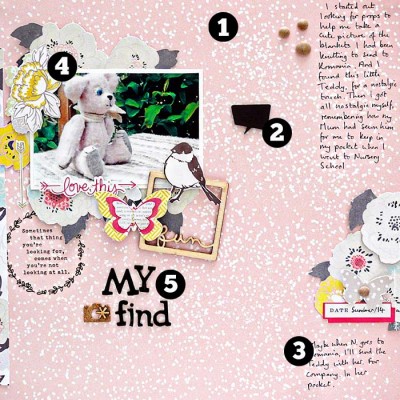 ian says: I use a lot of paper with tiny patterns, often ones from 6×6 pads which are reduced in scale. If something is little, I think, it pulls you in and makes you look more closely. A big pattern can push you away.
2. Use talk bubbles to convey that you're telling a story.
Sian says: I've got to mention the chalkboard speech bubble here – one of the most useful embellishments I have in my stash right now. A speech bubble says Listen! I'm telling you a story. Because it's dark it will ground and draw attention to whatever you place it beside.
3. Break your journaling into smaller blocks for a pretty and light design.
Sian says: One of the stumbling blocks I come up against when making pretty pages is finding room for a big chunk of journaling. Too many words and a pretty, light look is gone. But the words are often the best bit, so one of the ways I get them in is to break the journaling into smaller blocks and use the shape and number of those blocks as design elements themselves.
4. Use a small and surrounded photo.
Sian says: The first design I used on pages that got gallery comments included one photo surrounded by a cluster of hand-cut details or premade diecuts. When I started scrapbooking I wasn't confident enough to use papers with very large patterns on them so I started cutting round them – handcutting- to make them easier to use.
If I don't have papers I can cut up I use my Slice machine, or open a packet of diecuts or stickers. With stickers I like to mount them on card and trim round them so I can shuffle them about on my page as much as I like. Usually I decide first where I want to place my photo on the page, depending on the length of my journaling and title, and then I start tucking bits and pieces underneath and around the picture. I'll walk away and come back several times because a fresh pair of eyes helps me see if I need to add more or if I have used too much and "lost" the photo.
5. If it looks insipid, add black.
Sian says: Make it pretty; and if you think it looks insipid when you're finished, rough it up a bit with distressed edges, mount it on a bolder border paper, or add black elements which can have a dramatic anchoring effect.
Sian Fair lives in the UK with her husband and two teenagers. Her Grandma taught her to knit when she was five and she's been making things ever since.
Sian says, "I currently write for Jot magazine, Australia; and I am delighted to be a member of Debbie Hodge's Get It Scrapped Creative Team. In the past I have guest designed for scrapbook kit cubs including Jenni Bowlin and Quirky Kits and I contributed to the UK scrapbook magazine Scrap365. You'll find her blogging at High In The Sky."