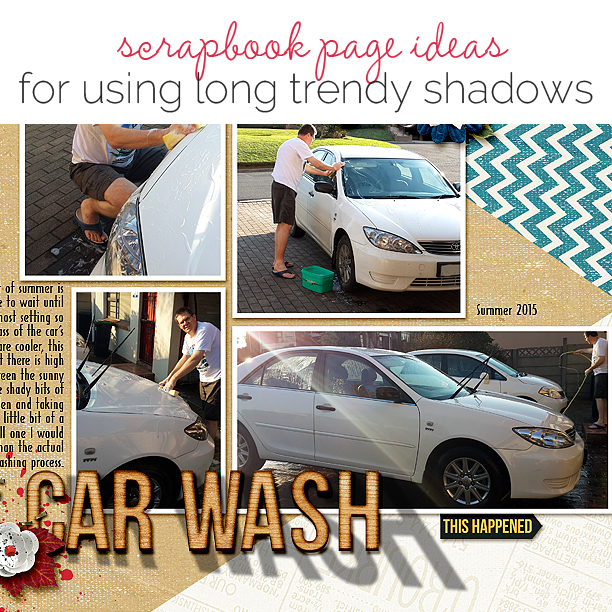 Long shadows are trendy in graphic and web design right now. See how they gave us inspiration for scrapbook page storytelling on both paper and digital pages.
[hr]
Ronnie Crowley says, "The title says on this page says it all: the page is about my dog's job of keeping the yard clear of squirrels."
"To create long shadows I used a free Photoshop extension, Long Shadow Generator. I've never used a Photoshop extension before, but this was easy to install and use. I played around for a while to see what different effects I could create. In the end, the settings I used were shadow length 80px and opacity 54% with the shadow flattened. I then clipped paper to the long shadow layer so it looks a little like a sheet of vellum. Finally I added a Photoshop style for puffy stickers to the alpha to help pop it from the background. This was fun to do, and I think I'll be doing this again on my titles."
[hr]
Kristy T says, "This page is symbolic of the 6 months we spent living in Port Hedland when our daughter was young, and my husband was working long hours.  Often in the late afternoon when she was getting grumpy, I would take her down to the beach to play and wait until he got home."
"I created my title using some re-stickable alpha stencils.  I traced around the stencil letters.  Then to create the shadows I used a torch in low light and held up the letters, experimenting with the angle of the torch until I had created shadows that worked with my layout and then traced the shadows onto the page using pencil.   I used prismacolour pencils to fill in the shadows but other mediums would work too.  I experimented with a few ideas but found the torch was the quickest and most realistic way to create the shadows.  It only took a few minutes.  The same technique could be used with alpha stickers  or even die-cut titles too."
[hr]
Kelly Prang says, "This layout is about my daughter and her new pet crab.  I used her favorite colors (aqua, teal, coral, gold) to represent her likes at this point in her life.  I found the cute crab handdrawn element in my digital stash by searching for "crab" in my digital scrapbook folder.  This one felt curious and cute, fitting the theme and mood I had wanted to establish."
"I had seen many tutorials for making long shadows with Photoshop, and used one from I Can Be Creative. It has a gradual fade to the shadow, which I really liked.  I attempted the action on some other items, like a photo and a tag, but I liked the effect most when it is applied to a word.  I used the font Caferus Normal for this title, and after running the long shadow action I added a chipboard style to the actual title to give it a bit more pop against the long shadow."
[hr]
Stefanie Semple says, "This page documents my husband washing cars. He is a hands-on husband, and I seldom feature him in our albums, so I'm glad to have this page made."
"This is a digital page with wooden alphas for the title. To get my long shadow, I merged all of the alphas so they sat on a one layer in Photoshop. I duplicated that layer and, targeting the lowest layer, I selected the area filled by the alphas and filled it with black: that's my shadow layer. I added a Gaussian Blur filter to that shadow layer and played its opacity, decreasing it to 32%. I then used the Transform tool to drag out and transform the shadow for distorted and long look."
[hr]
Marie-Pierre Capistran says, "When we were at Disney World, my little one wanted to go see her favorite: Winnie. When we were taking the picture I told her to tell Winnie that he was her favorite but she told Tigger instead. Tigger made a big deal out of it, hence the big shadow of him very proud behind the picture!"
"To make the shadow of Tigger on this page, I checked on Pinterest and found a dingbat font with Winnie the Pooh silhouettes. In Photoshop, I typed the letter for Tigger's silhouette and then I dropped down the opacity of the layer. I added hearts around his head and adjusted their opacity, too, then printed directly onto my 12″ x 12″  white cardstock canvas."
[hr]
Amber Ries's page is about how her son never gets to the swings first and has to wait for the bigger kids to give one up-and of his joy when he finally gets a swing. She told the story with a series showing his pursuit of the swing on the left and another series showing him swinging on the right.
Notice the extracted figure with long shadow on the left. Amber created the shadow as follows in Photoshop: 1) she added a drop shadow to the figure, 2) she put that shadow on its on layer, 3) she modified that shadow layer with warp and perspective tools.
Amber made this layout for our membership and during the interview with her, several paper scrapbookers shared ideas for doing this with paper, including printing the shadow to deli paper or transparency. Another suggestion was to cut the shadow with an electronic die cutter and then mist in the negative space.