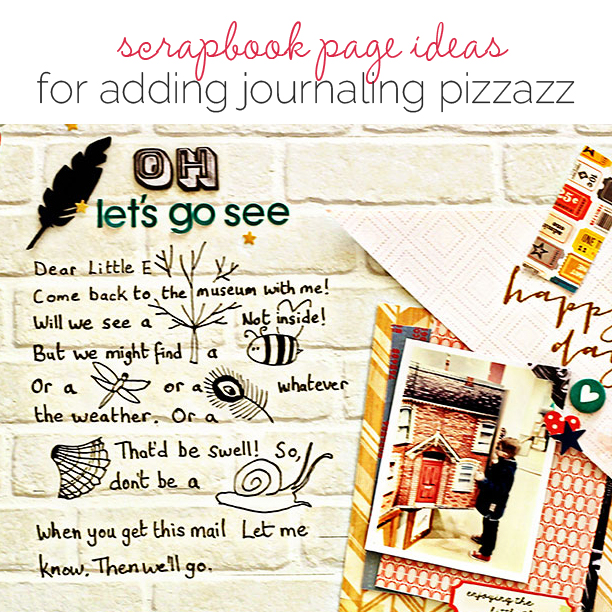 Scrapbook page journaling is one of five basic scrapbook page parts (the others are photos, title, embellishments, and the canvas everything sits on). In this piece, we've got ideas for jazzing up your journaling visually.
[hr]
Sian Fair says, "When my nephew visits, we like to plan a trip to the museum: this page records–in letter form–the kind of things we like to see when we get there.
For years my Mum has told us about the picture letters her dad used to send when he was working away from home. I thought it would make a perfect way to highlight the sense of fun my nephew brings to everything he does. It's a letter with doodles, but it also has a rhythm."
Dear Little E,
Come back to the museum with me! Will we see a TREE? Not inside! But we might find a BEE or a FLY or a FEATHER, whatever the weather. Or a SHELL? That would be swell! So don't be a SNAIL when you get this mail. Let me know. Then we'll go.
[hr]
Celeste Smith says, "This is a photo of my men on Father's Day, I wanted to celebrate what a great Dad my husband is."
"I used snippets of words from a variety of scrapbook kits. I think the variety of the words matches the myriad ways my husband is a great father!"
[hr]
 Karen Poirier-Brode says, "This layout is about my journey to wellness. Walking, exercise, weight loss and surgery are all a part of it. I incorporated words representing my feelings of being younger, healthier and having a positive mental attitude as the page background. The font I used reminds me of the font used by the maker of my shoes in their branding."
[hr]
Michelle Houghton says, "This layout features photos of my daughter on a random spring day swinging in and out of my camera view.  I wanted my journaling to add to the effect of Sara swinging in and out of view so I drew the line waving back and forth down the side of the page and then fit my journaling to those waves, getting bigger and smaller as the waves do.  I went back and added color into the letters and glossy accents as well to punch it up a little further."
[hr]
Christy Strickler says, "This page shows a two photos I snapped of my son playing underwater with a toy dinosaur."
"I placed the photos a bit precariously on a band of waves as though they were floating. The title is haphazard and leads into the journaling. I began the journaling with larger letter stickers, working down to my own smaller-size writing. The journaling refers to my son being consumed by his own creativity. I drew a dinosaur by hand and placed the journaling so that it appears the dinosaur is swallowing  it."