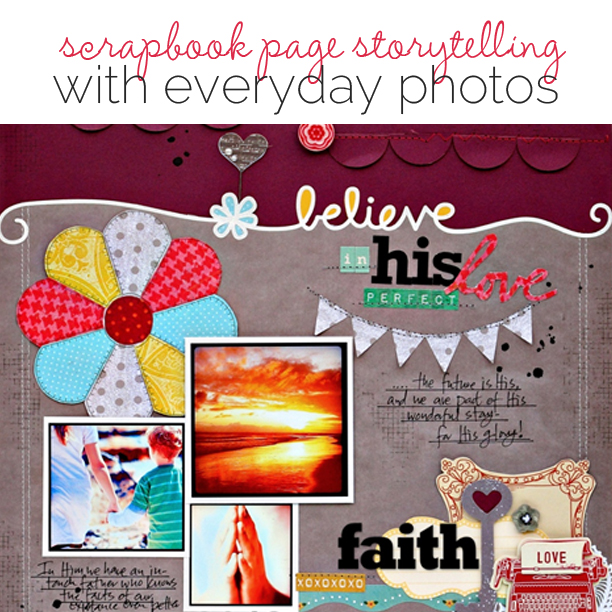 Kim Watson shares 3 approaches to pondering the "big stuff" with everyday photos she uses on her scrapbook pages. This lesson first appeared as a part of the membership class "Portraits, Moments, Lists, and 365ers." For that class and over 50 more, join us.
Being a holistic scrapper means your albums can be filled not only with memories of day-to-day family life, but also with feelings, moods, and ideas about bigger issues. Consider subjects like love, faith, and growing up, things that you ponder about in the bath or while on a walk in the forest.
The challenge is to find the creative connection between everyday photographs and the philosopher inside.
It is not as hard as you might think. The connections are there; all you have to do is think beyond the obvious, and then use symbolism or modern day parables to tell your story.
According to Wikipedia.org: "Symbolism is the practice of representing things by symbols, or of investing things with a symbolic meaning or character. A symbol is an object, action, or idea that represents something other than itself, often of a more abstract nature. "
Start by thinking about the emotions you connect with things you see in nature.
Ask yourself what thoughts go through your mind as you stare at a beautiful sunset. Perhaps you think: "It's amazing how full my soul feels right now." Or maybe you think: "That is so beautiful, it amazes me that God made it just for my pleasure."
Or do you make comparisons between an angry sea or storm filled sky? These effectively represent anger or turmoil and would be perfect to help with the emotion you felt at almost being run off the road during car pool or the frustration you feel with a tricky relationship.
Do you have photos of family members that express emotion? Have you thought about taking those photos out of context and using them to tell a story of a different time?
Over the years I have scrapbooked many of these types of pages. I enjoy the therapy of "being heard," of knowing that the things I meditate on will be read and hopefully provide inspiration.
Read on to see how I found and used symbolism in everyday life photos to ponder the "big stuff" on several pages.
1. Explore Symbolism
On "Believe in His Love," I wanted to speak about my faith and express the security I felt at knowing that the God of the universe had my back, that my place in history was already secure, all because of His love, not by anything I had done or could ever do.
Note: These photos are symbolic.
When looking for photographs to support the page I kept words like this in mind:
Togetherness= Sibling love
Protection= Praying hands
Sovereignty= Glorious sunset
Abstract images linked to an emotion clearly helped my journaling come visually alive.
2. Make Associations
Being a Mom to a tween was nerve racking. I was dreading the 'chats about life' that I knew were to come. I am relieved to say that when they did happen, our discussions went better than I expected.
Because this moment was an important milestone in both my life and my daughter's life, it needed to be scrapped. For obvious reasons I had no photographs of the incident, so I had to think out of the box. Using pensive shots taken of my daughter at an outing months earlier set the mood perfectly for the page.
Note: These photos are associative
My journaling here speaks of how the small, everyday things we experience, are the good stuff we should be focusing our energies on. Pondering the idea, made me think about the 'A.B.C's of life', inspiring the use of the alpha packaging filled with different patterned paper, which made me think about an outing we had to a friend's beach house. It was a day of unexpected goodness and relaxed family time. It was a taste of 'The Good Life'.
Note: These photos are associative.
Journaling: "One of the greatest deceptions of this age, is the idea that 'the grass is greener on the other side'. We get conned into expecting that life will dish out a multitude of epic life-changing events, resulting in a 'feel-good head rush'.
The truth is it is the small everyday moments that bring us the greatest joy & reward."
3. Provide Evidence
On "Who's Counting Anyway" I explored the circle of our life together, hence the die-cut circle background. I thought of how the years of growing together through thick and thin had made us closer as a family.
I needed photographic evidence of 'our love' to support the journaling, so used a selection of images sent phone-to-phone via text and Instagram. Sending 'visual love,' is our family love language, and we all do it en masse — which means I had a ton of photographic ammo to choose from.
The thought is: "How many love photos are enough, to be heard?" In our opinion is there is never enough.
Note: These photos are evidential
I challenge you to try these ideas. Get deep, talk about your feelings, shout about your joy, and then look for photographs that are not necessarily obvious to tell your story. Like me, you may find getting deep initially daunting, but years from now the pages you create will be rich and rewarding.