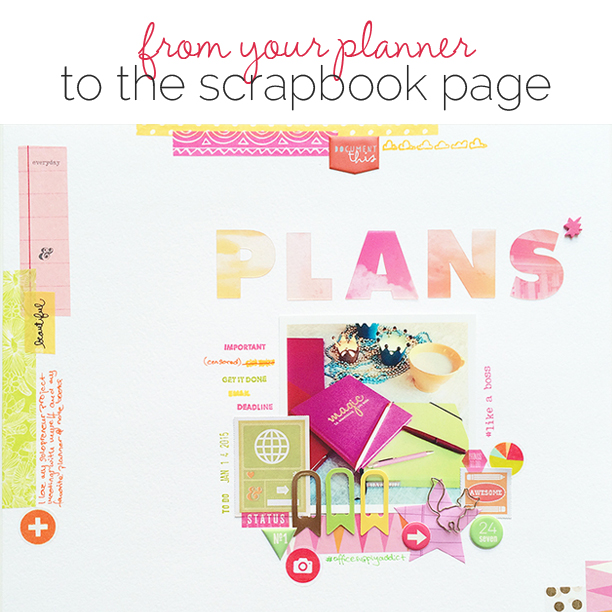 Keeping planner with pretty notebooks and planner-specific products has become trendy. Kit club Cocoa Daisy has been offering  popular planner add on since 2013. Bullet journaling is being recommended in a time when so many of us have gone digital with Evernote or OneNote. Noell Hyman at Paperclipping recently spoofed the planner craze, getting many of to laugh at ourselves and our planning obsession.
Here, GIS Creative Team members show you how elements from their own planning support and contribute to scrapbooking pages.
[hr]
Margareta Carlsson says, "This year, I'm starting a new business, and as a solopreneur I have daily 'project meetings' with myself."
"As a papercrafter and office supply addict, I'm crazy about paper planners and notebooks, so these meetings are enjoyable since I get to use my beautiful notebooks and binders, and embellish my planner pages. For this scrapbook page, I only used products from my 'planner stash' except for the title. They are flat things like washi tape, stamp images, stickers and paper clips. The most dimensional items are the flat puffy stickers. The journaling was made directly on the cardstock with the colored fine tipped markers that I use in my planner."
[hr]
Marcia Fortunato says, "My scrapbook page is about how having the right pens helps me use my planner more consistently."
"I used a photo of one of my planner pages. To embellish, I used the pens and some of the motifs that I use in my planner. I also used small letter stickers and stamps that work equally well in both planners and scrapbook pages."
[hr]
Kristy T says, "This page gives a glimpse of how we spent our time in January.  This year I am using calendar papers to record basic notes about what we do on what days, so that it is easier for me to complete my Project life style pages even if I don't get them done straight away.   I just stick the page up in my kitchen so I can quickly jot things down when I have a moment and replace it each month.  I plan to photograph each calendar page and then put the photo into directly into my album as well as using it a prompt for journalling."
"For this month I turned January's page into a scrapbook page by adding photos and embellishments to some of the squares."
"And this page shows another way of scrapbooking the calendar pages I am using to keep track of my family's activities and journaling notes for scrapbooking."
"I photographed the calendar page and created this simple layout using a high contrast color scheme, then added journaling under the photo to summarize what February means to us. I think it would be fun to do this kind of page for each month of the year."
[hr]
Amy Kingsford says, "This page recounts some of the exciting happenings of May 2014, taken directly from my 2014 planner pages. I'm a mad list maker so I actually keep two planners – one for work and big activities and one for day-to-day list-making. Even after I'm done with my planners for the year I still hold onto them as they are great for looking back and getting a picture of what life was like for me and my family at any given time. I used planner-inspired journal cards by Lili Niclass to get that "planner" feel on my page and then paired it with the "In My Bag" digital kit by Creashens, to add a flair of  everyday mish-mash. I also tucked a random photo of me underneath and used a font that is very close to my own handwriting.
[hr]
Debbie Hodge says, "A few months ago, a friend showed me her bullet journal and how she was using it to stay both organized and motivated. Since February, I've been using one myself–a big change since I'd been noting everything virtually with Microsoft OneNote until then."
"This scrapbook page includes a photo of a spread in my journal that includes packing and to-do lists as well as travel itinerary and details for our recent spring-break cruise. I included a luggage tag and our 'sea-pass' in the photo. This picture provides lots of background details for a page that conveys the preparations and anticipation leading up to our launch. I included a few photos representational of the cruise overall with my planner notes."