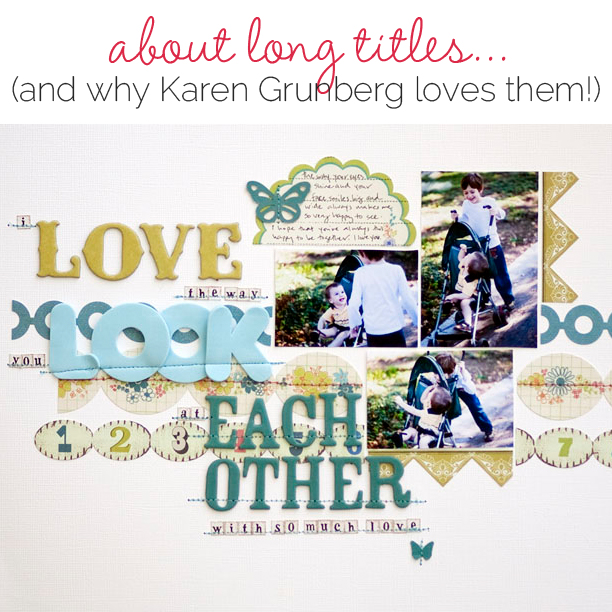 Karen Grunberg tell us why she likes using long scrapbook page titles, how they tell her stories, and how they support her visual design. This article first appeared in the membership class "Titles." For that class and 60 more, become a member.
Many people's titles are a single word–and very often that word is a generic one, like "you," or "memories." Sometimes titles are a simple phrase or the name of a location. These, in fact, were the kinds of titles I used until a time when I decided to make a page a day for a month.
I pulled out many of my favorite supplies, made a list of layouts that inspired me, printed some photos, and got to work. The design of my pages changed drastically during that month, and one of the major changes was to my titles. Instead of using single-word or phrase titles, I began making layouts that had six- or seven- word titles. Sometimes I even used full sentences.
Since that challenge, I regularly scrap pages with really long titles, and I've come to strongly favor them over the pages with simple ones. There are several reasons–that have to do with journaling and with design–for why I prefer long titles now.
long titles support scrapbook page journaling
I cannot scrap a page without a story. I like to pick photos that either have a story or an emotion associated with them (if it's an emotional story, all the better.) I use my long title as a way to condense the journaling into a single line. If I had to summarize exactly what I mean to express with my layout. The one thing I'd like the viewer to take away. This exercise helps me pinpoint the gist of my story. The main reason why I am making this layout and preserving this specific memory.
So my titles are often the beginning of my journaling exercise. Once I have my title, I am pretty much set.
Often times, doing this exercise opens the floodgates and the rest of the words pour out. But every now and then, the title is all I end up needing. For example, here's a layout I made about how my little boy is always looking up to his brother. Sure, I could have written more journaling, but really, the title says it all. And instead of writing one small sentence on a journaling spot, I've given my journaling the value it deserves by making it my title. It makes the sentiment and the photo that much more powerful.
Here's another example where I used a long sentence to make the main point of my layout. I could have gone into detail about each item we make and why I enjoyed it but if you look at the pictures and read the title, you get everything you need. In this case, the title adds color and dynamics to the layout that wouldn't be there if I'd written it as journaling.
Another big advantage to having one big title is that your viewer can read it quickly and know exactly what the layout is about. I like to journal on my pages and I often hand-journal. This makes it hard for someone looking at a picture of my layout to quickly read my words. Not to mention the fact that most people are always in a rush and have no time to read the journaling anyway. The great thing about having long titles is that I can quickly get my point across so that the viewer isn't just looking at my photo and embellishments. Having a long title enables me to put the story where it belongs: up front and center.
One day, we were walking in our neighborhood and my sons were looking at each other and making each other laugh. I loved how their faces lit up when they saw each other. I took a bunch of photos of that moment and then scrapped it. If you just look at the photos on this layout, you might think it's about my older one pushing the little one's stroller or about us taking a walk. But having the long title right there, in large letters, forces you to read it and tells you exactly what my journaling is about. It makes the story of my layout just as visual as the photos and embellishments.
Here's another example where the photos look like my little one is hugging his brother. But if you read the title, you can see it's actually preserving the memory of his very first hug ever. By making my title big and long and a major part of my design, I am forcing the viewer to pay attention to the story I want to tell with these photos.
Now that we've talked a little about how titles help increase the value of your journaling, let's talk about how they help the design of your pages.
long titles support scrapbook page design
Long titles mean a large number of words which means you have a lot of liberty with how you will write each word. I generally use my titles to help add color to my pages. Especially if there's one word of the title I want to stick out more than the others.
Here's an example of a layout where I used my title to add color and focus to my page. The first thing your eyes go to when you see this layout is the word "rare" and that's exactly what I want you to remember. This is a rare photo of just me and my husband. The first in many years. So it's the main point of this page and the bold, red letters add color to my page and pull your eyes exactly where I want them to go.
As well as adding new color, I often use my titles to pull the colors of my page together. If there's a color in the papers I used but it's not in the photo, I add it to my title. And vice versa, if a color is in my photo but not in my papers, I make sure to put it in the title. This helps my page have a more uniform look and one particular color doesn't stick out or look out of place.
The layout below has a lot of colors. The tones of the colors in the photo don't match the papers and there's no yellow in the photo but the papers have it. So I decided to make some of the colors of my title match the shades in the photo and others match the papers and yet others match neither and are just new shades of the same colors. In its own odd way, having this combination makes each color stick out less and makes the layout look more together.
In the example below, I used a yellow paper even though the photo didn't have any yellow in it. To compensate for that, I made yellow the most dominant color in my layout. This way the whole layout looks more together.
And finally, I like to use my long titles to help support the overall design of my page. I use them to create balance like in the example below where I used the same colors in my title on the bottom right as I had in the papers on the top left. It helps guide your eyes through my layout and puts the focus on the photos.
This next layout is very very busy. There are a lot of photos and a lot of words on it. At first glance, it's hard to tell what it's about. So I used my long brightly colored title to make sure your eyes went right to it. This way, before you explore the rest of this layout, you already know what it's about. It helps move your eyes exactly the way I want to on my page.
So there you are. These are some of the major reasons I like using long titles on my pages. But, to be honest, the biggest reason is because I love them. I think they are fun and add a really interesting layer to my pages.
If you haven't used long titles in any of your pages just yet, I highly encourage you to give it a try. You never know, you might fall in love just like I did!