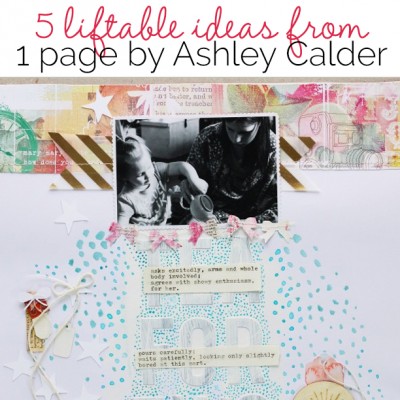 It's the accumulation of well-chosen and carefully crafted details that create a masterful scrapbook page. Check out 5 details on "Tea for Two" by Ashley Calder and see if one or two of them can inspire your next page.
Ashley says, "Ruby Sky, probably like most little girls, loves playing tea party. And her big sister Summer Lily is usually very happy to play with her. The photo on this page was just one snapshot taken of such a tea party – they were almost a daily happening at this stage."
1. Use a single photo to represent a recurring activity.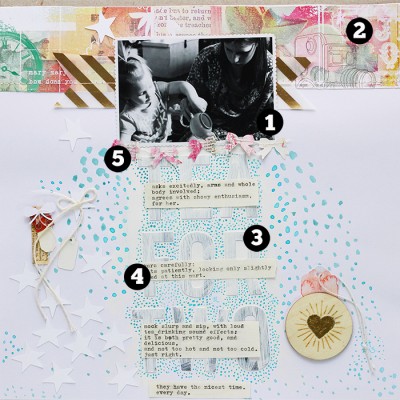 Ashley's daughters frequently make tea parties together. A single black-and-white photo of her youngest pouring the tea along with her poetic journaling does the work of conveying this custom. (See more pages in which a single and pretty design is the best choice.)
Ashley says, "One of my favorite things about scrapping just a single photo is the room it leaves on the page. Making the photograph the focus of my page is always a priority for me, but the extra space gives me room to add in features that support that photo. Here, I've constructed a story book feeling layout with a whimsical title, and added in detailed journaling that flushes out the many moments encompassed in that single photo."
2. Use a top-heavy design.
Ashley placed richly-colored patterned paper along the top of her canvas on a light background. This unexpected design gives the page energy. She balances the design with delicate layers of titlework and journaling.
3. Fill a column with oversized titlework.
A title can do the work of cuing subject and creating a rich design. Ashley's large alphas are just barely darker than the background and make a good support for the high-set photo. See more oversized title ideas.
4. Layer short pieces of journaling over an oversized title.
Ashley's journaling is in short poetic lines on small paper blocks. The story is told in scenic bits and layered over the column of titlework.
5. String a banner of pretty bows below your photo.
The making of banners is an ancient craft. Cut a series of small shapes and stitch them down below your photo for emphasis and decoration. See more banner ideas.
Ashley currently designs for Cocoa Daisy. She is the owner of Things That Shine, a store that focuses on unique embellishment kits. To see more of Ashley's work, visit her at 
www.thingsthatshine.com