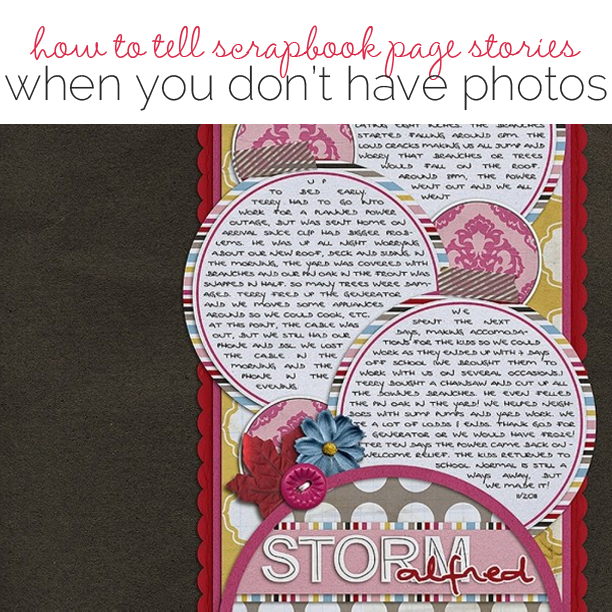 by Celeste Smith
This lesson originally appeared in the Get It Scrapped Membership class Telling Stories. Click here to get all the lessons on this topic with an all access pass.
We all have stories we want to tell: stories from our childhood, stories of places we've been, and even stories of places we'd love to go. Sometimes there are no photos to accompany the memories. So what do we do? This is where we are forced to get a little creative.
1. make a scrapbook page with no photos on it
One of the easiest ways to tell a story when you there are no photos of an event is to tell the story without photos. It helps if you use something as a focal point for your page. Scrapbook products can help with this a lot. For instance, this layout about my dislike of going into the city has no photo on it. I relied on the cityscape paper for my focal point.
On "Storm Alfred," I depended on an interesting design and a leaf embellishment to tell the crazy story of Storm Alfred. Sometimes a story is so involved, you really need a lot of space to just tell it!
2. make a scrapbook page with stock photos
There are many stock photo websites on the internet, and many of them have free photos. Wikimedia Commons, stock.xchg, and publicphoto.org are a few I've used in the past. Flickr can also be a source for photos once you check the terms of use on the photograph.
I use stock photos when I'm documenting my favorites. Typically, I scrapbook at night and getting photos of all the little things is difficult in low light. I use free photo sites and grab pictures of products and things that I am loving right now.
Use stock photos to add additional detail to pages about places you've visited or even just want to visit.
Maybe you didn't take a photo of the airplane on your last trip or perhaps the sun was so bright at Disney that your photo of the castle just isn't that great. These are two easy items to get photos of. Sometimes I'll even snag a photo of a restaurant we visited and grab a description of the meal I had from the website.
For "Regret," I snagged a photo of the Eiffel Tower and Big Ben from a stock photo site to tell the story of how I've never been anywhere!
3. use memorabilia to illustrate your scrapbook page story
We all collect memorabilia: little items like tickets, drawings, receipts and miscellany that aid us in remembering places and events. Using these bits and pieces is a great way to get your story told. A grocery receipt can say so much about your weekly foray to the store. A ticket can be all that is needed to talk about a concert or play you attended.
On "Flirting with Disaster," my piece of memorabilia is a little different. I documented the call I received from the nurse about when my son put a bead up his nose. That is not the actual bead, but I asked the teacher for a similar one! There were no photos of this event, but the phone call was too funny not to document.
If you are anything like me, you love chocolate. I especially love dark chocolate. This wrapper from a fabulous bar of dark chocolate spoke to me. I used it as the focal point of the page about one of my favorites!
4. borrow photos to tell your scrapbook page story
I recently wanted to scrapbook my childhood town, but I have no photos of the area. I looked on Flickr and found a photographer who had taken photos of my hometown, Scotia, New York. I looked him up on the Internet and emailed him. He was more than happy to let me use the photos to document my memories. He even asked me to send him the page when I was done!
Other sources for borrowing include friends and family. A few well-placed emails can bring a sea of photos your way. Recently, my uncle sent me his collection of family photos of my ancestors. I scanned them all in and sent them back. I'm so happy I asked him, and now this story of Papa's garden was told.
If you sit down to scrapbook a story and are lacking photos, don't despair! Just try one of these tips to set you on the path to getting your memory recorded.