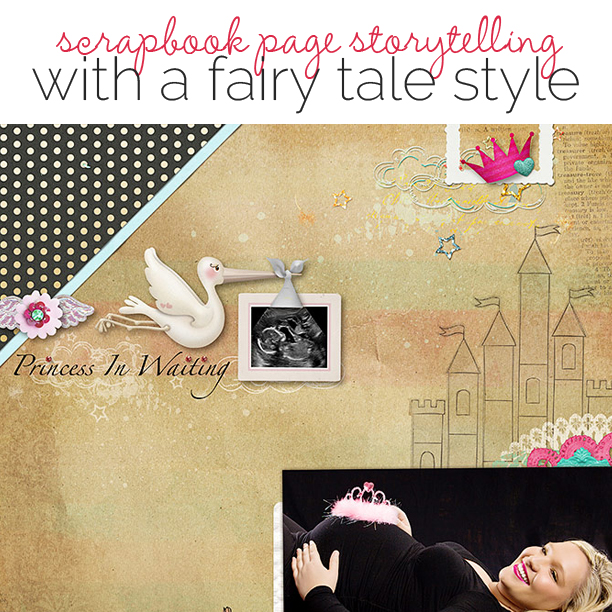 Even as technology advances change our daily lives, the appeal of Fairy Tales grows. See this influence in fashion, and in the continued line up of fairy tale stories at the theater.
Try using color, motif, and styling inspired by fairy tales to give your next scrapbook page fairy-tale charm.
[hr]
Marie Pierre Capistran says, " This page tells the story of my daughter wanting to have very long hair, and it shows the struggle we have taking care of her hair on a day-to-day basis!"
"I wanted the page to look just like it could come out of a fairy tale book so I used vivid colors with happy associations. I used watercolor to paint and replicate Rapunzel's tower to play with the image of the long hair. I also used gold ink and iridescent medium to add sparkle and glitter to the page."
"Finally I made a fairy tale story out of my journaling. Instead of just telling the story, I started with once upon a time and ended with lived happily ever after. I also tried to build the story with an evil part (the paragraph explaining the struggle) and a lesson learned (the paragraph where my daughter is getting wiser and calmer). I also added The End because it's the part we love most to read in my family. I used some books about illumination and calligraphy to help me with the fancy letter O and the the end.
[hr]
Carrie Arick says, "This page is about the Valentine's Day gift I received from my husband: A box of Disney Princess chocolates."
"I connected my photo to a fairy tale and then focused on one fairy tale element of that story to create the look. In the Disney version of The Little Mermaid, the heroine's voice is placed in a necklace in exchange for the ability to survive on land. I've framed my photo of the heroine in a necklace shaped composition. I set the composition on an ethereal background to drive home the magical, fairy-tale mood. I finished the page with a whimsical font for my journaling."
[hr]
Vicki Hibbins says, "My daughter loves being told the story of the three little pigs so I made clay pigs for herto play with. I wanted the layout to look like a page from her story book. I used colored and watercolor pencils to create a background which I then scanned this into the computer. I used an iPhone app called Sketch Master to add a sketch filter to the photos of my daughter and her pigs in their different 'homes.' These I placed where they would come in the story with the house of straw in the foreground. I also tried to write the journaling in the style of a story book and included an oversized letter at the beginning."
[hr]
Katie Scott says, "I grew up sailing with my grandparents on their boat called 'The Ellen.' The stories and tall tales they told me were of a sailboat called 'The Dormouse,' which they had when my mom was growing up."
"I had a cute mouse sticker which was part of the 'Silent Night' October Afternoon Christmas line; the mouse was holding a cookie in the sticker so I created a sailboat from banner pieces so that the mouse would be holding a sailboat instead. I used patterned paper with a text pattern to give the layout the feel like this was a page out of a book. Since the 1950s photos were black-and-white and a bit somber looking, I picked bright happy colors that set the mood for light-hearted stories about the dormouse."
[hr]
Deborah Wagner says, "We had a maternity photo session for my daughter, and it was a blast. We found a pink crown while shopping and knew we would use it for a prop.  I combined the stork and princess elements to create a whimsical fairy tale style that was perfect for this photo. Glitter, sequins, and gems and fairy tale sparkle."
[hr]
Judean Patten-Clark says, "My twins, who were three at the time, posed for this picture atop a wooden pony one summer day in New Hampshire. I love watching their friendship grow as they get older–I really hope they can always be each other's best friend."
"I was inspired by the fairy tale of Hansel and Gretel. The painted motifs on the pony reminded me of Hans Christian Andersen's Dutch heritage, and I tried to evoke that using the die-cuts and patterned paper.  I also chose elements reminiscent of the witch's gingerbread house to go along with the theme. My children's names front and center across the page evoke the story's title, and I thought about the trail of breadcrumbs the children leave in the woods as I placed my finishing embellishments."