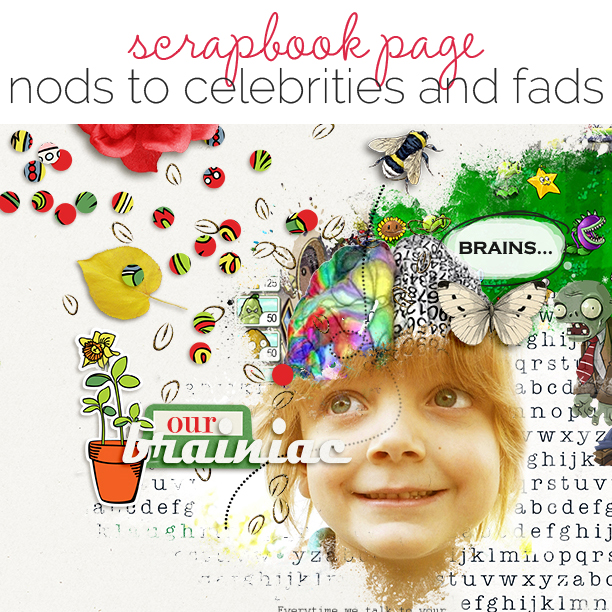 Incorporating nods to current trends in your scrapbook page storytelling is a great way to incorporate "the times" into your memory keeping. Celebrity happenings and fads spread faster than ever in our socially-connected lives now.
Such nods or inside jokes are referred to as "Easter eggs" and  have been intentionally incorporated into computer programs, video games, movies, and books.
Our Creative Team has made pages that are not specially about celebrities or fads but that incorporate a nod to them.
[hr]
Kelly Prang says, "My youngest daughter daughter loves Starbucks and she has a long list of items she wants to try there, and that's what this page is about."
"My daughter and is a huge Taylor Swift fan. Swift's newest album came out a few months ago. In her song "Blank Spaaaaaace" there is a line that is often misheard.  Many many people think she is saying 'got a long list of Starbucks Lovers, they'll tell you I'm insane.' The line is actually 'got a long list of ex-lovers . . .'  Now I can only hear starbucks lovers when I hear the song, which is approximately 43 times per day thanks to my youngest."
"The misheard lyric was the perfect title, for this page about my daughter."
[hr]
Devra Hunt says, "My son was showing a goofy side of himself in front of some friends.  I don't often get to see that side of him. He's usually reserved in front of me when his friends are around."
"I gave a nod to the actor, Matthew McConaughey, and his catch phrase of 'All Right, All Right, All Right' with the title of my page. Matthew McConaughey gives the appearance of a laid back kind of guy, and uses this phrase often. I thought his manner fit with my son's sunglasses and peace sign. I rendered the title with 3 different alphas that grow from small to large to represent momentum in the statement."
[hr]
Jennifer Kellogg says, "This page is about a trip to New York with my daughter for college visits–and of how terrible our hotel was."
"When I was little, New York was where Eloise, of the Eloise books by Kay Thompson, lived. In Eloise's world, New York is elegant and sophisticated. Our hotel was neither of these things. I placed a small image of the Eloise book cover on the page and used colors pulled from the book jacket.This page brings together my memories from reading the book with our experiences at the hotel."
[hr]
Carrie Arick says, "This layout documents the recipe of a special tea that helps us battle the cold season."
"Patrick Stewart is an actor who has a knack for turning up in viral videos. His role on the iconic Strar Trek series is one of the reasons he's beloved by his fans and his many catch phrases as that character are still repeated today. Those who know Stewart's work will easily pick up on the nod to him in this page. I played on his role as Capt. Picard a few different ways: the design is a nod to the uniform he wore, the title is part of one of his catch phrases and the first letter of the first few words in my journaling spell out Picard."
[hr]
Amy Kingsford, says "This page is about celebrating my son's progress in school and how proud we are of his hard work!"
"I blended together a picture of my son with a fun brain graphic, which was originally meant as a more serious design choice but I couldn't help but think of the game Plants vs. Zombies every time I thought of the word brains. And so I gave a little nod to the popular game by bringing in a blended screen capture, a variety of plant embellishments, and, of course, our little zombie friend peeking in from the right.  I also added a special little joke just for my son in the journaling!"