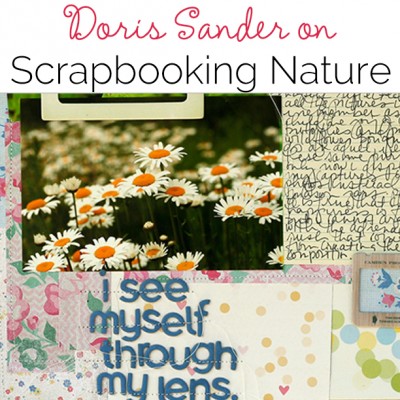 Doris Sander talked with us about her love of the outdoors and of photographing nature and how she tells stories with those photos on scrapbook pages. She also shared with us how the act of blogging has evolved for her, its place in her life now, and how her photography fits with this new role.
Get It Scrapped members get weekly webinars like this! Join us.
A couple of great quotes from Doris:
If you pay attention to your photos you'll see your reflection all the time.
Blogging is like an international refrigerator that you put your pictures on.
I like blogging because i'm able to tell stories in a different way. My blog started with scrapbooking and now it's to nurture myself.
Listen to the Audio:
Watch the Video:
Additional Links:
Links to photo-rich blog posts from Doris that we looked at
Doris' tips
Use your nature photos like blocks of patterned paper–and like embellishments.
Use the diptich app to get two photos on a 4×6 canvas and print directly from your phone
Take photos that make your everyday sights exotic. — for example the crab photo at the end of this post: http://dorissander.blogspot.com/search/label/florida%20photos