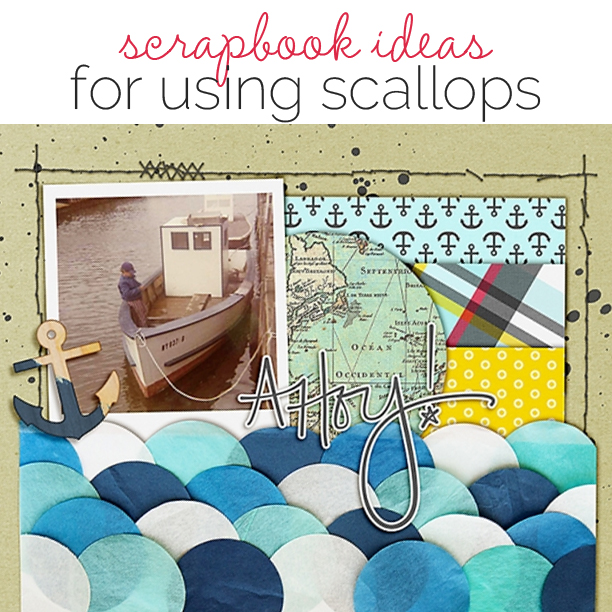 Add scallops to your scrapbook pages for visual appeal and storytelling support. Scallops are currently trending in fashion, appearing in a variety of shapes, textures, and styles.  Need ideas for scrapbook page storytelling with scallops? Read on.
And find visual inspiration on our Pinterest Board of Scallops.
[hr]
Build a Christmas tree of scallops
Audrey Tan says, "This page is about my Indian Christmas tree. Christmas isn't widely celebrated here in India, hence, we don't get the mood for it. However, I didn't want my boys to miss out on the Christmas feeling, so Hubby and I hunted for a tree and found one that resembled a Christmas tree. We had to do a bit of tying about to shape the tree a little. Then we decorated it as best we could!"
"I made use of a scalloped note to create my tree, layering it to give it the effect of a tree. The page itself has been decorated with scallop elements to complement the tree motif."
[hr]
Frames filled with scalloped eyelet lace are like curtained windows
Christy Strickler says, "I took this photo when we first got our kitten, Boo."
"Scalloped lace softens this page full of bold elements. I layered pieces of scalloped eyelet lace within wood veneer frames. The eyelet is gentle and delicate. It not only softens the page, it adds texture."
[hr]
Layered tissue circles become scallops and represent waves
Celeste Smith says, "My father bought a boat in his early twenties in order to provide for us and pay for college."
"Pre-made layered tissue paper circles made this page a snap to put together. They  make a scalloped border of blues that, combined with the photo, evoke a sense of water and waves."
[hr]
Make a soft background of scalloped tissue
Amy Kingsford says, "This is a sweet photo of my friend's daughter. Isn't she adorable?"
"I wanted to create a soft and sweet feeling for this page, so I staggered strips of layered tissue paper scallops. I accented the patterned script paper on the left side of my page with a rough scalloped frame. This second grouping of black and white offsets my photo."
[hr]
Wonky white scallops evoke a sense of billowy snowbanks
Debbie Hodge says, "It's rare I get posed shots, and I love these of my sons and my parents' farm in winter. The setting is as much a character in the photos as my sons."
"I used wonky scallop strips cut from a white tone-on-tone patterned paper to give a sense of billowy snowbanks. Several strips placed back-to-back create a bracketed foundation that frames the composition.