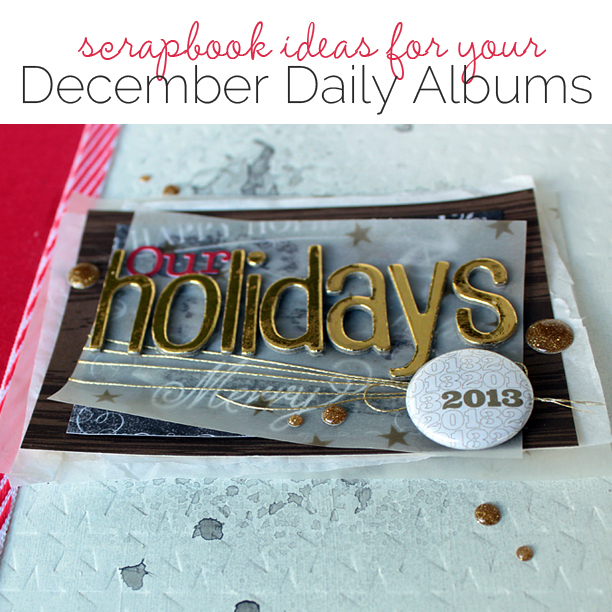 Are you making a daily December (or December Daily) album to record your holiday activities? What's the cover look like and what supplies are you using? Did you buy a kit for that purpose or are you gathering from your stash?
Need some inspiration? See what our Creative Team has put together for their own December albums.
[hr]
Kristy T says, "I used a 6″ x 8″ Kraft colored album as I wanted a neutral base for adding paints and papers to create my own cover. I chose this size as I want to involve my kids in documenting our December and this is a more manageable size for them to handle."
"I used a collection of products from my stash. I wanted to use stencils and try out the new Bo Bunny Glitter paste. I used the same stencil to create the chevrons with the red paint and gold glitter paste. The gold glitter adds detail and gives a festive look to the cover so I could keep the rest of the design simple."
TIP: Mask the spine of the album using washi tape and to hold the stencil in place.
[hr]
Audrey Tan says, "My daily December album is created in A4 landscape size as it's easier to print out into photo book. I will be making the album in digital format. I've chosen a wintery scene to reflect the cold season."
[hr]
Kiki Kougioumtzi says, "Every year I make a daily December album and record all the holiday season, through January 6th (the 12th day of Christmas). For that reason I label my album with the generic title "Our Holidays" and the year."
"I like preparing a kit for my album, and the cover is the last to be decorated. Usually it is embellished with leftovers from the kit I'm using. This works for me because it gives the viewer an idea of the theme, the color combination, and the general feel of the pages inside. Plus it makes it simple to finish it."
"This particular album was included in a December kit I bought last year. It was plain embossed chipboard with red cloth spine. I covered the spine with masking tape and used a white acrylic spray paint for the chipboard (on the outside and inside of the cover). I liked the embossed star pattern but didn't want it to stand out. I first painted the inside, so that if I had any paint run, my outside cover would still look pretty. Next I used silver spray to make a background spot for my title's cluster and from there I started stacking and gluing scraps of paper,velum,tissue paper. The remains from the kit where enough to embellish it and the only thing I added is the gold thread.To adhere everything I used PVA glue, which is strong,dries fast and clear."
[hr]
Heather Awsumb says, "This year's daily December cover is the result of product that I had on hand. When new Christmas kits started coming out in early November I picked one that I loved. I wanted to show as much of the patterned paper as possible since it will be a recurring throughout my album.  My supplies consist of mostly one collection (Season to Remember by Stolen Moments Design) with a few pieces from my Christmas stash."
"I have used Christmas quotes or phrases for my daily December covers for the last few years. I think it's a nice way to summarize the whole season."
[hr]
Terry Billman says, "I've been creating a daily December album for the last several years.  Our family has changed over the years: grown children have moved out of state/country and are spending the holidays with their own families and children, and our parents are no longer living.  My approach this year is to find joy every day during the holiday season.  I created a soft melancholy traditional cover with an artsty twist. The photos of the candles blended into the background and the holly are traditional elements. The warm foto glows add brightness and accentuate the shimmery gold. The artsy style is achieved through the textured background, foiled twists,  transfers, and paint overlays."
[hr]
Amy Kingsford says, "I was really excited to try out a 4″ x4″ Instagram Album this year as the base for my daily December album. I'm hopeful that its layout will help take some of the pressure off by allowing me to make most of the album ahead of time and will  also give me permission to use my phone more to capture photos–allowing me to be more in the moment this holiday season."
"Because of the album's small size and bold pattern, the cover doesn't need much in the way of decoration. So I simply brought together these fun hybrid number printables with a few leftovers from last year's Christmas stash."
"While gathering my supplies for this year's album I chose the digital kit, Making Spirits Bright by Sahlin Studio to work with. Then I tried to stick with neutral accents from my paper stash including wood veneer, chalkboard tags, clothespins, sequins, etc–making it easy to use up what I already have onhand and still come away with a cohesive look."
[hr]