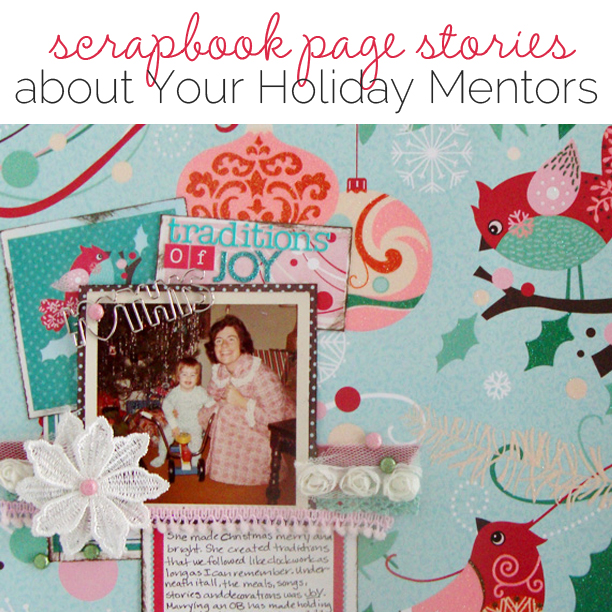 Each of us have our own culture and approach to celebrating December holidays.
Many of those approaches are a result of holidays you've experienced in the past — and of the way important people in your life have shared their recipes, tips, and traditions with you.
Yet other holiday mentors can be influences sought out in books, TV shows and websites. Below are 8 stories about holiday mentors.
[hr]
Carrie Arick says, "My mother-in-law's holiday decorating is downright magical and something I try aspire to create in my home. Her collection of decorations spans 50 years."
"On this page I've used non-traditional tones of red and blue with warm neutrals to create a color story that reflects my mother-in-law's collection and holiday styling."
[hr]
Michelle Houghton says, "My holidays are always a bit of a last minute surprise due to family scheduling, but we manage to always pack in as much joy as possible.  My mom taught me all about finding joy in the little things during the holidays."
"To record how thankful I am to my mom for sharing her joy of Christmas, I used an older photo from one of my first Christmases.  The look on our faces conveys the joy I write about in the journaling."
[hr]
Debbie Hodge says, "I used photos of five women in my life who have influenced my ideas of hosting and holiday traditions. The photos show them in the kitchen or at the dining table serving up food. I tell about the lessons each of them have taught me about entertaining."
"I used a separate paper block to hold each photo and its related journaling, and I added little jewelry tags to each with the women's names. They feel a like an arrangement of recipe cards to me."
[hr]
Summer Christensen says, "The story of the page is how influential my Mom and Grandma have been in helping shape our family holiday traditions."
"This was a selfie that they sent to me. I had to doctor it up, and I added a black-and-white filter to create a nostalgic tone. I used pastel holiday colors and holiday motifs with journaling and this great shot to tell the story."
[hr]
Devra Hunt says, "This page is a tribute to my Grandma, for everything she has taught me through the years about our holidays. She taught me both recipes and their history."
"I designed this page with my Grandma and a sense of family in mind. I used feminine products like doilies and flowers for my Grandma. The hearts and house are a further representation of love and family."
[hr]
Jennifer Kellogg says, "My mother was the ultimate hostess. She planned out every detail for every occasion. This layout is about Thanksgiving and the traditions that she started. I featured a photo of her with the turkey, smaller photos of the family, and journaling that tells about our Wednesday-before-Thanksgiving habits. We would all help with the stuffing and side dishes and then give the turkey a good SLAP."
[hr]
Debbie Hodge says, "On Open Hearts, Opened Homes I celebrate how the couples who regularly have my family in their homes for holidays have taught my husband and my children and me what it is to be a good host."
"I used a series of 5 photos taken from holidays spanning two pages. Each photo shows a couple, including my mom and dad and our dearest friends. I added a gold label with names of each and a title that starts at far left and ends at far right."
[hr]
Debbie Hodge says, "This page is about the holiday mentors I don't actually know in person–the resources I turn to for inspiration and instruction: Martha Stewart Living magazine, The Joy of Cooking Christmas Cookies cookbook that I always use, and one of my holiday boards on Pinterest.com."
"I used images from the internet to illustrate each mentor. Each is presented in an ornate frame. The journaling is all combined in one paragraph but rendered in three different colors for the three different mentors."