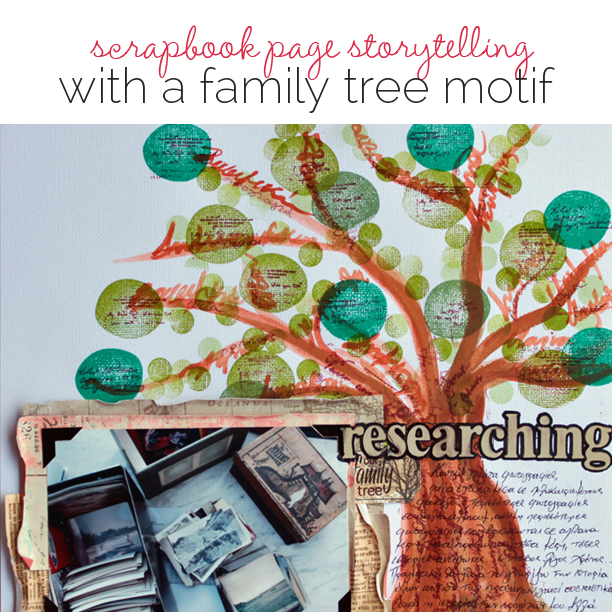 The family tree motif has been used to represent lineage since the  biblical Book of Isaiah used it to detail Christ's ancestors originating from Jesse of Bethlehem. Visual depictions of this Tree of Jesse can be seen rendered on stained windows, carvings, and illuminated manuscripts.
Today this motif endures both for practical and decorative use. The tree, its branches, leaves and roots offer endless creative opportunities and is well-suited to scrapbook page storytelling. We've collected examples for you from the internet and we've made original and inspired renderings on scrapbook pages here.
[hr]
Kiki Kougioumtzi says, "Building a family tree is a long, tiresome but rewarding process, and that's what I talk about in this layout. I talk about how hard it is to find all the who/what/where/when/why that is captured on old photos of my ancestors."
"I created a general family tree by painting with watercolors, with branches formed by family names that appear again and again in our family tree. The stamped leaves are like bubbles, enclosing stories of a person's life, but I haven't actually written a story in there:I used a script stamp to represent those stories. I was inspired by a family tree watercolor by Etsy artist Jellybeans.
[hr]
Andrea says, "As a family genealogist I wanted to make my own unique family tree page. I started with a photo I took and used multiple blending modes (multiply, saturation and overlay) to blend it into a wood-grain background. To continue with the wood theme, I used a wooden frame for photos. I altered a copy for the double photos. Chain and screw additions create the appearance of the framed photos being attached to the wood background."
"I adjusted the coloring of some the photos for a cohesive look, adding a sepia tone to some and using a color overlay. To complete the page, I added my favorite quote, also blended into the grooves of the wood."
[hr]
Audrey Tan says, "This page is about my immediate family tree. I didn't go into full detail but rather chose to show my family, brothers and my husband's side."
I used a tree as a background image and overlaid a family tree schematic with square boxes for each family member's photo. I convered all photos to black-and-white for a more uniform look."
[hr]
Katie Scott says, "While researching my family history, I discovered connections to pop culture celebrities, and I've scrapbooked that here."
"I used circle print patterned paper combined with pinked circles because they generate an association for me of "pop."  I wanted a random but connected group of circles, so I placed the largest first and then worked in the smaller ones. The colors in the background patterned paper were my guide for a color sheme. I grabbed a bunch of paper scraps and die-cut the layered circles. This is a great stash-busting project."
[hr]
Terry Billman says, "This page not only depicts our family tree, the journaling explains why the tree is so small."
"I created the background with a photo of an over 100-year-old oak tree. I applied a watercolor treatment to the photo and converted it to sepia. In order to provide a small amount of color, I layered the photo and blended just a small amount of color on the treetop and the bottom of the photo. I liked the strong lines the branches provided and placed the tags and bookplates among the branches. Warm digital photo glows with blending modes highlighted the tags and colored leaves as well as the photos of my parents and myself."
[hr]
Rosann Santos-Elliott says, "My family is large and complex with one patriarch who had a few different families, simultaneously. Thus, getting started with this page was a bit challenging. Then it hit me: I took the very few photos I have of my father's childhood (and his full brothers and sisters) and put them on what is the equivalent of a bulletin board – the kind I had in college and graduate school – bits and pieces that seem to fit but also seem chaotic and random. It's very different from my usual style, but when it was done, I was happy with it and I plan to pin it to my scrap room bulletin board."
"The small photo at the top is of my paternal grandparents after they arrived in the Bronx some time in the late 50s or early 60s. The  two young boys in another photo are my dad and one of his brothers just before they left the Dominican Republic for NYC. The two of them also took a final photo with their maternal grandmother. I believe it may have been the last time they saw her. Finally there is a photo of my grandmother with all of her children. Judging from the ages, I think the photo is in the early 1950s. I love these photos and I see the faces of my siblings, cousins, and son in all of the faces."