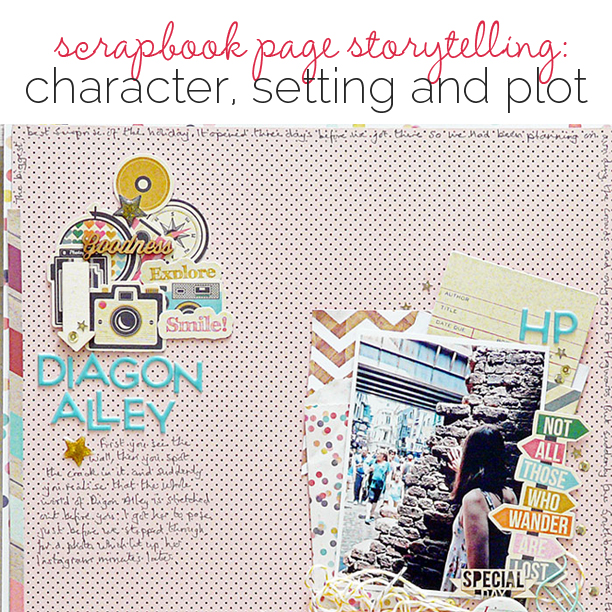 Today we're oomphing our scrapbook page storytelling by incorporating basic building blocks of the best written stories: character, setting, and plot.
1. Character: The characters are the subjects in your photos, the people you're sending a message to, or telling a story about. You might even be the main character of your scrapbook page story.
2. Setting: This is the place, the stage, and even the context in which your character exists and plays out the story. Place, season, time, the things that are going on in a macro way in life right now are all part of setting.
3. Plot: A story is about change –even if it's small. It's often about complication, the occurrence of something that gets the character to exert effort. In a written story, chronology is considered (even if the story is not told linearly).
See how GIS Creative Team members made scrapbook pages that obviously show character, setting, and plot.
[hr]
vacationers discover Diagon Alley
Sian Fair says, "We hadn't been planning on visiting the newly opened Diagon Alley at Universal this summer–we thought it would be too busy, but suddenly it appeared in front of us and we hopped through the special crack in the wall and went in."
"This is my daughter's story. She spotted the special brick wall built as a divider between the real world and the Harry Potter world and she saw that we could slip through and discover the magic beyond. I offered to take her photo as she passed through and we made sure we got the wall and a glimpse of the tourists already exploring Diagon Alley in the background."
Visual Storytelling Tips: "These days we are all used to cropping photos close for a striking image, but sometimes making sure you leave in lots of background can offer greater storytelling opportunities for the future. Maybe the best plan is to take two versions: a detail shot AND a picture with lots of extras."
[hr]
a family hikes in the desert with visiting grandparents
Summer Christiansen says, "Grandma and Grandpa came to visit and it was great to spend time with them. "
"The grandparents and grandkids are the characters here.  The setting is the desert behind our house.  The plot is that we went on a hike TOGETHER and saw a lot of cool stuff.  I selected pictures that I knew would include where we were and who was there.  I wanted the desert and its beauty to be the focus of the pictures so i picked the path as the background that had all the characters in it.  Then i placed next to it all the things we saw in a grid over top of it."
[hr]
a boy makes fudge in the kitchen
Stefanie Semple says, "My middle child is such a free thinker, and follows his own path. This page tells the story of his fudge-making endeavors."
"My son CJ is the character here. He is busy in our family kitchen (the setting), and for plot, I have the proof of the website he got his recipe from and some in progress photos."
"The photo of my son working is the focal point photo by virtue of its placement and size. I cropped photos to include the kitchen clutter. The smaller photos add details to the story and support the journaling."
[hr]
a boy marks his birthday by blowing out candles in his home
Christy Strickler says, "These are photos of my son's recent birthday."
"The character here is my son. The setting is our dining room.The plot is him blowing our the candles on his cake. Having a before and after photo helped me to tell the story with plot and setting. I chose photos that featured just my son so that the story revolves around him as the main character."
[hr]
a Christmas Tree is decorated in the living room
Jennifer Kellogg says, "This page tells the story of how we put up the Christmas tree. The main character of this page is the tree. The setting is our living room. The plot is how the tree evolves from the box to the beautifully decorated tree. I love that this page captures something we did together for many years. It brings back such good memories."
Visual Storytelling Tip: "Arrange photos in the order that tells your story."
[hr]
a woman dresses up for Halloween with friends
Heather Awsumb says, "This page is about dressing up for Halloween with my friends for the first time in a long time."
"The characters are me and my friend. The setting is my friend's home, and the plot is getting dressed up for Halloween."
Visual Storytelling Tip: If your story involves multiple characters, select photos to show off each of them. I also made sure to select at least one photo that included the background to illustrate the setting (in this case the focal point photo)."
[hr]
new parents shop for the baby's room at Ikea
Sue Althouse says, "This page is about shopping for our granddaughter's baby room."
"The characters are my son and daughter in-law. The setting is Ikea, and the plot is selecting stuffed animals to set the theme for decorating. I placed an outside shot with the name of the store in the upper LH corner of the layout as an entry point. The photos flow clockwise around the page, symbolizing the way we wandered around the store, selecting the perfect stuffed animals."
[hr]