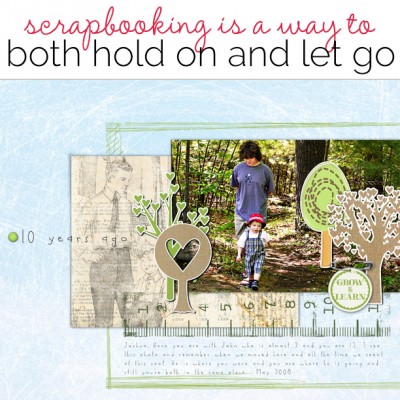 This isn't a new story. It's a story regularly told with the cliche time flies. And the frequently offered advice: "Enjoy them while they're young! They grow up too fast!"
Last week, I pulled out of the driveway with my 15-year-old son in the van. At the top of the driveway is a wooded circle with two granite boulders and a picnic table. We call this area "the big rocks." As in: "I'm going up to the big rocks." Kids were playing. It could have been my boys ten years ago.
"I hate that you're not little any more!" I said "–but, of course, I love who you are right now, too."
My son got what I was saying. He's a boy who doesn't want to grow up, who feels the stress of high-school pressures, and, yet, who is also having a lot of fun at fifteen.
In the short time it took to get to the end of our road, my mind flashed through earlier scenes in our lives at the big rocks, scenes that were easy for my memory to access because I had scrapbooked so many of them. It would be OK. While their childhood years are over, they were well-lived years—-and I had scrapbooked many moments during them.
My scrapbook pages are my life preserver this year since my oldest has gone off to college and I can see that my youngest will be there soon enough, because, as we all know: time flies.
Right now, I'm immersed in going through the many scrapbook pages I've made the last 20 years and making "curated albums." These albums will make it possible to access past times in my life–and to share them with others–in easy-to-hold photobooks that collect the best stories I've told. Join me this November and start curating your own scrapbook pages.
When I turn to my scrapbook pages, I see that this place and these themes have been on my mind already. Here are just two scrapbook pages from "the big rocks."
What are parts of your life you'd like to "curate" and put into focused, easy-to-hold albums? Come on, curate with me and save 25% for the next few days!