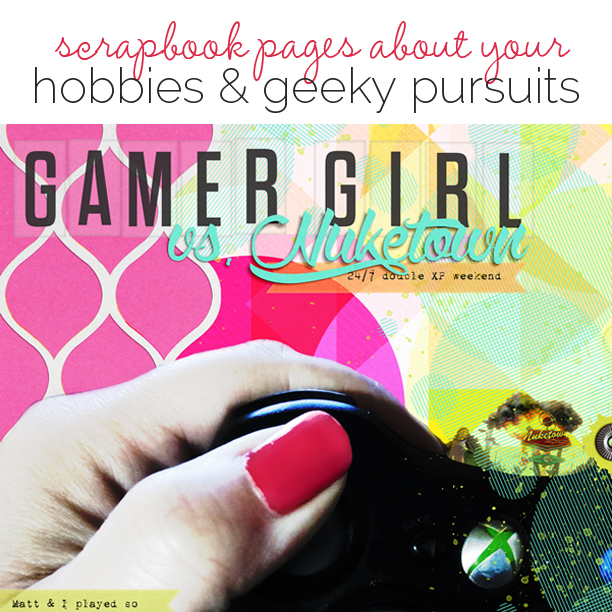 What are your hobbies when you're not scrapbooking? And have you scrapbooked them? Do you play video games? Collect stamps? Watch the stars?
Check out the story angles and page designs our creative team has taken for their pages about their hobbies and geeky pursuits.
[hr]
chess
Katie Scott says, "My daughter and I play chess whenever we get the chance. This photo was taken during our summer road trip. Whatever your geeky pursuit, there is probably a themed cut file in the Silhouette store. I searched for 'chess' and found one set that included the boards and smaller pieces and another that included the large chess pieces.  While I don't tend to use themed scrapbook products, using the Silhouette when I need something very specific has become a fun approach
[hr]
coins
Amy Kingsford says, "This page is about my State Quarter collection.  It took me 9 years to collect all 50 and now I'm hanging onto them to pass onto my boys when they are a bit older.  Collecting these was sort of a trend in the 2000's and I got hooked.  I would go to the bank on the official release dates to get brand new shiny quarters and even bought one of those maps to showcase them in. I was inspired to use a scattered circle foundation for this page because it reminded me of spreading my coins out to look through them for the ones I was missing. I also sprinkled in of bits of silver glitter to mimic the glint of those shiny new quarters."
[hr]
books
Celeste Smith says, "I'll read just about anywhere even on the beach on a hot day! To incorporate both a beach theme and the book theme, I used an anchor for the beach and some book paper and a stamped library card for the reading."
[hr]
video games
Carrie Arick says, "Call of Duty: Black Ops had a double experience point weekend over Labor Day, which I enjoyed immensely. Because of the geeky topic, I wanted to create a graphic with a girly feel. I used geometrics patterns, colors and embellishments that have this graphic and girl vibe. I extracted the image of my hand holding the Xbox controller from my photo with the Photoshop Lasso tool following the tutorial here."
[hr]
Jett Hampton says, "This page captures my love of all games, from Candy Crush to board games. Since the photos here are busy, I focused on primary colors and used just a few embellishments.  The strip with the months came from a 6×6 pad, but was cut to line the top and bottom of the block, and reflects that games are played year round."[hr]
Stefanie Semple says, "This layout celebrates my gaming addiction, and the fun and reward it gives me. I googled images and used the Tribez logo as well as photos of me playing the game. I used stitching to represent my attachment to the game. I broke up the journaling to represent the way the game interjects itself into my life."[hr]
personal technology
Jennifer Kellogg says, "This page is about my first computer in 1985. I'm a total computer geek. In the 1970s there wasn't much info about computers, and it was outrageous to think that one day there would be personal computers–but I had one of the first in my dorm during my sophomore year in college! I wanted to journal about my love for this computer and throw in little retro bits like the dot matrix font."
[hr]
knitting
Gretchen Henninger loves knitting and made this page to show off a recent creation. The stenciled background echoes the woven yarns in her knit shawl. Check out a process video of Gretchen making this page here.[hr]
geo-caching
Debbie Hodge says, "My youngest son was turned onto geocaching by his aunt and uncle a few years ago, and I've made several pages over the years documenting this activity. Here are two of them. The first is that first hunt he went on with his aunt and uncle. The second shows him this past spring going out and freshening up the prizes on a cache he hid a year ago. We love getting the emails that let us know each time someone has found the cache and logged in their comments.[hr]
puzzles
Debbie Hodge says "This page is all about my love for numbers puzzles, including how I choose and store my books for easy bedtime access, and my preference for sharp pencils and fresh erasers. I overlaid a photo of puzzle pages onto an extracted portrait of myself."
[hr]
astronomy
Carrie Arick says, "Astronomy is one of my hobbies and I've gotten our neighbors interested in watching the NASA launches, which is what is happening on this page. I used the hot air balloons to clue you into the sky watching. The gingham pattern with the framed pattern paper made me think of picnicking, emphasizing the community activity."
[hr]
military history
Carrie Arick says, "My son studies military history for fun and this page is about his War of 1812 phase. The title also acts as the focal point, which reinforces that this was his main hobby at the time. I used word art to signify that that the subject occurs on daily basis and he shares what he learns."
Legos
Marcia Fortunato's
grown sons still love their Lego bricks, and this layout finds three of them (at ages 26, 22, and 20) recently in the attic and building. Marcia used colorful, san-serif alphas for her title along with chalkboard-doodled elements that harken back to school days, a time when we'd expect to see boys playing with Legos.