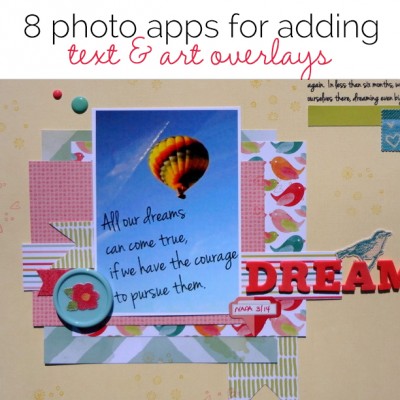 If you're taking photos with your smart phone, it's an easy next step to add text, doodle, frame or art overlays with an app. See 8 currently popular apps for adding text and art used on scrapbook pages by the Get It Scrapped creative team. And find a quick look at the apps on our special photo apps Pinterest Board.
We used these photo apps:
A Beautiful Mess (and Rhonna Designs)
Kiki Kougioumtzi says, "On this page I'm talking about the two important football matches I watched on TV during the FIFA world cup. I've posted screenshots I captured on Instagram as reminders for my project life album."
I used to apps to manipulate the photos and add doodles and embellishments:
For the photo an the left I used an app from A Beautiful Mess and added frame, word art and doodles already made in the app. The font I used for my text is part of the app.
For the photo on the right I used an app called Rhonna Designs. I used a premade word art there is in the app and added shadow to it.
Those two apps are the ones I use most because they offer many premade designs. This makes embellishing the photo faster. I like using photos edited this way (especially in my project life album) because with all the word art, the designs, the embellishments all the work is half done before even printing them.[hr]
Aviary (and Rhonna Designs)
Audrey Tan says, "This page is about my Selfies Project that I'm doing this year with my group of best friends. Every week we come out with a selfie based on a theme. I do try to make the selfie photo different from each week by incorporating artwork or images. After taking a selfie, I usually make a scrapbook page with it."
"For this particular week, I made use of two Apple apps, Aviary to modify the photo and Rhonna Designs to add the word art. I also added a frame to the photo. I like my selfie photos to look different from week to week so the photo apps come in very handy for this project."[hr]
Halftone
Sian Fair says, "Out of everything I saw at Seuss Landing, rides and all, my favorite attraction was a huge wall of Dr Seuss books."
"I used the Halftone app which I have on my phone. I've used it before to make personalized cards because it's so easy to make even a poor photo look a lot more fun. It might sound obvious, but do double check your spelling on any text you add before you print it out. It can be very frustrating to save and print and then discover an error. Trust me."[hr]
Over
Vicki Hibbins says, "This layout shows my daughter on a bouncy castle."
"I used the iPhone app Over to add text to my photos. I had used this app before to add giver information to photos of gifts that my daughter received for Christmas and birthdays (it makes it easy to remember who gave her what and send thank you notes). I have also used it to add information to items I am selling on Facebook pages."
"I will not be using it again to add text to photos that I am going to digitally scrap, thought, because it is so much easier to just add text in Photoshop. To get the text sideways using the app, I had to rotate the photo before importing it into the app, then add the text, then rotate again after exporting. Too much hassle when Photoshop does it so easily."[hr]
Phonto
Susanne Brauer says, "I snapped this hot-air balloon on a dream-filled vacation in Napa Valley earlier this year. And then, not even six months later, the simple dream of getting to go back came true."
"I used the android app Phonto to put text on my page. It was easy to import photos from the web or off my phone and then manipulate the text around it. It was an extra bonus that I fond the same font, Jenna-sue on dafont.com to download and use for my journaling on the page. My plan was to use the photo caption to draw the viewer into the layout, so they want to read the full story."[hr]
Rhonna Designs
Jett Hampton says, "This is a layout to remind myself that running is good for me, and that I feel great once it is done. I don't have to be fast, I just have to do it. I used the Rhonna Designs app to add text. The app is user friendly, comes with a great variety of ready made items to add to photos, but also allows you to create your own. I love adding the title to my main photo. It is quicker than lining up stickers.[hr]
Studio Design Overlay Studio
Rosann Santos-Elliott  says, "My son's taste in cars is really that of an old soul. Every time he sees an old-fashioned car, he's attracted to it, and he wants a photo with the car. I used a free app called Studio Design Overlay Studio to insert We're Outta Here, and the doodle of the open road."
"Since discovering the app and adding word art to this photo, I did several other photos and played with the filters and all the fun options. I would caution against putting too much on one photo and for paying attention to the proportion of the overlay relative to the subject matter of the photo. On the one hand the overlays can take over and the original photo's charms are lost. On the other hand, if it's too small of an overlay, there's not a point to including it."[hr]
Word Swag
Summer Christiansen says, "This layout is about how fun life is for kids and cousins in summer."
"For the word art on the photo I used the Word Swag App. This app rocks it! You enter whatever wording you want and it gives you tons of options for making your title. All the word art looks like you bought a kit with beautifully designed wordart! You can make it as big or small as you want and it acts as one element so you can move it all arond on your photo to see where it looks right. On this photo I used the option that allows you to change the brightness and opacity of the picture so that the words pop more against it. You can also do the opposite and change the transparency of the wordart. It is so easy and it looks great!"[hr]