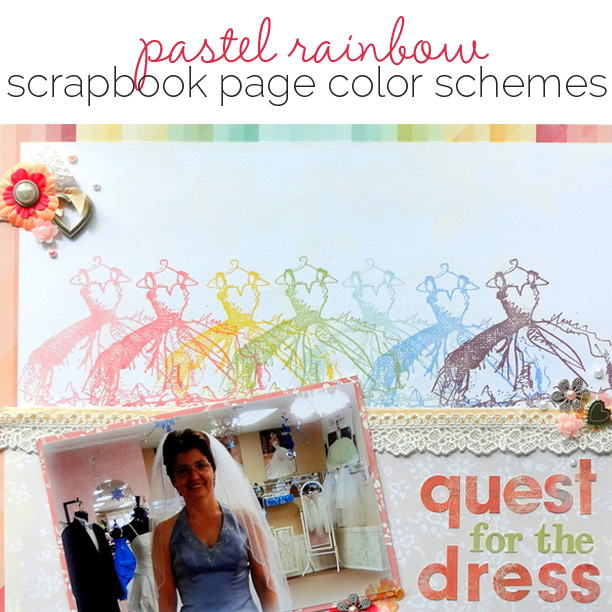 Bold rainbows are so 2013. Pastel rainbows are the trendy color combo today, and we've got scrapbook page ideas for using this color scheme on your layouts.
Stamping, misting, copics, and Photoshop are all great tools for scrapbook page storytelling with pastel schemes.
[hr]
repeat a stamp in a series of pastel colors
Susanne Brauer says, "This page shows my sister trying on wedding dresses. It is about that universal truth that every bride remembers her search for the perfect dress.  When she finds it, she knows, and it shows on her face."
Susanne was inspired by a picture of bridesmaid dresses on Pinterest.  She says, "I stamped dresses across the page using a single stamp and seven colors to reinforce the theme of dress choice. It worked well because I was using inks with similar pale colors."
[hr]
present your rainbow of pastels in a burst background
Karen Poirier-Brode says, "I miss my Mom and decided to make this page a tribute page about her."
A burst design is a great way to work in a rainbow of color, and Karen experimented with colors and the gradient tool in Photoshop to get this effect. She says, "The pastel rainbow gives a sense of lightness and happiness to the page which describes things I want to remember about Mom."
[hr]
spray a rainbow of pastel mists over a tone-on-tone textured background
Kristy T says, "This page documents this photograph of my daughter after we had flown to Exmouth for a family holiday. It reminds me of photos of movie stars or VIPs getting off a plane."
Kristy's pastel rainbow was maked with shimmery bloom sprays in pastel colors over a textured background. The pastel colors are great for photos of a cute little girl, and the shimmery sprays adds glamour.
Kristy suggests that before you spray a background with pastel mists, add texture to it. She's done that with tone-on-tone layering of paper strips.
[hr]
give a pastel background punch with dimension
Deborah Wagner says, "This is a photo of my husband and daughter on vacation a few years ago. Pastel are great for showcasing this beach photo and work with a love theme.
When working with pastels, you can get a flat, almost washed-out feel. To prevent that, Deborah added subtle shading on the butterflies. She says, "I am a digital scrapbooker, so I selected each of my butterflies and used the Gradient Tool. If you are a paper-scrapper, using ink or chalk would give you the same effect."
[hr]
accent your pastel colors with a bit of black
Sian Fair says, "When we went to Orlando this summer. My daughter brought a list of foods she wanted to try. and a Mickey Ice Cream sandwich was right at the top of her list."
"Pastel shades were perfect for emphasizing the nostalgic, retro shades of the Magic Kingdom. An interior designer once told me that all pale rooms need a dash of black, and I think that holds true for scrapbook pages too. So go slowly and add a little, and then maybe a little more. She told me: always a little more than you first think you need."
[hr]
start with a boldly colored patterned paper and dilute its color value by clipping it to digital brushwork
Andrea says, "Spring time color is fantastic. When I think of spring I think of a rainbow of color awakening. "
Andrea clipped a paper with a rainbow of colors to circular digital masks and layered it over her pale neutral background.
[hr]
use Copic inks for a custom background of pastels
Michelle Houghton says, "My daughters got to hop in a photo booth after a shopping outing on a recent trip. I love these four tiny frames reflect their amazing relationship."
Michelle made a pastel rainbow with Copic inks in colors that echo those in the photo frame her daughters chose. She says, "I knew with such a small grouping of photos I would have great white space in which to play with this my Copic technique.  Remember your Roy G Biv when you create a pastel rainbow.  The red, orange, yellow, green, blue, indigo and violet are still in order just lighter.  Think of adding white to each of them, and you have it."
[hr]
pop your rainbow of pastels with a high-contrast, dark background
Celeste Smith says, "My niece was excited to pet a chick at the Busch Gardens Easter Day. When I think of Easter, I think pastels–and the softness here evokes the feeling of a fluffy chick."
Celeste used a dark woodgrain background behind her layered rainbow of pastels and a saturated photo on top of them. She says, "They would get lost on a light colored background."