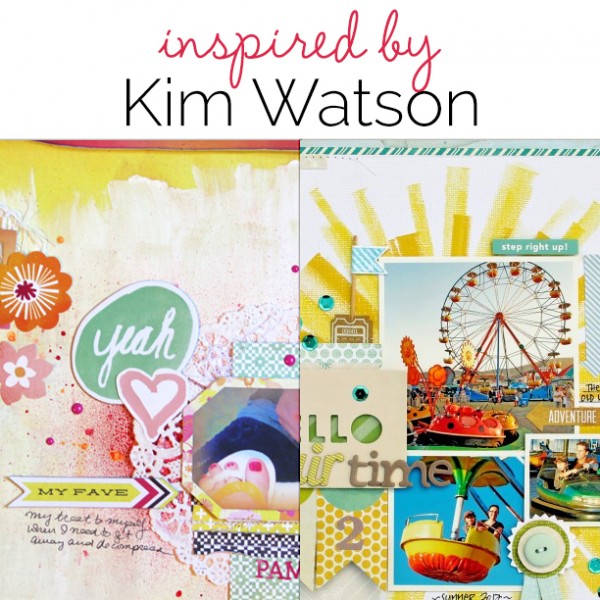 Studying scrapbook pages by others is a great way to get scrapbooking ideas for growing your own style. In this "study" look at how a scrapbooker has used product and design principles and how she's handled the 5 parts of a scrapbook page (canvas, photos, title, journaling, embellishments).
Our creative team studied pages by Kim Watson and made their own pages incorporating aspects of those pages. This is not a LIFT of one page. Rather they made pages inspired and instructed by what you they saw in a collection of her work.
see some of Kim's pages.
[toggle title_open="Hide" title_closed="See Kim's pages yourself" hide="yes" border="yes" ]
[/toggle]
a layered up canvas
Gretchen Henninger says, "I snapped this picture one day when I was getting a pedicure because I loved the vibrant pink of the nail polish. I thought this was the perfect color to celebrate the end of winter."
"I love how Kim Watson creates dynamic pages full of energy and movement. She makes use of the whole canvas, including multiple colors and patterns. She also builds layers, starting with misting or stenciling on the background and built up through the papers and embellishments. I tried to establish flow in this layout from the upper left to the bottom right, mixing a variety of embellishments and working in layers."
complex visual triangles
Karen Poirier-Brode says, "The story is about my grandson's joy at being outdoors and his ability to communicate this to us. I studied Kim's work and had the following impressions."
Kim uses multiple color photos, often smaller like 2 x 3″ or 3.5 x 5″.
She often clusters photos, sometimes linearly, sometimes in center of page, on occasion doublets or singles in a visual triangle.
She uses clustered embellishments in complex visual triangles with layering and dimension, often including tags or envelopes in designs.
She favors mixing several patterned papers and muted colors with saturated colors.
Her pages often include techniques like paper piecing or elements altered with paint techniques, stitching, and cut files.
Her titles are rendered with multiple fonts or word art.
She often softens or breaks up straight lines in her designs with hand drawing, stitches, wavy or torn edges, added washi or embellishments.
Her journaling is usually hand printed, often on ruled lines or sometimes typed on journal strips.
I thought with my love of layering that making a page inspired by Kim Watson's design approach would be easy. It was, in fact, extraordinarily difficult. I was trying to use only recent product, but that wasn't the problem. Those complex visual triangles in separate clusters of elements were hard. I do visual triangles with several elements but using a lot of them in complex ways, in many different clusters was difficult. It must come naturally to Kim, as it's part of her style."
photo grid, chevron, and yellow
Kristy T says, "Kim Watson has a bright and fun style that suited this story about my son's love of going to see the horse when we visit my parents."
"The elements of Kim's style that I included are the use of a grid of photos, photographs with white borders, washi tape strips, handwritten journaling, tag, multiple embellishment clusters and mist on my background. Kim's layouts often incorporate chevron patterns and a touch of yellow."
multiple photo spots and borders
Katie Scott says, "We bought a boat and a tube attachment for summer 2014. This was the first time getting both of our kids and their best friends out on the water."
"I like the way Kim's pages do not seem formulated in terms of photo arrangement, so I tried placing photos in an unusual way. I also find Kim's border treatments interesting so I added a top and right border treatment on a white background.
full canvas united by color
Summer Christiansen says, "This layout is about how my strength comes from my husband."
"Kim Watson' style includes little to no white space, loose clusters spread over the page, and similar colors or color patterns within each cluster to tie it all together.  I used one kit to get similar colors within each cluster.  Using the same kit also made grouping each cluster easier.  I have always loved the no-white-space look, but I could never figure out how to make it work.  It is KEY to use the same colors through out your layout!"
attention to color
Christy Strickler says, "This is my introductory page for an album documenting our trip to Puerto Rico."
"I love the way Kim works with a specific set of colors. She then incorporates them repetitively but in different patterns and tones. I worked with yellow, orange and teal, repeating the colors in various patterns as I layered upwards."
photos framed by embellishments
Marcia Fortunato says, "This layout is about my grandson, Caleb, and how fast he is growing and developing."
"In studying Kim's beautiful work, several tendencies jumped out at me that I tried to incorporate into my page."
Kim's focal point is almost framed by multiple clusters of embellishments, with additional small bits scattered around the page to balance the page and lead the viewer's eye around. I tried to emulate this, using mainly stars, arrows, and circles in varying sizes.
She used bright colors, especially yellow or orange. I chose a bright yellow background and added accents of green, orange, and blue.
She uses some type of foundation under her photos, often stenciling, stamping, and/or misting, or using strips of patterned paper or washi tape. I chose to use washi tape and selected a measuring tape pattern to symbolize his growing.
Kim generally used some type of border or element at both the top and bottom edges, which serves to keeper the viewer on the page. Using this idea I placed long border strips at the top and bottom and added small accents to each.
bright colors and handmade touches
Celeste Smith says, "My gorgeous niece Lila is always willing to pose for the camera. So thankful we have her in our lives."
"Kim's style is bright and bold with handmade touches. She uses die cuts, border punches and makes her own flowers. She is a master at mixing pattern. She finishes her pages with stitching and usually adds a bit of splatter, mist or paint. I love that she uses her own handwriting."
"On my page, I tried to use bright colors and a handmade looking flower. As well, I added a die cut title, a border punch, stitching, my handwriting and some paint. It's still my page, but I tried to incorporate some elements that she would appreciate!"